SocketLabs Email Marketing
Engage Your Contacts With Effective Email Marketing
With our Simple Email Marketing Tools, any busy marketer, business owner and SocketLabs user
can create and send beautiful email messages on a platform built for effective email delivery.
Drag and Drop Design

Ready-To-Use Design Templates

Easy Campaign Management

List Segmentation and Targeting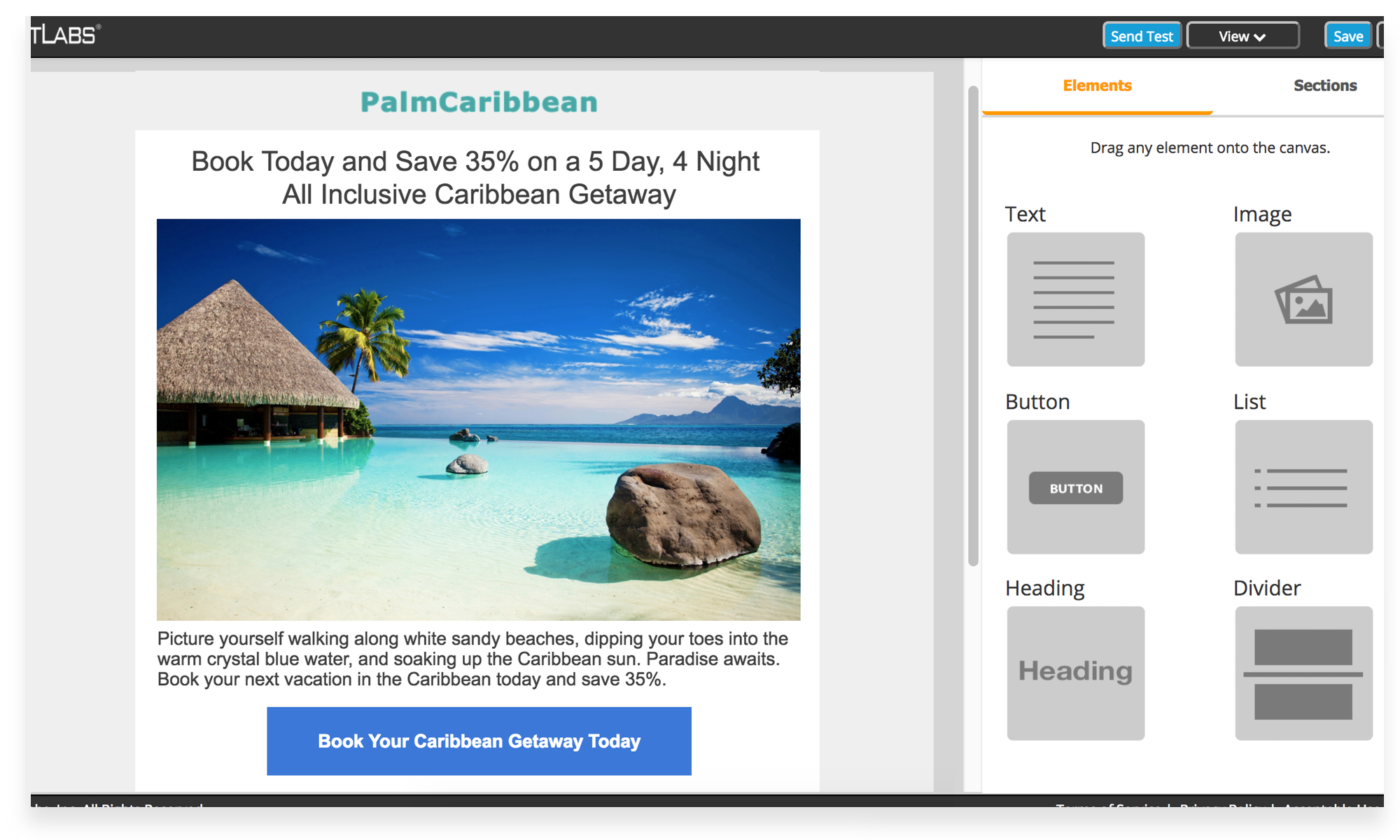 Create Stunning, Mobile Friendly Emails With Our Drag & Drop Email Designer
From crisp images to fluid layouts, effective communication starts with a great looking email. Our Drag & Drop Email Designer makes it even easier to build beautiful emails that enable your brand to communicate effectively with your recipients.
Design emails that increase brand recognition.
Communicate effectively with your audience.
Drive in sales, feedback, and increase ROI.
Create emails that can be read from any device.
Use Our Starter Email Templates so You Don't Have to Reinvent the Wheel
We give you a starting point with Email Templates so you don't have to spend your precious time staring at a blank screen thinking about what to say and how to design your email. And you can create beautiful emails even if you're not an email designer.
Just plug your content in and hit send.
Create great looking emails even if you don't have design skills.
Follow the best email design practices right out of the box.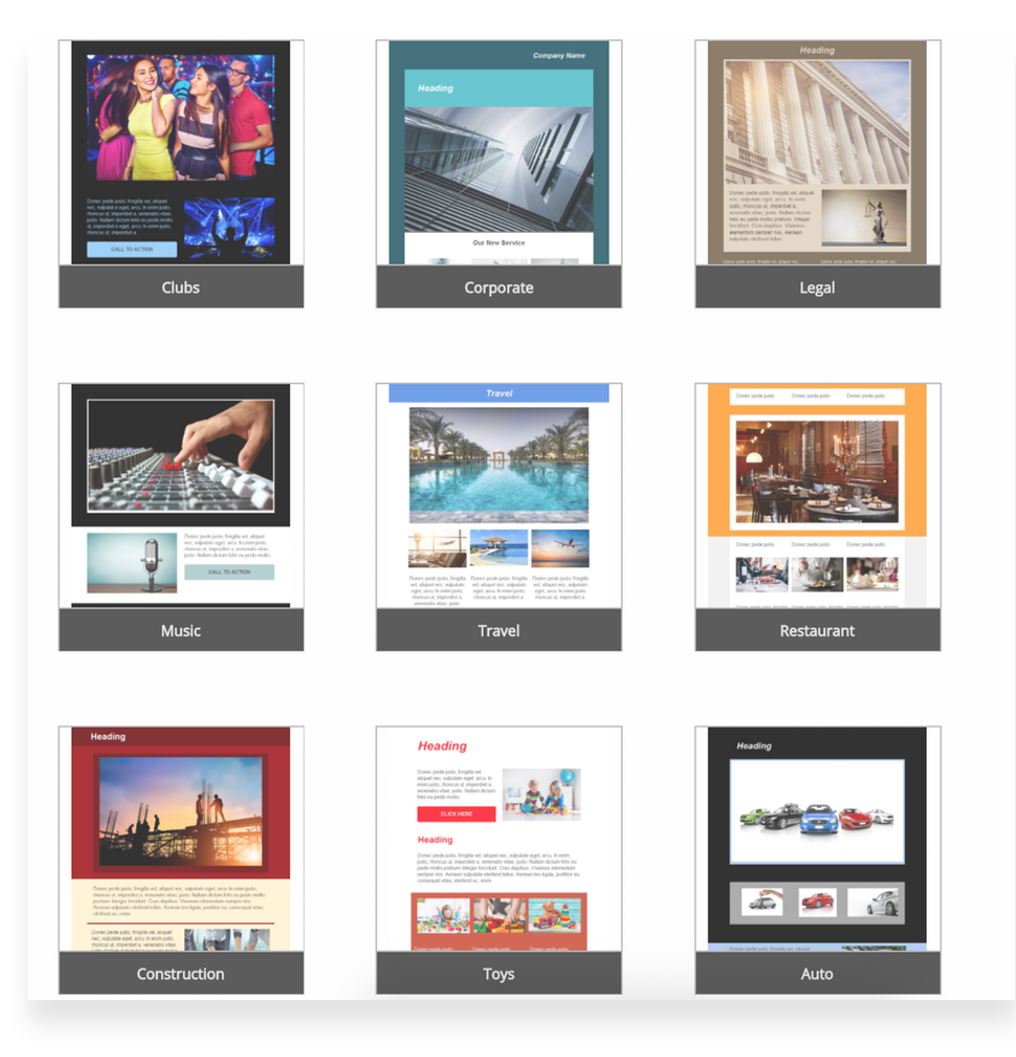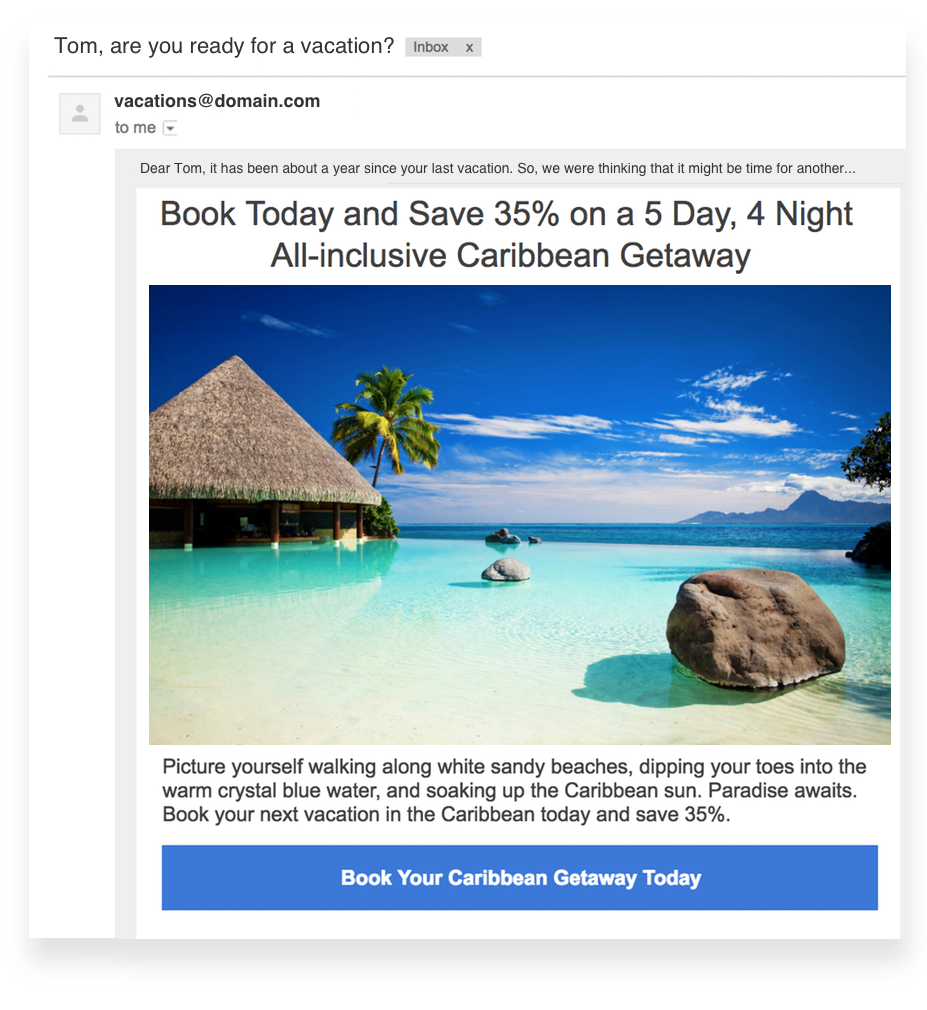 Benefit From an Easy Way to Personalize Your Emails
Use Custom Fields and Merge Fields to send personalized emails that build rapport and connect with your audience.
Easily upload & create your own Custom Fields.
Manage all of your Custom Fields in one place with the Custom Field Manager.
Experience the power of email personalization by inserting Merge Fields into your message.
Take Your Email Marketing to the Next Level With Drip Campaigns
Email marketing can be more effective when you are consistently engaging your recipients. With Drip Campaigns, you can schedule and send automatic follow-ups such as a series of welcome emails, sales messages, and newsletters.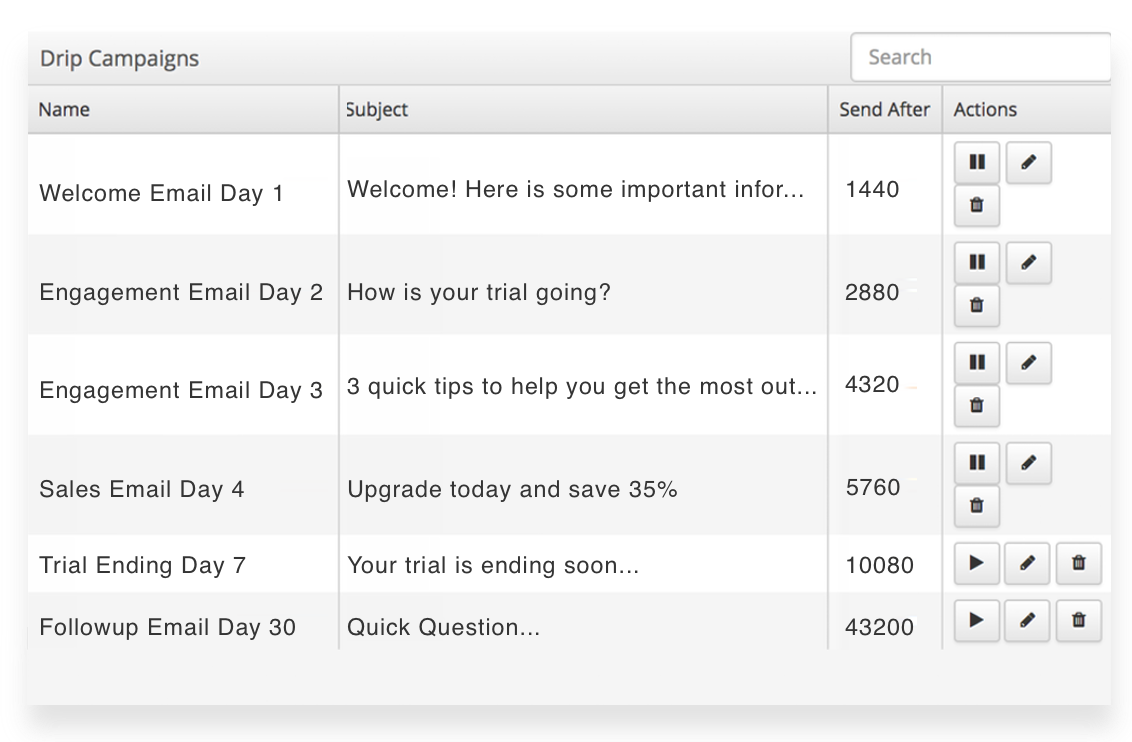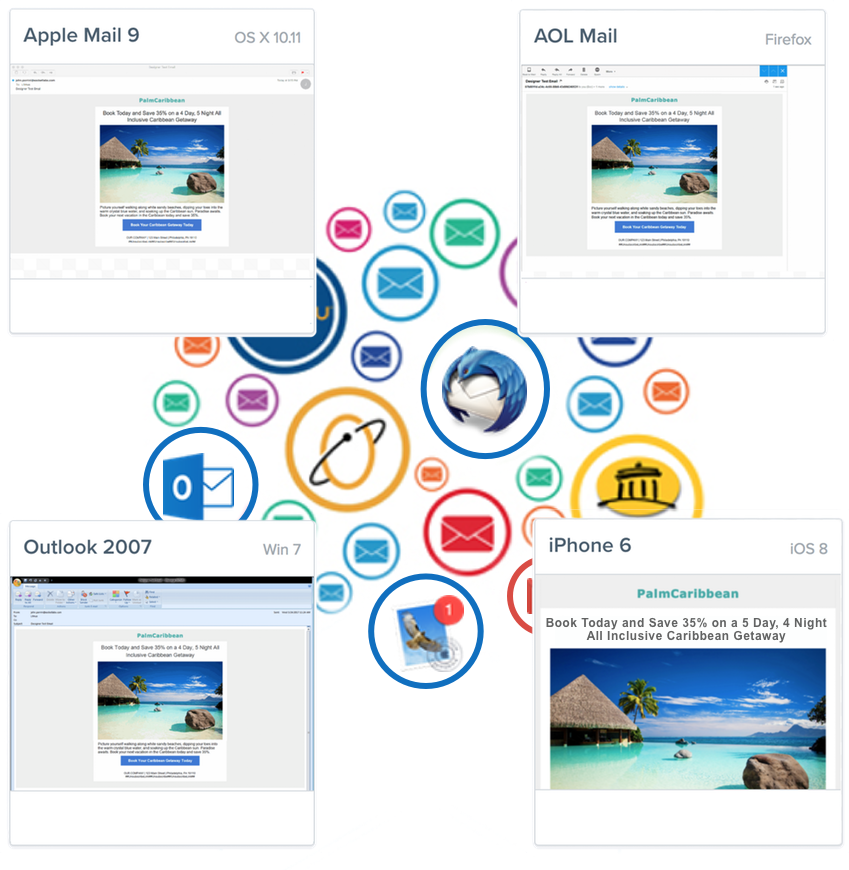 Don't Let Your Campaigns Suffer From Email Rendering Issues
8 out of 10 recipients may delete an email if it does not render properly. And with dozens of email clients readily available, getting your email to render properly can be quite a challenge. That's why our Email Designer makes it fast and easy to create an email that renders properly across modern (and even not so modern) mail clients and devices.
Our Email Designer is run through 70+ email clients & devices to test for rendering.
Create an email that renders properly right out of the box, without any coding needed.
Send with the confidence of knowing that your email will render successfully when it lands in the inbox.
Segment Your Lists For More Targeted Email Campaigns
List Segmentation makes it easy for you to slice and dice your email list into highly targeted segments in seconds.
Increase the ROI of your email campaigns. According to the DMA, 77% of email marketing ROI comes from segmented and targeted campaigns.
Segment your list by email address, date, custom fields, and so much more!
Save time by creating dynamic segments using Smart Lists.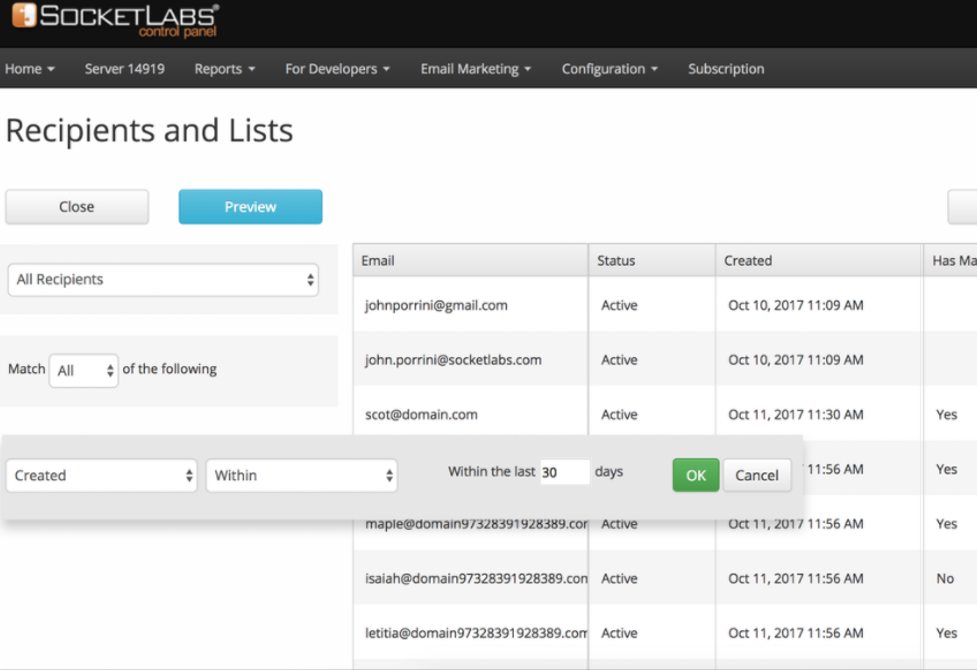 Effortlessly Capture Email Addresses From Your Website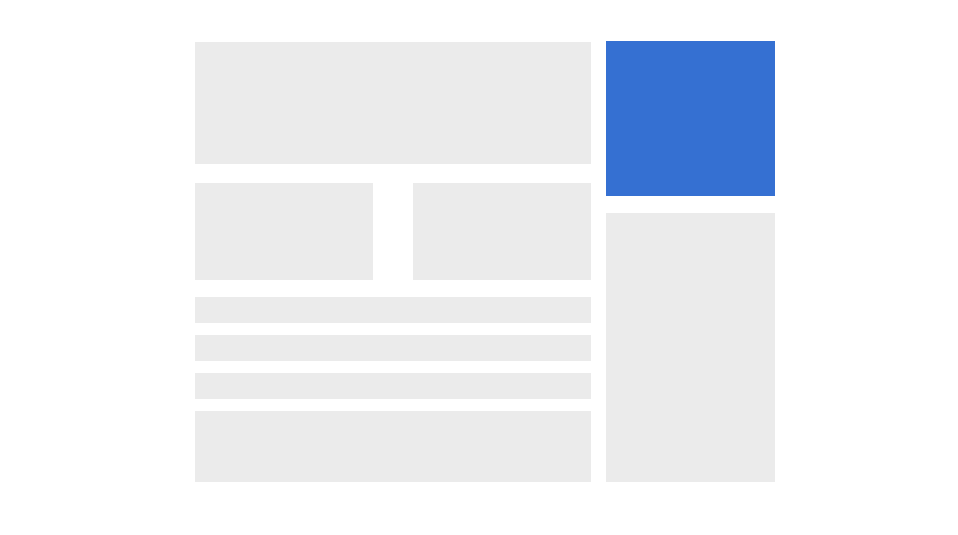 Embedded Form
Build your email list with a simple form that's added to your website.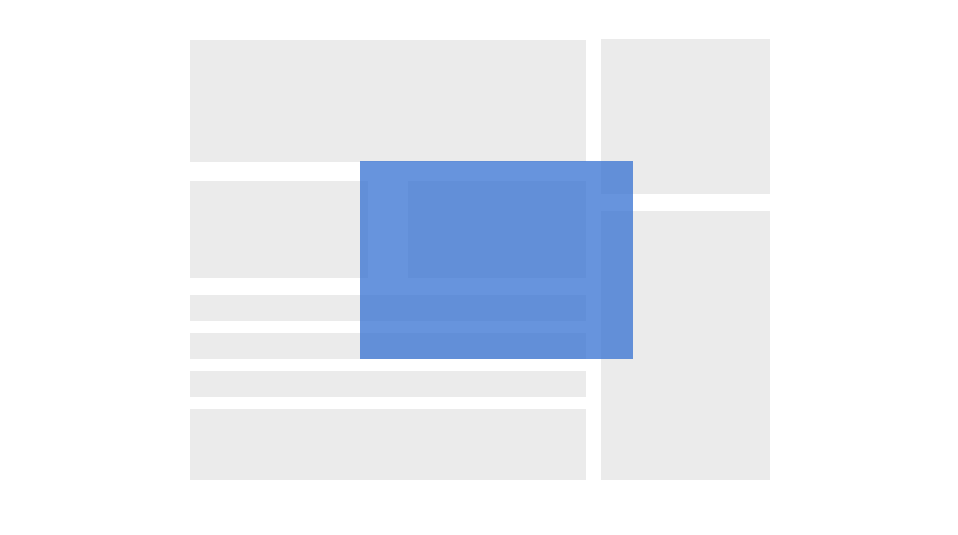 Pop-up Form
Capture email addresses by triggering pop-ups on your website.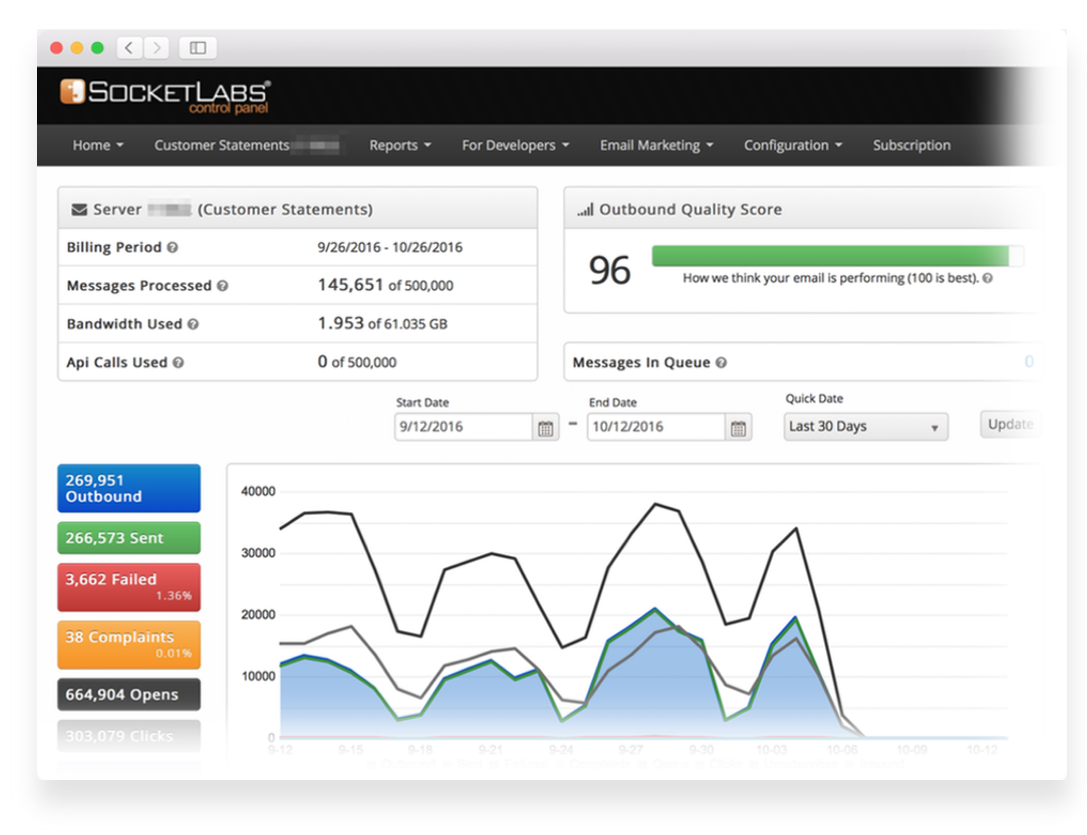 Send Your Marketing Emails With Confidence
Send mail with the confidence of knowing that you're backed by a powerful email delivery platform that's built to help you get your email to the inbox.
Experience best-in-class email delivery.
Gain valuable insights into the performance of your email campaigns.
Take the guesswork out of email marketing with detailed reports and support from email experts.
Join thousands of customers who trust SocketLabs to deliver billions of emails every year.







"Working with Socketlabs has allowed us to focus on growing our top line revenue while enjoying the email assurance that they provide. From the moment we signed up through unique challenges that we have experienced, it has been their support and understanding that has made us a loyal customer. We would recommend their services to anyone that is looking for a world class system backed by their world class support."
"We can't do business without email and SocketLabs makes email happen for us.  We could have picked tons of providers but I am glad that we chose Socketlabs.  SocketLabs doesn't just work, it works WITH us."
"We tried your competitor and they were almost impossible to get in touch with and when we finally did, they were no help. We have always believed that customer service is the reason for our success and it is nice to do business with a company that feels the same."
"Because of SocketLabs expertise, excellent service and smooth operation, we were able to get out of the email management business and go back to focusing on our core product.  SocketLabs' turn-key email solution made it easy to off-load our email processing. In addition, they have a friendly, responsive team of email experts that helped us resolve our email deliverability issues and an API and reporting that gives us a critical level of visibility into the process."