Industry-Leading Deliverability
Maximize inbox placement with the most advanced and reliable email delivery engine.
Built for Scale. Better Value
Leverage the powerful features of the Hurricane Server at a fraction of the cost of running your own infrastructure.
Powerful Analytics and Reporting
Our web-based Control Panel gives you access to real-time reporting for your account and the ability to download statistics data for easy viewing or importing.
Live Global Support
Experts on call to assist you. Talk to a real person and get started in minutes.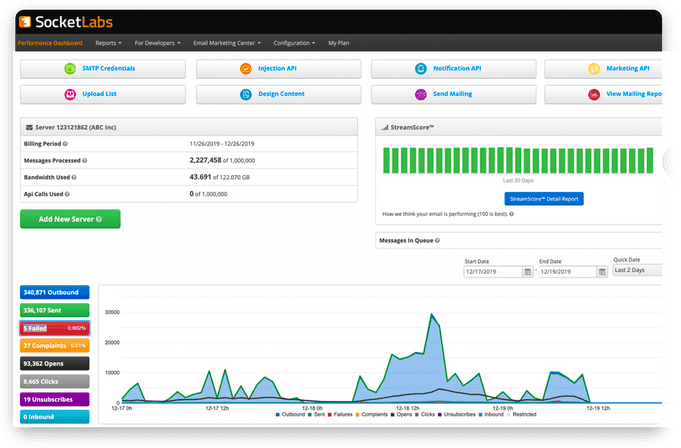 All of the Features That You Need
to Successfully Reach the Inbox
Cloud Based SMTP Servers

Easily plug your application into our SMTP servers that are hosted in the cloud.

Reporting Dashboards

Get access to detailed reports including: SMTP response codes, failed messages, blocked messages, & more.

Email APIs

Need to expand beyond SMTP? Leverage our flexible email APIs for sending, reporting, & more.

StreamScoreTM Reports

Drill down into the performance of each of your SMTP mail streams and optimize deliverability.

White-Glove Service

Get access to a team of email experts to answer any questions that you have regarding your SMTP service.

Free Dedicated IP Addresses

Sending more than 100K emails per month? You may qualify for a free Dedicated IP Address!

Free Contact Storage

We don't charge for extra contacts! This is perfect for bulk marketers who are sending over SMTP.

Phone, Chat, and Ticket Support

We're easy to get in-touch with and stay by your side every step of the way.

And More!

From an email marketing center, to the latest authentication features, SocketLabs has it all.
Just How Easy Is It To Get Up and Running
With SocketLabs' Email Relay Service?
Senders who choose SocketLabs' email relay service typically get up and running the very same day.
STEP ONE
Get a Test SMTP Server
See What SocketLabs is all About
Get your FREE test account & kick the tires — sign up here

Start with 40,000 messages to test with during the first month (we don't even ask for a credit card)

Configure SPF, DMARC, & additional settings

Determine how you're sending (SMTP or API)
STEP TWO
Connect and Test
Kickoff Time!
If using SMTP – plug your SMTP credentials into your app

If using API – use our API and libraries to enable sending from your app

Send some test messages!
STEP THREE
Start Sending
Launch
Warm-up your IP with a customized warm-up plan (critical if you're sending high volumes of email)

Ramp up your sending volume with the help of a dedicated deliverability consultant
STEP FOUR
Optimize and Grow
Scale Your SMTP Sending
Leverage powerful reporting features like SocketLabs StreamScore™ to optimize the deliverability of your mail streams

Grow your sending volume with the confidence that the SocketLabs team is managing your success
Nobody gives support like SocketLabs
"We've been working together for at least 8 years now, and we wouldn't trust anybody else with our email delivery."
Lindsay Willott,
CEO, Customer Thermometer

Head and shoulders above the rest
"SocketLabs is clearly driven by customer success and has become a trusted partner of SignUp.com."
Patrick Dyson,
CTO, SignUp.com

We should have transitioned a long time ago
"With SocketLabs, we're not just a number. I've got the name of a person I can ring up if I've got a problem."
Alec Dobbie,
CEO, FanFinders

SocketLabs have proven themselves to be a stable and valuable partner
"We always want to be at the forefront of the marketing automation world, and SocketLabs helps us to do that."
Peter Malm,
Email Specialist, APSIS

Their support is very fast to reply when you have a question
"The emails sent via the SMTP are always delivered and there is a really nice web console where you can check the status of all emails sent."
Guillaume Peris
Sungard

We'll Never Treat You Like Just A Number
No other email platform provides the in-house support and services of SocketLabs. SocketLabs offers onboarding teams to help you setup your SMTP servers, migrate from any platform and start sending with ease, as well as chat, email and phone support for technical issues, and an email deliverability team focused on helping you grow.
YES! Our service and support is really THAT GOOD.
Even More Proof That You're In the Right Hands
97% Customer Satisfaction Rating
2M+ Emails / Hour During Peak Periods
Industry Leading Deliverability