SocketLabs Email Service Overview
SocketLabs Email Service Overview
This information will help you understand the SocketLabs email service so you can take advantage of all it has to offer. In addition, we'll also discuss key features that will enable you to maximize your success as a sender. In the sections below, you'll learn:
How SocketLabs Works: Options for Sending Your First Email
There are three basic ways to get started sending messages quickly with the SocketLabs email service.
1) Send email with SMTP:
A SMTP email service provides you with an easy way to start sending email.
SMTP
is the protocol for delivering outgoing email. An email relay service like SocketLabs enables you to quickly establish an SMTP server address, username and password.
Here's how to start sending through SMTP >>
2) Sending via HTTP Web API:
SocketLabs'
send email API
is for developers who need to integrate email sending and analytics functionality into their website or application. To learn more about our email service for developers,
see our API documentation >>
3) Email Marketing Tools:
If you're looking for a mass email service or a bulk email service, then you can use our simple email marketing tools to build lists, manage contacts, and create beautiful content using our Drag and Drop Email Designer.
How to get started with our email marketing tools >>
How to Measure Your Sending Performance
No email sending service is complete without dashboards and reports. That's why SocketLabs gives you access to results and account information via our Performance Dashboard. Reports are especially useful for senders who are using our transactional email service to send time-critical notifications like password rests.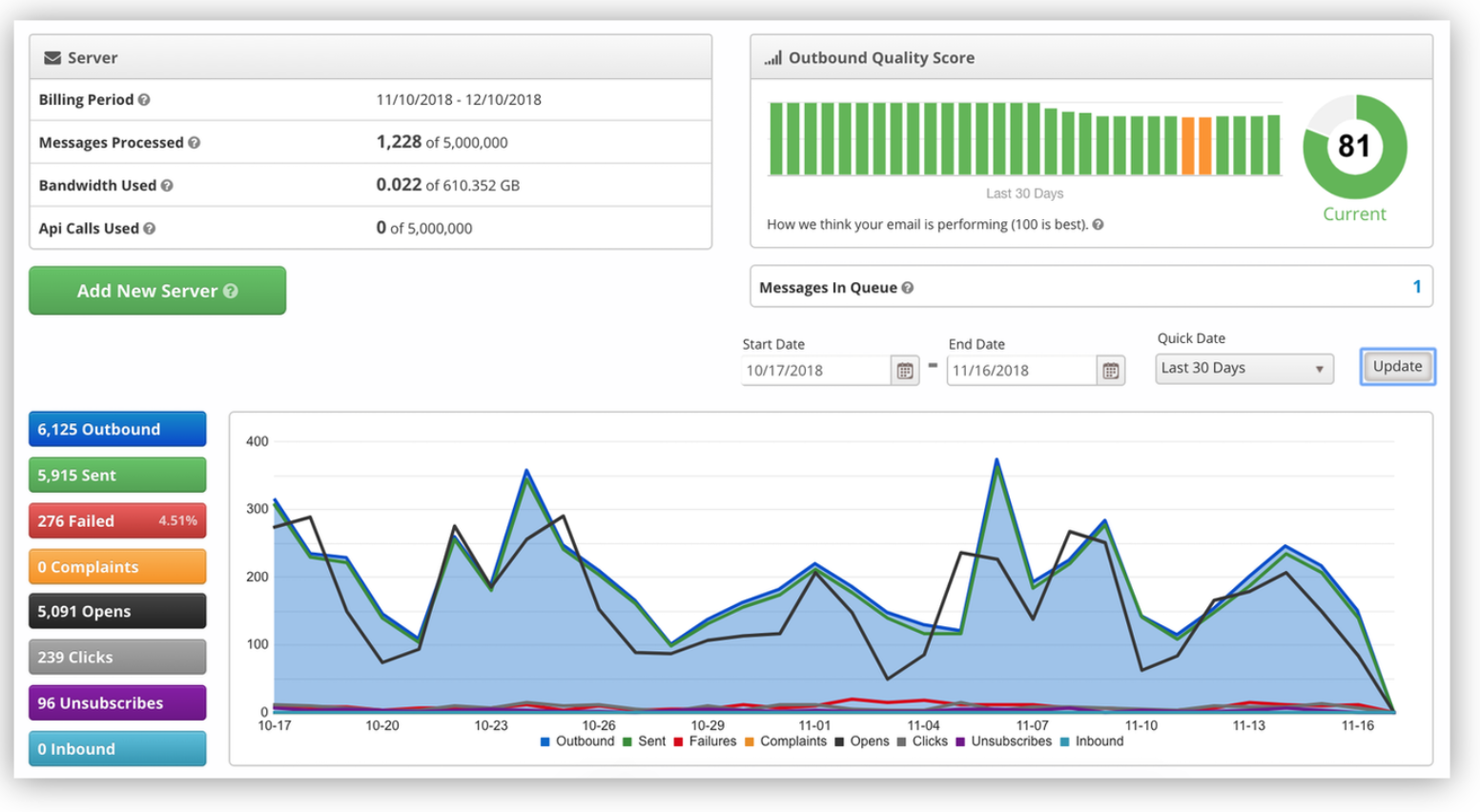 This is where you will see activity logs and deliverability metrics. In addition, you can also make administrative changes to your account and email server settings. Logging into your Performance Dashboard is simple. Just visit:
https://cp.socketlabs.com
The Control Panel within the Performance Dashboard allows you to configure the settings of your email service and to customize the views, reports and analytics. SocketLabs provides server-level reporting and rich analytics on details such as:
Delivered messages
Failed messages
Open/click activity
Recipient complaints
And more
These reports can be downloaded to provide a CSV file of the report data.
How to Consult With Our Email Service and Deliverability Experts
As a leading email service provider, SocketLabs' team earns
high praise from our customers
because of our high touch and responsive approach. Our team of experts will help you with virtually any need — from getting started with our SMTP service or diving into customized solutions using our email API. In addition, our email experts will also help with basic troubleshooting and connectivity issues, and work through the most complex workflow automation and performance reporting issues.
Here are the ways to get help:
Online Support Center:
All of our email service clients can access the
Support Center
. This resource contains knowledgebase articles and other guidance, as well as the ability to create support tickets which will be dispatched to our experts.
Email:
You can email our experts by sending an email to
[email protected]
Phone:
To speak to an expert directly, call 800-650-1639 from within the US or +1 484-418-1285 internationally. Whichever option you choose, you can be assured that our team is there to help you succeed.
How to Integrate Your Applications With Our Email API Service
SocketLabs' APIs enables developers to easily integrate our email service directly into their applications for the purposes of sending, tracking, and parsing email. Here's a full list of our available APIs:
Best Practices for Security and Compliance
When choosing an email service provider security is a serious consideration. With customers around the world relying on SocketLabs to deliver their mission critical transactional and marketing messages, we understand our responsibility to provide a safe and secure environment. For this reason, we built our email service inside a highly-secure infrastructure, we support email encryption policies, and we enable clients to apply state-of-the-art email authentication protocols. Further, all email sent through SocketLabs must conform to all applicable laws and regulations, including but not limited to, the CAN-SPAM Act (if you are unfamiliar with the specifics of the CAN-SPAM act,
you can read about it here
). To create a safe environment for all, we enforce many rules that contribute to a healthy email ecosystem. For example, all customers must send their email from a domain that is registered to them, is under their control, and that they have permission to use. Additionally, customers may only send email to recipients that have given their permission to receive the emails. For commercial email messages, the message must include the physical address of the sender and provide recipients with a way to unsubscribe. There are several other safety controls that are explained in our
Acceptable Use Policy
and
Terms of Service
. For the protection of all customers and to ensure that deliverability rates are maximized, customers that don't follow these basic guidelines may have their ability to use the platform curtailed.