Get Busy Sending
SocketLabs email service can be setup and running in a matter of minutes, with your first message successfully sent. No matter what type of email you are sending, we make sending your first message a walk in the park.

Effortless Setup
Running in Minutes
24/7 Customer Support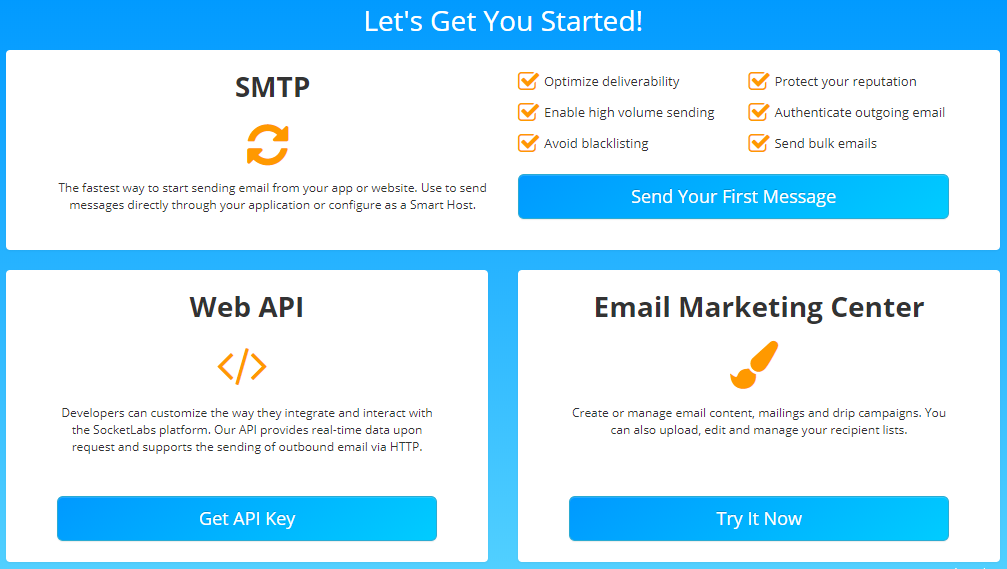 Send With SMTP
Our SMTP service is highly compatible (and easy to integrate) with virtually any application. As soon as we provision your account, we will provide you an SMTP host name, user name and password. Simply enter this information into your email software and it will automatically start routing its mail through your new SocketLabs account. You do not need to make any DNS changes, setup SPF, Domain Keys, DKIM or anything else – we do all the setup for you!
Send With Our API Libraries
Our advanced email delivery service and APIs enable fast and powerful integration with your applications, servers, and devices for sending, receiving and tracking the success of your email messages. Speed up development with pre-built libraries and code samples for popular languages. Our easy to use onboarding process helps you get familiar with our API and start sending messages through your code.
Send Marketing Messages
With SocketLabs' email marketing tools, it has never been easier to design creative email messages, build comprehensive lists, automate delivery, and track success with detailed analytics and reports. Start sending polished messages to your audiences in a matter of minutes.
"It's vital to have reliable email notifications accompany each election or I won't stay in business. We selected SocketLabs and have never looked back. (Read the Complete Success Story Here)"
""A few reasons [for why I chose SocketLabs] - You [Customer Service] ... Knowledgeable, answered all of my questions, were willing to help in anyway you could. That direct engagement definitely gave you guys a boost! USA built and supported. I like the additional features that I could wrap my head around later and try to sell as an added service. My goal was to get a trusted IP address to send all of my scanned SMTP mail to. I'm using your service now and I'm already seeing a difference! If it keeps up at anywhere close to the acceptance rate I'm seeing now, I'll be buying the bronze package by 4 PM tomorrow. I know I'm going to have good support from you guys and the platform looks like it's a lot more than I'll ever need.""
"Because of SocketLabs expertise, excellent service and smooth operation, we were able to get out of the email management business and go back to focusing on our core product.  SocketLabs' turn-key email solution made it easy to off-load our email processing. In addition, they have a friendly, responsive team of email experts that helped us resolve our email deliverability issues and an API and reporting that gives us a critical level of visibility into the process."