Hurricane Assembly Server Basics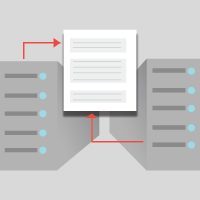 Hurricane Assembly Server provides high-performance outbound email construction based on templates and recipient data sources. The Hurricane platform's on-premise products may be licensed in a variety of configurations designed to suit your needs. You may wish to pair an Assembly Server with an MTA, for example. Read more about our features below and
contact us
when you're ready to order or get more information.
Outbound Message Construction
Hurricane Assembly Server is built on over 15 years experience constructing outbound email messages that are compatible with the RFCs and dominant infrastructures currently in use. Its ability to generate over 2 million outbound text and/or HTML messages per hour. Multiple Hurricane Assembly Servers can work together to increase the output and provide additional scalability and redundancy. Support for advanced outbound email content such as attachments and images enables you to easily create any type of message you need and ensure that it is compatible with the mail systems presently in use on the internet.
Merging Recipients and Related Data
Hurricane Assembly Server will pull your recipients from XML, delimited flat files, or Microsoft SQL Server tables. Data fields related to each recipient can easily be merged into the assembled outbound messages as specified by data place-holders in the templates you create.
Scalability and Throughput
Although one Hurricane Assembly Server is capable of assembling over two million outbound messages per hour on modest hardware, multiple Hurricane Assembly Servers can process and control email jobs in parallel to increase capacity and provide a high-performance, scalable, and redundant platform.
Integration
Hurricane Assembly Server is a Windows service which uses a central, customer-provided Microsoft SQL Server database to store job data and tracking information. Your custom-built in-house applications create and manage jobs using provided stored procedures that interact with the database. Failed deliveries and open/click events are inserted into the database in real time. Integration with your applications is as easy as accessing a Microsoft SQL database. Here are a couple more features we think you'll find useful:
Tracking & Reporting
List Hygiene
Fail-Safe Operation and Redundancy
Job Control & Status
Advanced Merging & Targeted Content
For even more features and deeper technical details, click here. An official SocketLabs datasheet is available as well to provide an overview of this on-premise solution. If you're interested in purchasing a Hurricane Assembly Server license, please contact our sales department.