Hurricane MTA Server Basics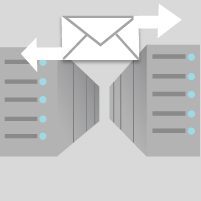 Hurricane MTA Server is the backbone of SocketLabs' powerful On-Demand service. We process billions of email messages for our customers, providing us with a great deal of experience in precisely how to optimize email delivery. Hurricane MTA Server takes advantage of that knowledge to significantly enhance your server's performance and the deliverability of your messages. Hurricane MTA Server was architected to deliver bulk email fast. Our unique queuing technology enables Hurricane email delivery server to process over a million messages per hour. Our on-premise business email solutions have a great deal of intelligence built in. We offer Smart Delivery Rules that shape traffic on a per domain basis, feedback loop analysis, bounce handling, and automatic suppression lists. Some of the primary advantages of using Hurricane MTA Server are:
High Throughput
Advanced Security/Encryption
High Deliverability
Segregation of Separate Mainstreams
Compatibility & Integration w/ Your Own Software
There are so many other powerful features in Hurricane MTA Server. Here are just a few:
Engagement/Open & Click Tracking
Automatic Suppression Lists
Dynamic Traffic Shaping
.NET Plugin API
Injection and Notification APIs
Webhook Event Engine
Click here for more detailed information on Hurricane MTA Server...