Protect Your Sender Reputation
Delivering email to invalid email addresses or to recipients that complain hurts your reputation as a sender which reduces your ability to deliver email to the people that matter. Our suppression list system automatically blocks email to any known invalid email address or any email address from which you have received a complaint.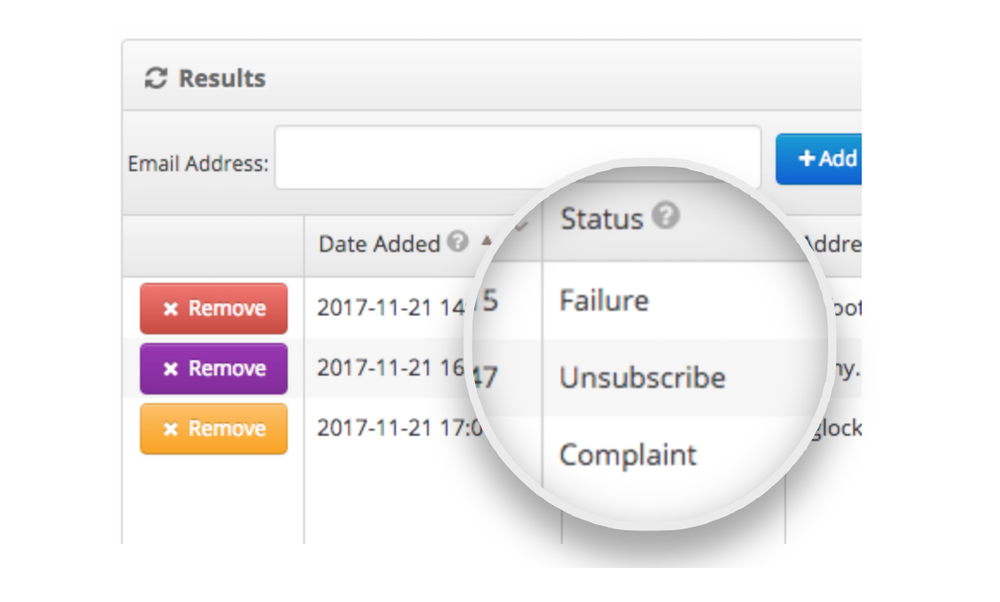 Isolate Messages and
Limit Potential Damage
Our email suppression list system automatically blocks email to any invalid addresses or any email address from which you received a spam complaint. Consistently delivering email to bad addresses or recipients who have complained will hurt your reputation as a sender, reducing your online reputation and limiting your ability to send legitimate email to the people who matter most.
Simple Dashboard Control
In the SocketLabs email suppression list dashboard, you can view email failure data to learn what went wrong. You can review data points such as:
Date added
Failed address
Nature of failure
Sent to an invalid address
Complaint was issued
Soft or hard failure
ISP
Email address the complaint came from
In order to protect your sender reputation and ensure maximum deliverability, you can not remove email addresses from the suppression list if they are on the list due to a spam complaint.
"Forex Robot Trader is a multimillion dollar company that depends on e-mail marketing for its continued success. I put my trust in SocketLabs over a year ago and they have not let me down.  They have answered every e-mail, even on weekends, and guided me along the way to help increase productivity and keep complaints down to a minimum.  I consider SocketLabs like a business partner and their e-mail delivery system is 2nd to none. They continue to add new features continuously."
"The service is running GREAT. Smooth, easy to use, user friendly, I am very glad using your platform. My deliverability has increased notoriously. I am really really satisfied. Thank you!"
"It's vital to have reliable email notifications accompany each election or I won't stay in business. We selected SocketLabs and have never looked back. (Read the Complete Success Story Here)"
Related Content:
You're ultimate SocketLabs resource for DKIM authentication. What is DKIM, how it works, how it can protect your domain from email spoofing, and much more!
Learn how to use Google Postmaster Tools to check your domain reputation and other valuable email metrics to help stay on top of your email and improve your deliverability
DKIM is an email authentication mechanism that helps ensure an email has not been altered in transit using custom signatures in...