Email On Premise: Hurricane MTA
The SocketLabs' Hurricane Platform — the engine that powers our hosted email delivery service — delivers billions of messages for our customers each year. This platform is available to organization that require or prefer an on-premise solution. The platform consists of three products: Hurricane MTA Server, Hurricane Assembly Server and Hurricane Load Balancer. These products can each work independently of each other. When used together, however, they form a very powerful platform for email generation and delivery. Hurricane on-premise solutions are ideal for those who have the capability and desire to manage servers in-house, have experience with bulk email delivery, and handle a significant volume of outbound email.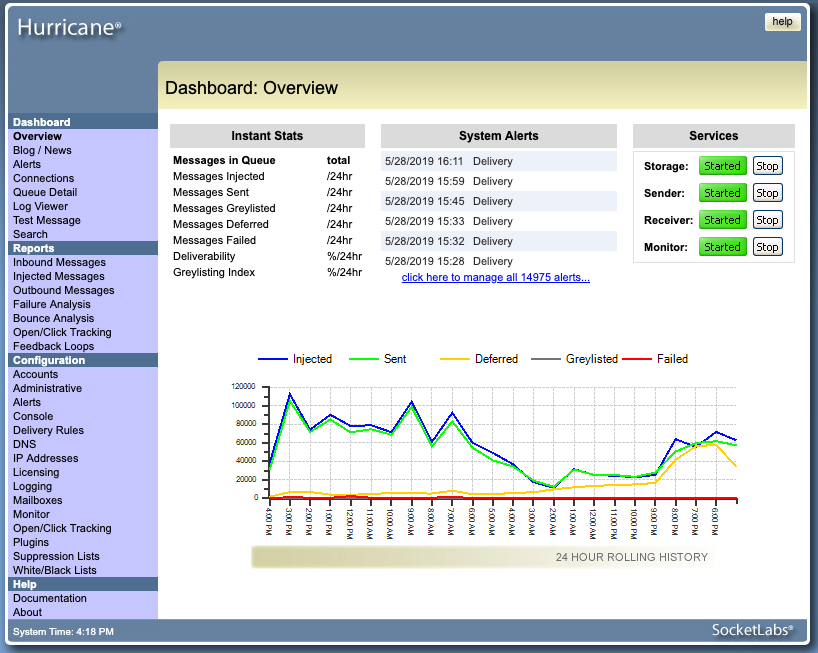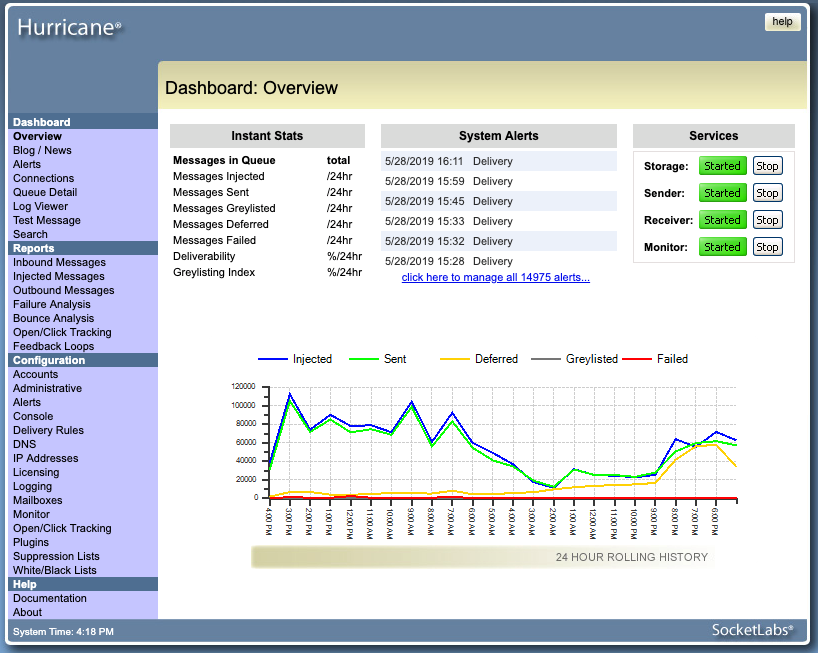 Hurricane MTA Server
Hurricane MTA Server is a robust and intelligent Mail Transfer Agent (MTA) capable of processing extremely high volumes of email messages. Hurricane MTA Server was architected to deliver bulk email fast. Our unique queuing technology enables Hurricane email delivery server to process over a million messages per hour.
Our on-premise business email solutions have a great deal of intelligence built in. We offer Smart Delivery Rules that shape traffic on a per domain basis, feedback loop analysis, bounce handling, and automatic suppression lists.
Hurricane Assembly Server
Hurricane Assembly Server programmatically builds and customizes email messages based on templates and recipient data sources.The Hurricane platform's on-premise products may be licensed in a variety of configurations designed to suit your needs. You may wish to pair an Assembly Server with an MTA, for example.
Hurricane Load Balancer
Hurricane Load Balancer distributes SMTP traffic across one or more MTAs to ensure high availability and scalability.This allows existing and new Hurricane MTA Server customers to balance traffic, achieve greater fault tolerance, and add capacity with minimal effort.
"Because of SocketLabs expertise, excellent service and smooth operation, we were able to get out of the email management business and go back to focusing on our core product.  SocketLabs' turn-key email solution made it easy to off-load our email processing. In addition, they have a friendly, responsive team of email experts that helped us resolve our email deliverability issues and an API and reporting that gives us a critical level of visibility into the process."
"Working with Socketlabs has allowed us to focus on growing our top line revenue while enjoying the email assurance that they provide. From the moment we signed up through unique challenges that we have experienced, it has been their support and understanding that has made us a loyal customer. We would recommend their services to anyone that is looking for a world class system backed by their world class support."
"We developed a mass email delivery system in-house, and when we started to overwhelm our servers, we turned to SocketLabs' dedicated outbound email solution. The SocketLabs email servers are not only fast, but they are extremely reliable. Our franchise community couldn't be happier!"