Secure Engagement Tracking With the Flip of a Switch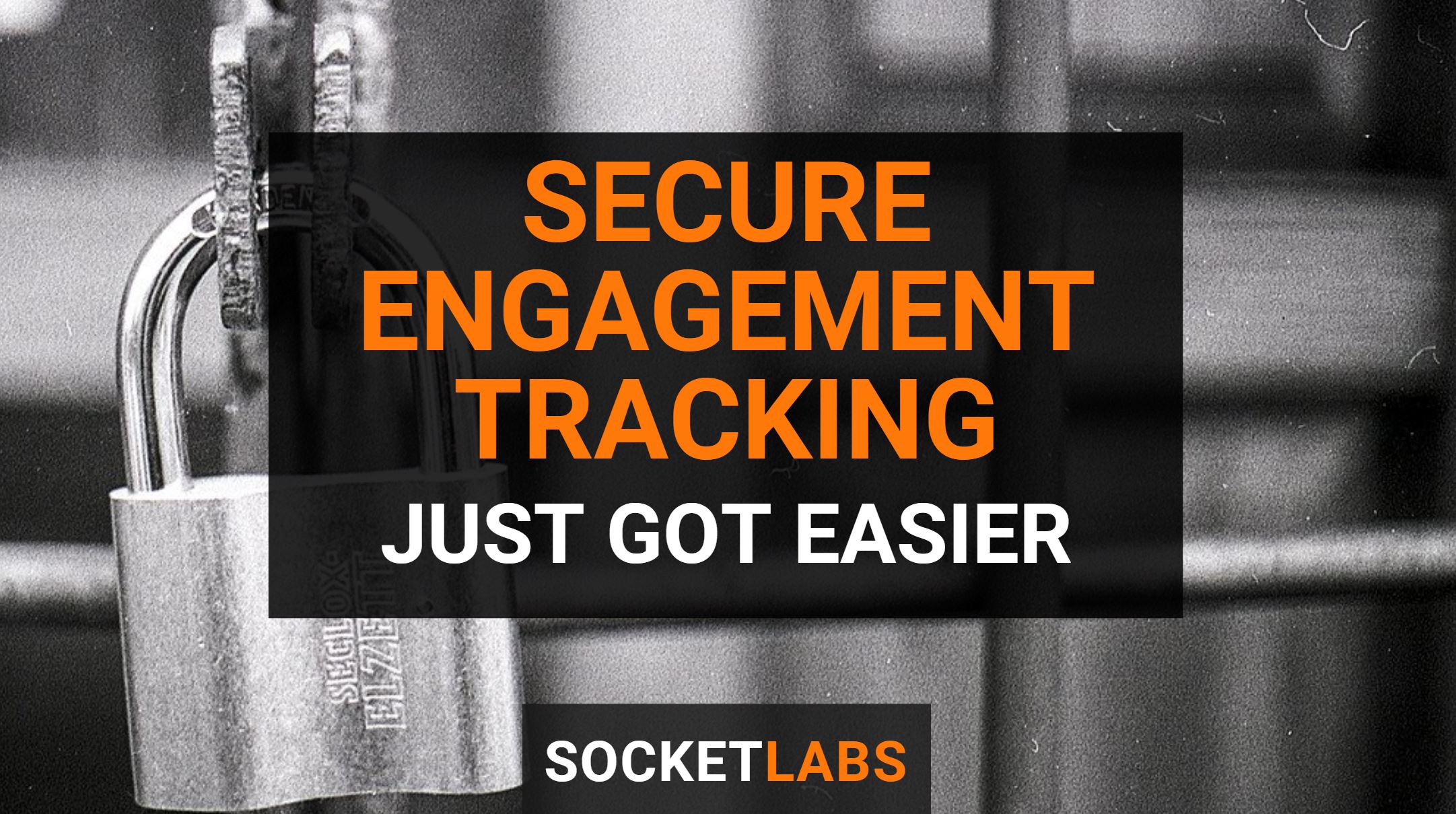 One day wireless cell phones are an outlandish idea for the distant future and the next, Alexa is turning out my lights and locking my doors from 3,000 miles away.  Needless to say, technology is evolving…and quick. Staying up with these trends and innovations is no easy feat, but the execution of such efforts can separate the winners from the losers, especially in the fast-paced SaaS industry.  Today, this innovation comes in the form of email security and encryption; specifically, secure engagement tracking.
SocketLabs is excited to release encrypted engagement tracking, accessible to users with the simple flip of a switch. This new feature will allow SocketLabs users to configure secure engagement tracking with minimal effort, saving days worth of development, server configurations, and tons of money.
If simplified secure link tracking is something you have been desperately awaiting, the wait is over, read on to learn more. 
What is Engagement Tracking?
As an email service provider, SocketLabs sends high volume email for customers through our email infrastructure.  That means we manage all of our servers ourselves and do all of the hard, technical work so our customers can divert their limited resources where it matters most to them.  In addition to the actual infrastructure itself, sending through SocketLabs gives customers access to a dashboard of email data and performance analytics. These metrics are displayed in the SocketLabs Customer Control Panel and provide valuable insights into email performance across mail streams.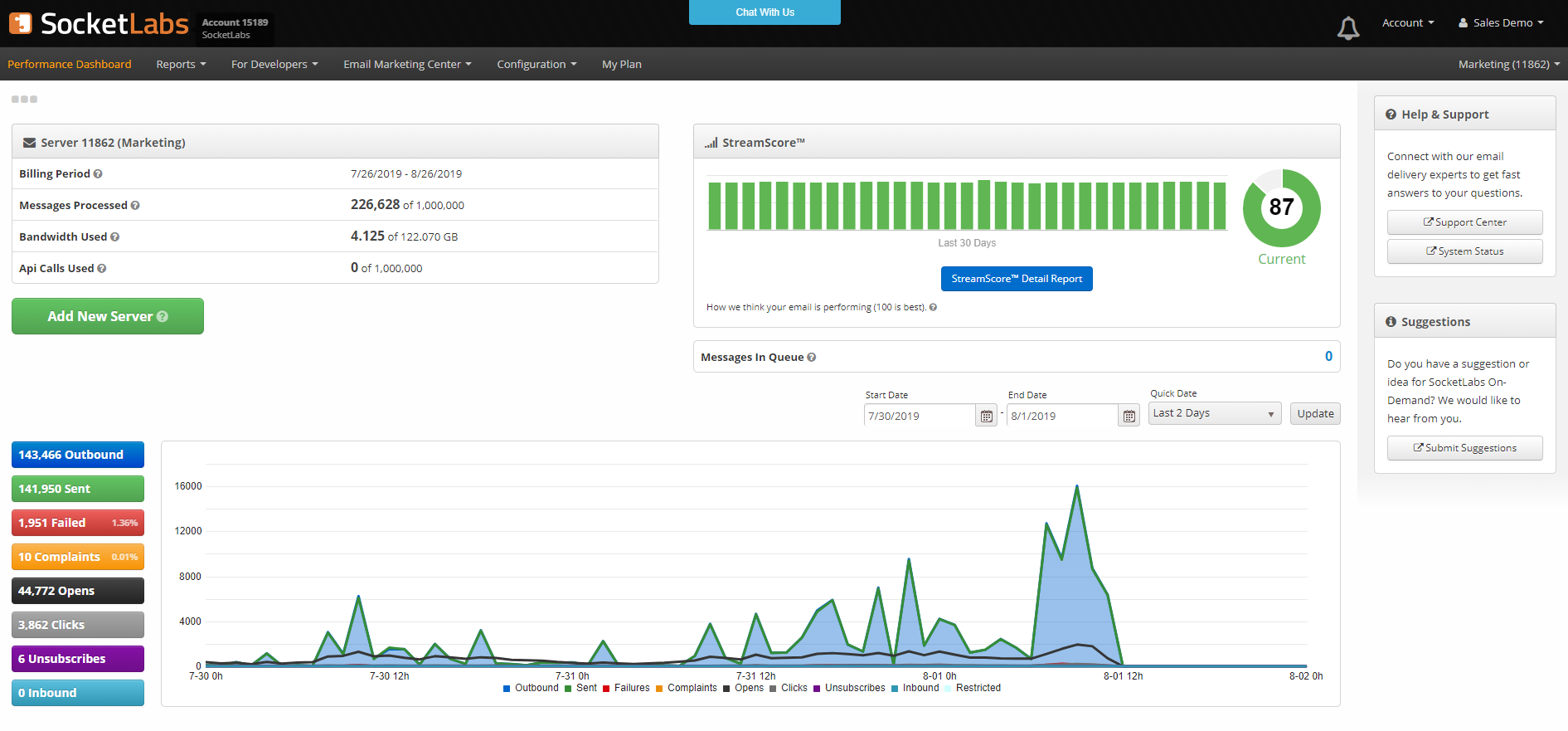 Engagement tracking is just one small, but important, part of the customer's email performance tracking. The engagement tracking feature allows customers to monitor how their email recipients are interacting with the messages sent to them; specifically, if they are opening the message, clicking on the links within the message, or if the recipient has unsubscribed from the message. 
Tracking the click-through-rates, opens, and unsubscribes within your email is the focus of our new link encryption capabilities.  To the average person, secure link tracking within your email might seem simple…it's not. And most companies that send high volume email know how difficult and time/cost consuming it can be to set up these engagement tracking capabilities in a way that is completely secure.
To break down the process of how a link is sent and tracked in an email through an email service provider like SocketLabs, let's break it down in a real world example. 
How Does Engagement Tracking in Email Work?
Company Example sends email through SocketLabs with a link https://www.companyexample.com/example embedded in the email.  The 's' in 'https' indicates that the company has acquired a certificate for the secure link to work.  The certificate or "cert" does two main things:
It provides the keys used to encrypt the https traffic across the web
It authenticates the server with the browser to prove legitimacy

Browsers are able to verify that site is the domain they claim to be
The email is intended to go to 50,000 people.  Company Example has engagement tracking set up to see how many clicks their link is getting.  To enable Company Example to track such data through the SocketLabs Control Panel, our email infrastructure automatically takes the https://www.example.com/example link, makes it in to a tracking link, http://clicks.example.com/example (note there is no 's' in this link) which sends the person who clicks the link through our tracking server so they can track that a click was made on their link.  Note that this transition happens quickly, the user does not know they engaged with a tracking link before reaching their destination. Immediately the user who reached the http://clicks.example.com/example domain is dropped off at their originally intended destination without delay.
What is Secure Engagement Tracking?
Previously, it was a very strenuous and cost prohibitive task to configure secure engagement tracking, a user would have needed to invest a considerable amount of time and money into custom development, reverse proxy server configuration, and system management.  The level of  difficulty and cost of such a task meant that less than 1% of SocketLabs customers enabled secure engagement tracking.  Now, with new technology released by SocketLabs, users can access new levels of security with the flip of a switch in the SocketLabs Control Panel.
How to Set It Up
If you can flip a switch in your control panel, you can enable secure engagement tracking, it's really that easy.  All you need to do is go into the "Configuration" drop down, select "Engagement Tracking Settings" and flip the "Encrypted Engagement Tracking" switch.  This feature is currently available for any customers on a paid service plan. To learn more about the plans we have available, visit our plans and pricing page.