Do Transactional Emails Need to Be CAN-SPAM Compliant?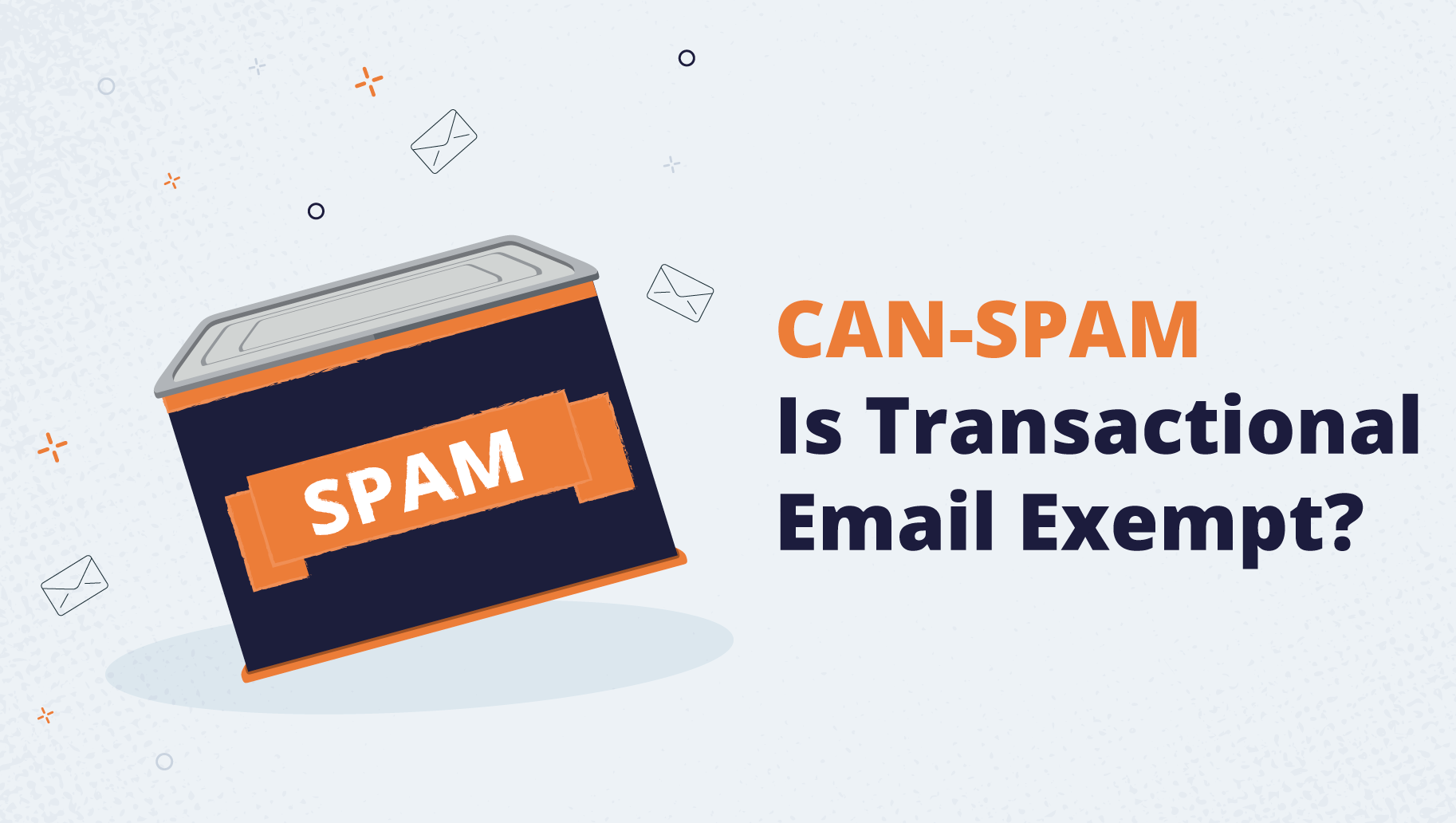 Remember when the internet was the Wild West and anything was allowed? Yes, I remember today, too. Just kidding, though email HAS gone through some changes to better protect email recipients now that email has been weaponized. We're no longer worried about dying because we didn't forward a chain email to 10 people. Instead, we're worried about dangerous spam with the risk of  personal data hijacking, monetary loss, and more.
The U.S. hasn't done too much in the way of creating hyper-strict privacy legislation with pricey penalties for companies not keeping personal data secure from malicious actors, but we do have Controlling the Assault of Non-Solicited Pornography and Marketing, affectionately known as CAN-SPAM.
You'll notice CAN-SPAM uses "marketing" as a key word in the phrase. So, generally all marketing email should adhere to its rules. However, is transactional email like receipts or package tracking considered marketing? It's a little hazy. Let's figure this out.
CAN-SPAM Exemptions for Transactional Emails
Now 20 years old, CAN-SPAM sets regulations and requirements for commercial email messages. Transactional emails are exempt from certain provisions of CAN-SPAM, it's not a blanket exception, so be sure to comply in the areas where requirements still apply.
Transactional email primarily give recipients information related to their recent interactions or transactions. Examples of transactional emails include order confirmations, shipping notifications, password resets, and account updates.
Here's the big point: Because their primary purpose is not promotional, transactional emails are not held to the same CAN-SPAM standards as marketing mail. Don't forget though, if you have any kind of marketing within the transactional message, you're back to full compliance required.
Do Transactional Emails Require an Unsubscribe Link?
Here's a common question we hear a lot: Do transactional emails need to include an unsubscribe link? According to CAN-SPAM regulations, transactional emails are not legally obligated to include an unsubscribe link or provide explicit opt-out instructions.
Honestly, though, it's not super complex to add one and it gives recipients a better experience. It should be a bare minimum on all your mail.
Best Practices for Staying Compliant
You can't get sneaky. You can shimmy around some rules because it is legal to, but there are other things you need to ensure you're doing to stay on the right side of the law.
Clearly identify transactional emails
Use appropriate headers and subject lines that accurately reflect the transactional nature of the email. This is not the time to be vague to entice a click.
Provide clear and relevant information
Transactional emails should focus on delivering the necessary information related to the recipient's interaction or transaction. No frills necessary, though there's no law against creating engaging copy or a nice design to improve the experience.
Avoid misleading content
While transactional emails have exemptions, they should not contain false or misleading information that could confuse recipients. How many times have you seen a subject line like "Order incomplete, finish check-out" when it IS spam? Don't be that guy unless you're that guy, and if you are, stop it.
Protect personal data
This is huge and it isn't limited to transactional mail. Have great data protection practices. If you don't, your recipients info could be stolen, your brand name hijacked, and then you accidentally become the guy who sends very convincing but very dangerous transactional phish.
Conclusion
One last time: Transactional emails enjoy certain exemptions under CAN-SPAM, but you should always follow best practices regardless of the mail you're sending. By following these the CAN-SPAM regulations in all areas of your email program, you can ensure compliance, improve customer satisfaction, and foster positive relationships with their audience.
It's probably a great idea to put your transactional email streams in the care of a great email service provider who specializes in it. Like SocketLabs! Give us a free try and see how easy it can be.