SocketLabs StreamScore™
Turn Email Data into Meaningful Action
In the increasingly complex world of high-volume email, turning important analytical insight into useful action can be one of the most challenging facets of email deliverability. StreamScore is the solution to that problem, simplifying and improving the way you use comprehensive data to drive email performance.
So let's take a deeper look into what StreamScore is, some of the recent improvements it's undergone, and how it can be used to maximize the success of your email programs!
What is StreamScore?
StreamScore is SocketLabs' email performance monitoring and reporting tool that analyzes your email across numerous first and third-party data points to determine the overall health of your mail streams.
If you are new to email delivery, think of StreamScore almost like a credit score. There are so many factors that go into your email deliverability that determine whether or not your email makes it to the inbox. And for new (or sometimes experienced) senders, knowing or monitoring all of these factors can be overwhelming. StreamScore uses built-in intelligence to show you how you are performing, areas that need work, and best-practice guidance to help get you or your senders back on track.
The report is designed to help you find new opportunities for improvement by providing scoring and insight into four key components of your email program: audience, engagement, reputation, and authentication. The score is based on a scale of 0-100, 0 being the worst and 100 being the best.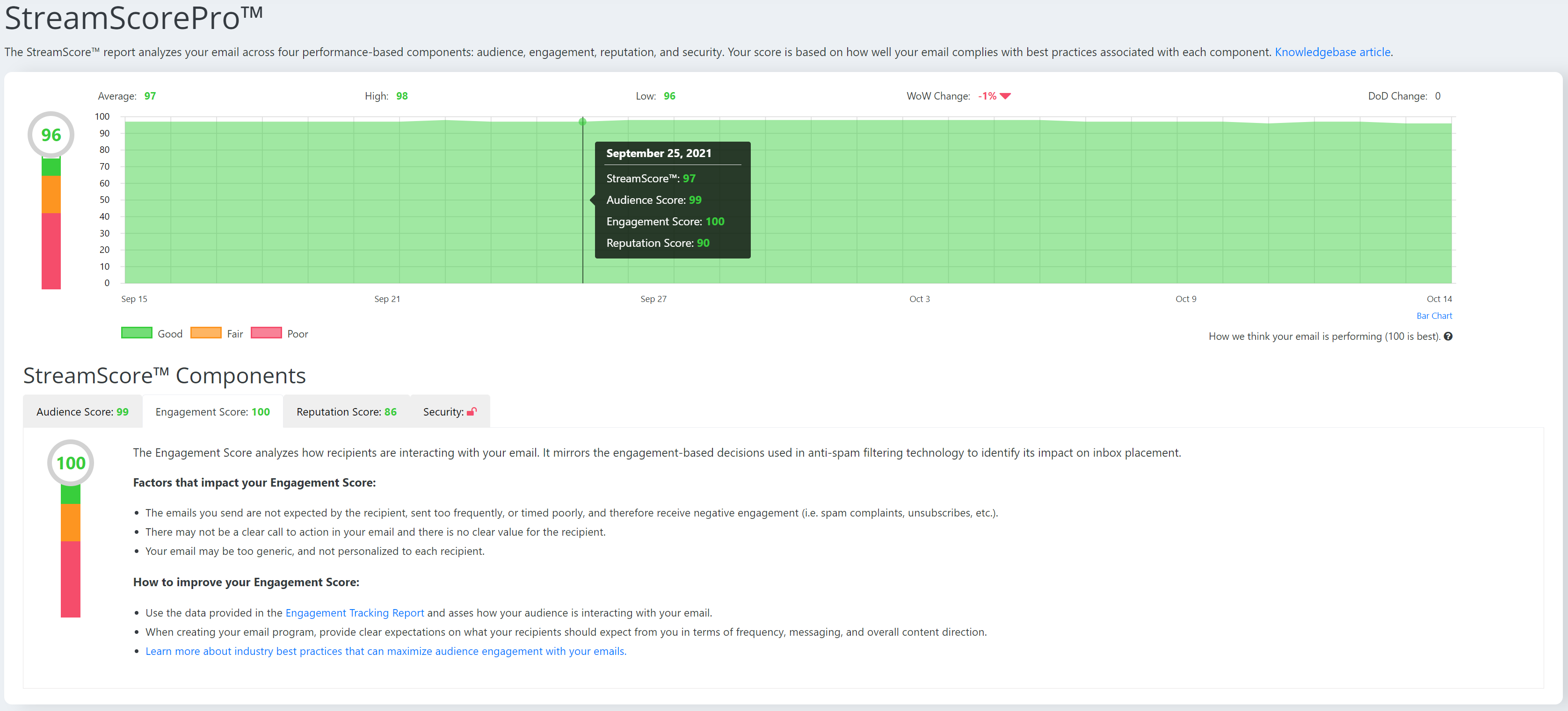 How StreamScore Works 
StreamScore Algorithm 
The newest version of StreamScore collects, analyzes, and weighs three times the amount of unique data compared to the original. Aside from metrics we collect through our MTA (first party data), StreamScore also utilizes valuable data from third-party tools like Google Postmaster Tools and Microsoft SNDS to get deeper insight into reputation, spam rates, errors, and more. The combination of first and third party data provides a deeper, and more accurate look into your email program than any other deliverability tool on the market.
The algorithm that powers StreamScore packages all of this data by boiling it down to the four weighted components mentioned earlier. So rather than trying to interpret tons of different data points and trying to figure out how important they are and what they mean, the StreamScore algorithm does it for you to reduce complexity and give a more accurate view of your email program's health.
StreamScore Components
We know all of this data can quickly become overwhelming, so the report reduces down to one primary StreamScore and four component sub-scores. These scores will help identify where a problem may exist and how to make needed changes with best-practice guidance.

Audience Quality Score
The Audience Score analyzes the quality of recipient email addresses used. This score is a result of the practices used to collect recipient email addresses and the level of maintenance performed on existing recipient lists/addresses.
Engagement Score
The Engagement Score analyzes how recipients are interacting with delivered email. It mirrors the engagement-based decisions used in anti-spam filtering technology to identify potential impacts to inbox placement.
Reputation Score ­
The Reputation Score analyzes feedback received directly from major mailbox providers about how they are judging the email you send. This scoring component allows you gauge your ability to successfully reach the inbox.
Security Check
The Infrastructure and Security Check analyzes the sender's account configuration and the use of proper authentication for messages.
Domain-Level Reporting 
In addition to the new scoring formula, StreamScore also provides the ability to get reporting on the domain level. If your organization sends on behalf of hundreds or thousands of domains, it can be challenging to manage each domain individually. StreamScorePro solves this problem by providing historical reporting at the domain level, allowing you to monitor each domain, how it's performing, and how it's impacting your overall sender reputation. Because StreamScore breaks the score down into 4 components (Audience, Engagement, Reputation, and Authentication), it's also easier to understand why a certain customer's domain may be facing issues.
Similarly for companies who send directly on multiple domains in their organization, the domain-level reporting can help you manage each domain individually to get important performance feedback.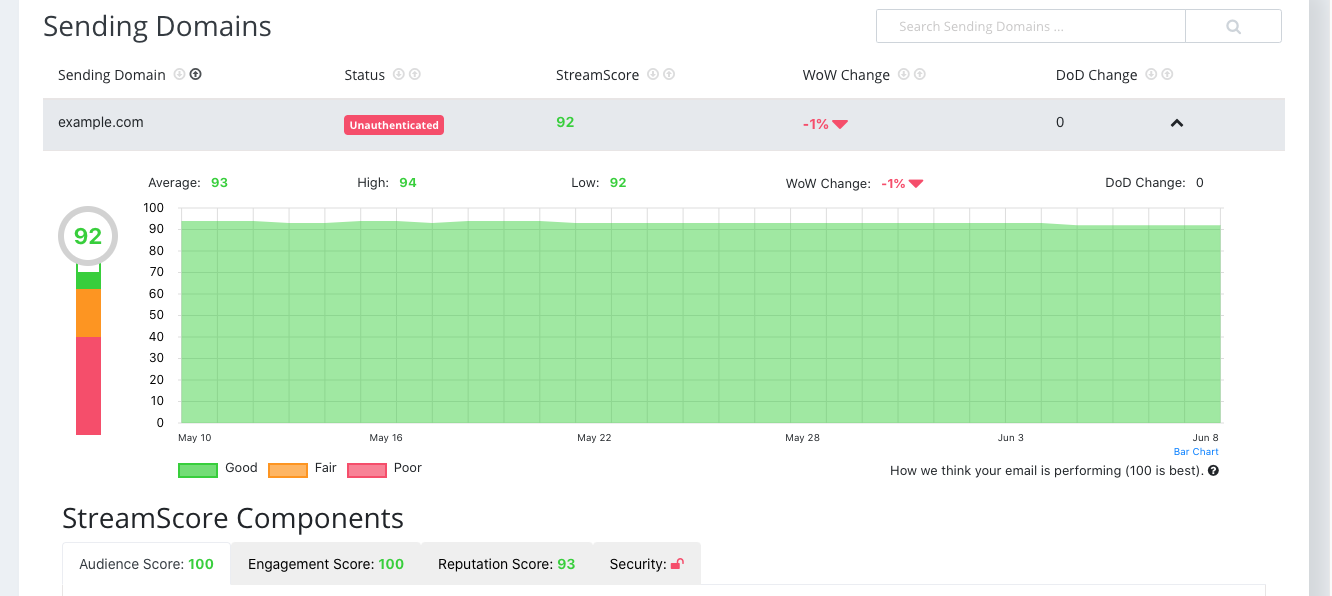 StreamScoreLite Vs. StreamScorePro
SocketLabs customers, depending on their plan level, have access to two versions of StreamSocore.
*Note that many of the features above reference the qualities of StreamScorePro.
StreamScoreLite is provided to Free and Basic plans. It includes a single, comprehensive score and a non-interactive graphic visual of your StreamScore history.
StreamScorePro is available at Professional and higher plan levels. It offers a comprehensive StreamScore, a fully interactive graph of the your historical data, four StreamScore component scores (with best-practice guidance), and the ability to get a unique StreamScore for each domain you send on or on behalf of.
Making Email Efficiency a Priority
The most important function that SocketLabs has as an email service provider is to create a simple yet effective environment for senders of all shapes and sizes to get their important email to the inbox. StreamScore is designed to help customers understand and act on their email delivery with more data and insight than ever before without adding more complexity.