StreamScore™ Evolved: Turn Data Into Action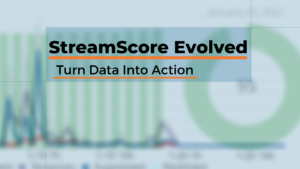 Perfecting email deliverability can be a bit of an art.  It requires a deep understanding of your email ecosystem to be able to turn essential analytical feedback into actionable insight.  As tech companies race to deliver excessive amounts of overly complex data to their users, we have created a formula that enables our customers to maximize the value of their most indispensable data.  This formula will simplify and improve the way SocketLabs customers turn crucial email analytics into meaningful insights and actions that drive performance. 
SocketLabs StreamScore provides a quick, yet thorough, evaluation of how well your email has performed from a delivery perspective and how well it is likely to perform in the future. We analyze a wide range of data points to calculate your score on a daily basis. StreamScore provides you a clear indication of what factors are driving your email performance.
In an effort to further enable the success of our customers in 2021 and beyond, we are excited to announce the next generation of SocketLabs StreamScore which will be coming soon. Included in the next generation Streamscore, are several improvements that will simplify and enhance your ability to turn essential data into actionable insight for your organization:  
Additional granularity to allow easier identification of performance improvement opportunities

Improved data visualizations and performance trending

 

Data Science including AI/ML techniques to refine our algorithms and optimize accuracy

 

Doubling the number of data points including additional third-party data sources

 
Not only are we dramatically improving our ability to score your mail streams, but we are making it easier for you to understand how to diagnose and address email delivery issues.  Your score will still be based on 4 key components that we have further clarified to make them easier to understand: 
Audience

 – How good 

are

 your email list hygiene and acquisition 

practices

 

Engagement 

– Do your recipients engage with your content

 

Reputation 

– How do ISPs view your mail

 

Security 

– Do you leverage the latest practices to secure your 

mail

 
We have also recently added notifications to alert you when your StreamScore drops or improves.  These notifications aren't auto enabled so you will need to log into your account and subscribe to the notifications if you would like to receive them. (Watch the short how–to video here.)  
StreamScore is just one component of a brand-new dashboard and a new user interface we are building for our customers in 2021.  We are absolutely thrilled to provide our customers with innovative tools and solutions to meet your email needs and exceed your expectations.