Email Analytics Software
Monitor, track, and improve your email deliverability with SocketLabs advanced email analytics and reporting.
Try For Free
See Plans and Pricing
Visualize & Monitor Your Deliverability With Advanced Email Analytics
Sending is only part of the equation in a successful outbound email program. What happens after you hit send is just as critical. With our advanced email analytics tool, you can apply the fine tuning necessary to ensure that your emails reach the mailbox on-time, every-time. 
Email analytics software doesn't just administer observations about email metrics. It provides the opportunity for your sales or marketing teams to gain insight on how to tailor your email programs to achieve the results you're aiming for. Start leveraging advanced email marketing analytics to measure performance and maintain visibility for your most important campaigns. 
The SocketLabs Control Panel Email Analytics Tool offers:
Real-Time Delivery Status Notifications

StreamScore That Lets You Know Your Mail Is Performing

Detailed Email Metric Tracking For Delivered, Opened, & Failed Messages

An Email Analytics Dashboard for Measuring & Monitoring Results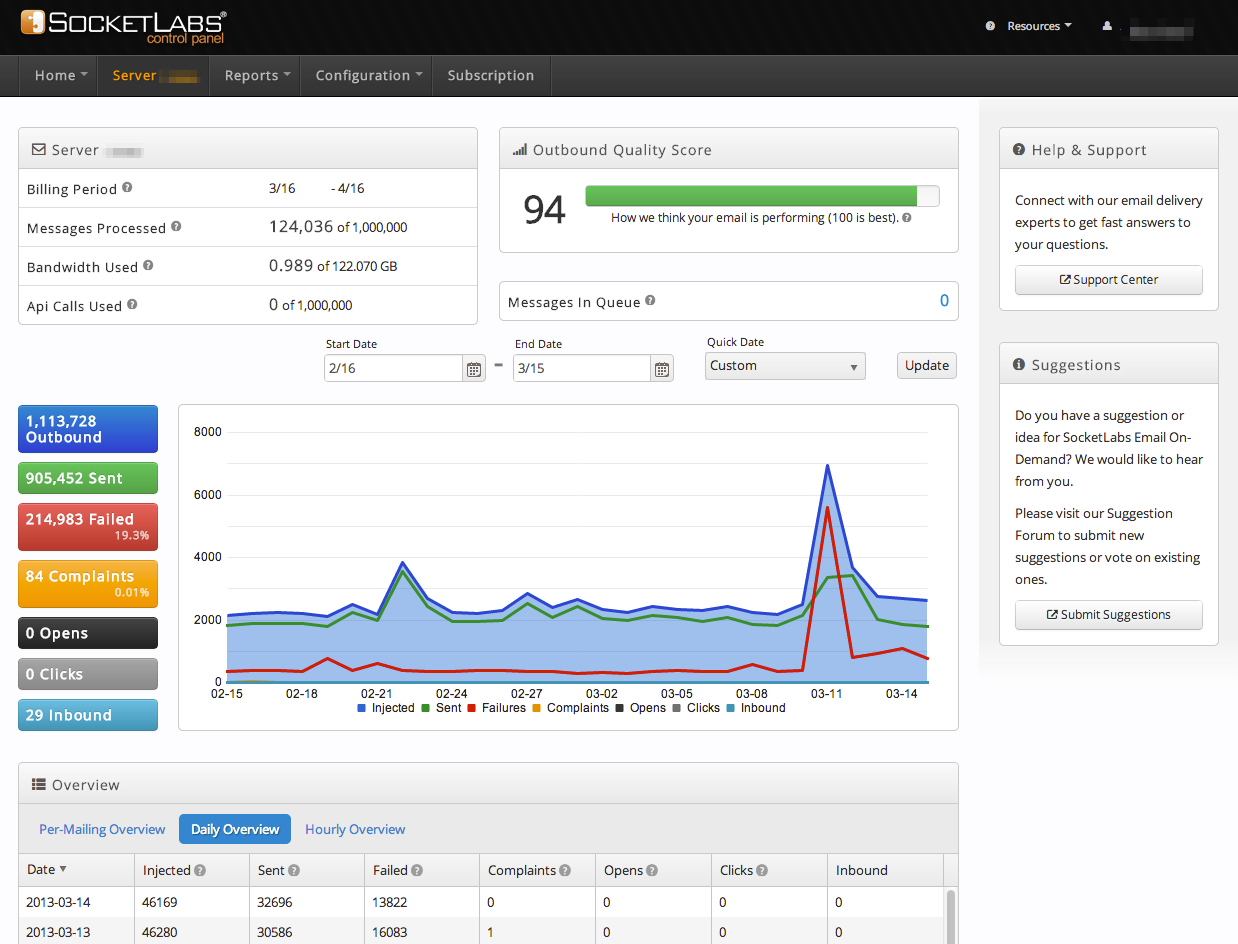 Advanced Email Analytics & Deliverability Metrics
Outbound Messages
See the number of outbound messages you injected for email delivery before being sent to the intended destination.
Sent Messages
Gain insight into the number of outbound email messages successfully accepted by the recipient's mailbox provider.
Failed/Bounced Messages
See how many messages were unable to be delivered — including failures and bounces.
Recipient Complaints
Discover how many people complained about your email marketing by moving your message to spam.
Opens/Clicks
Track opens and clicks for your outbound email using engagement tracking.
Inbound Message Parsing
Measure the number of messages captured from inbound SMTP traffic, parsed and forwarded via HTTP POST to a specified URL.
"We tried your competitor and they were almost impossible to get in touch with and when we finally did, they were no help. We have always believed that customer service is the reason for our success and it is nice to do business with a company that feels the same."
"We have recently chosen Socketlabs as our SMTP provider because they are really professional, their services are good, fast and nicely supported by the Socketlabs team. The service is good because the emails sent via the SMTP are always delivered and there is a really nice web console where you can check the status of all emails sent. Their support is very fast to reply when you have a question.  It was also very fast and well documented to get up and running.  After investigating SMTP providers Socketlabs appeared to us as the best SMTP provider that fit our needs.  We are happy with them!"
""A few reasons [for why I chose SocketLabs] - You [Customer Service] ... Knowledgeable, answered all of my questions, were willing to help in anyway you could. That direct engagement definitely gave you guys a boost! USA built and supported. I like the additional features that I could wrap my head around later and try to sell as an added service. My goal was to get a trusted IP address to send all of my scanned SMTP mail to. I'm using your service now and I'm already seeing a difference! If it keeps up at anywhere close to the acceptance rate I'm seeing now, I'll be buying the bronze package by 4 PM tomorrow. I know I'm going to have good support from you guys and the platform looks like it's a lot more than I'll ever need.""
Email Analytics Tips, Insights & More From the Socket Labs Blog:
Improve your email deliverability with SocketLabs' delivery solutions! Avoid filters, and let our comprehensive system help get your email to the inbox.
You're ultimate SocketLabs resource for DKIM authentication. What is DKIM, how it works, how it can protect your domain from email spoofing, and much more!
You're ultimate SocketLabs resource for SPF email authentication. What is SPF, how it works, how it can protect your domain from email spoofing, and improve deliverability!