6 Ways to Plan Ahead for Holiday Email Sending
The holiday season is quickly approaching and if you have been paying attention to your inbox, then you may have already noticed some holiday emails rolling in, signaling that it's time to start planning ahead for your own email sending over the holidays.
In this article, we'll give you six ways that you can start planning ahead, so you can have more success as a sender this holiday season.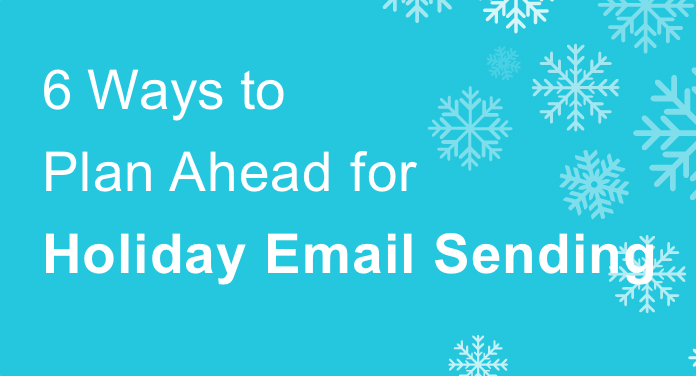 Holiday Email Tip #1: Start Planning Ahead Now by Reviewing Your Server Settings
The time to repair the roof is when the sun is still shining
– John F. Kennedy
If you're wondering why you should start preparing for the holidays now, then the quote above really says it all. It's better to prepare your email sending for the holidays now, so you can carve your turkey and drink your eggnog with the confidence of knowing that your email campaigns are setup for success.
You can get started with the planning process right now by logging into your account and reviewing your server and plan settings. For example, if you plan to send more messages then you can temporarily increase your monthly message limits by moving up to the next plan. This will ensure that your service won't be interrupted and that you save money if you go over your current plan.
After you check your server and plan settings, the next step is to do some holiday cleaning.
Holiday Email Tip #2: Reduce Usage and Clutter by Cleaning Your List
Regardless of the time of the year, it's always a good idea to get into the habit of cleaning your lists to maintain good email list hygiene. So, if you haven't cleaned your lists lately, then now is the best time to perform some routine maintenance in your account.
Here are some list cleaning ideas:
Remove suppressed and invalid emails from your lists.
Even though SocketLabs is one of the few email services that doesn't charge for contacts, it's still a good idea to remove unengaged contacts from your main lists. Consider removing the emails of subscribers who haven't engage with your content within a specific period of time (i.e, over two years). If you're hesitant to remove this group of people from your list, then try segmenting them into a re-engagement campaign before they start receiving more email from you.
Ensure that all emails on your list are valid and are receiving mail based on our acceptable use policy, to prevent a potential service interruption.
Delete any unused lists that you don't use to help clean out clutter.
The above tasks will help optimize your account for the holiday season. Next, if you are sending marketing email, then you may want to consider segmenting your lists.
Holiday Email Tip #3: Segment Your Email List for Better Performance over the Holiday Season
At SocketLabs, we recently launched List Segmentation, to help you take your email marketing to the next level.
According to the Direct Marketing Association (DMA), 77% of email marketing ROI comes from segmented and targeted email campaigns. As you plan for the holidays, now is a great time to familiarize yourself with the List Segmentation feature.
For better performance over the holiday season, try segmenting your list based on recent subscribers, custom fields, and more.
Holiday Email Tip #4: Create Some Great Looking Holiday Email Designs
Planning ahead for the holidays involves more than just optimizing your account and cleaning your lists. It also helps to have some great looking emails designed and ready to be sent to your subscribers.
Over the last few months, we have significantly improved our Drag & Drop Email Designer, so you can easily create emails that engage your audience across mobile and desktop email clients. You can read about our Email Designer here.
Try using Our Email Designer to create some great looking holiday emails. It's free for all users, regardless of what plan you're on. You can find the Email Designer in the Email Marketing section of the SocketLabs Control Panel.
Next, if you plan to send more email over the holiday season, then read tip #5 for some money saving advice.
Holiday Email Tip #5: Save Money by Increasing Your Message Plan
Do you plan to send more messages during the holiday season?
Then consider upgrading your SocketLabs Server to a higher message plan. By upgrading, you can reduce your per-message rate and you may be able to save money through the holiday season (you can always downgrade your plan later).
Follow these steps to increase your message plan:
Log in to the Control Panel
Click the View button next to your server
Select the Subscription menu item
Then choose your desired plan
Holiday Email Tip #6: Adjust Your Overage Handling Settings
During the holiday season we tend to see email traffic increase by as much as 30%. This means that senders just like you ramp up email volume, now through the holidays.
As we head into the holidays, one thing to keep in mind is that your SocketLabs OnDemand account has the ability to send more messages than your plan includes. At SocketLabs, we call this Overages and by default your Overage Settings are restricted to 200% of your message plan.
This setting is used for your protection, but you can adjust this "safety-valve" to ensure your service is not interrupted in the event that you find yourself sending more email during the holidays.
To adjust your overage handling settings follow the steps below:
Log in to the Control Panel
Click the View button next to your server
Select Configuration from the menu near the top of the page
Then select Manage Overage Settings
It's Time to Put Our 6 Holiday Email Planning Tips Into Action
We just gave you six simple steps that you can use to plan ahead for your holiday email sending. Simply login to your SocketLabs account to start putting our advice into action now, so you can benefit during the holidays.
If you have any questions, then you can reach us at [email protected], or through live chat in the bottom right hand corner of the screen.
If you intend to send out email during the holidays, but you're not currently a SocketLabs user then you can try SocketLabs with a free account here.
❄️ Happy Holidays! ❄️