Email in 2025 Featuring Jordie van Rijn, Email Vendor Selection

Please welcome Jordie van Rijn!
Jordie van Rijn is email marketing consultant at emailmonday and founder of emailvendorselection.com.
Marketers may have a few less-than-sunny days in their future if Jordie has anything to say about it, but it seems smart marketers have a chance at seeing a rainbow on the horizon if they keep their sights set on email in 2025. Read on to find out how Jordie sees the next few years playing out for marketers:
How do you see email fitting into the marketing mix in 2025?
It seems like there is some stormy weather ahead in Marketing land. And I know that isn't a happy message, but it's looking to become a lot tougher to reach your audience in the coming years.
Smart marketers will think of what to do in bad weather scenarios, and email marketing is a key part of that. Some trends to keep an eye on…
Social platforms will become less and less effective as they get more crowded. Or just overflowing with AI generated nonsense. So if you want, or need to shift focus, get ready to use email and re-build your audience on other platforms.
Ecommerce purchase habits of customers and B2B are bound to change – something to keep a close eye on in your market. How will they find you and how can you keep that relationship going. Double the impact if you sell digital products and downloads.
Generative AI will bring amazing things and efficiency. Side effects will be up for debate. But what we know for sure SEO and SEO-centric content marketing will become harder. A different way to promote your content is needed.
Even one of these changes can a big shift for your marketing. Luckily email, and this is where you'll see it shine in 2025… email can be the glue between channels.
(Re-)build audiences in multiple channels.
Nurture relationships with your current customers
Promote products / services directly and activate audiences
I think, that while other channels start to become less effective, building a solid email list now isn't a bad idea. And remember channels aren't competing with each other, they can amplify each other, so I'd take a cross-promotional mindset. Even if your customer data isn't all centralized.
What about email do you see as a nice-to-have for now, but feel will be considered table stakes by 2025?
Email platforms will have Generative AI embedded to help you write and create your emails. To suggest subject lines, write a text blurb based on your blog article url, and give text improvement suggestions. Something like ChatGPT can do this already, but then inside your trusty email marketing tools. I wrote a piece on Generative Personalisation with AI, that may be a bit harder to get embedded – but as these functions come closer to your Personalisation data… that dream of the unique email for each and every recipient may just come true.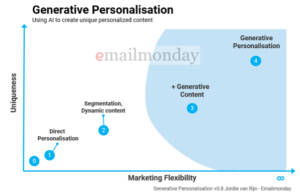 You can already see it happening now. We made an overview of AI writing tools, but expect many of these functionalities to become embedded into email and other SAAS tools – they will end up where they make the most sense workflow wise.
What do you hope or wish to see change within email by 2025?
There are lots of inspiring developments I'd like to witness in email marketing. But every change starts small. So my wish for email marketing is for you, reading this right now. Yes you. 😀
If you can deliver a bit more value to your email subscribers.
If you can delight your customers every once in a while.
If you can set aside some time for a bit of extra experimentation and creativity.
If you can take a little step to get to know a bit more about your recipients, and profile enrichment.
Your subscribers will be happier for it. And that little bit of extra passion shines through.
PS: Oh and yes, and this is a pet peeve. I'd love it if we keep a clear separation between email marketing and email outreach (you know those unsolicited sales emails, that somehow all normal people call spam, is illegal in a lot of countries, but a whole industry of outreaching tools doesn't seem to see that).