Email in 2025 Featuring Bill Volz, SocketLabs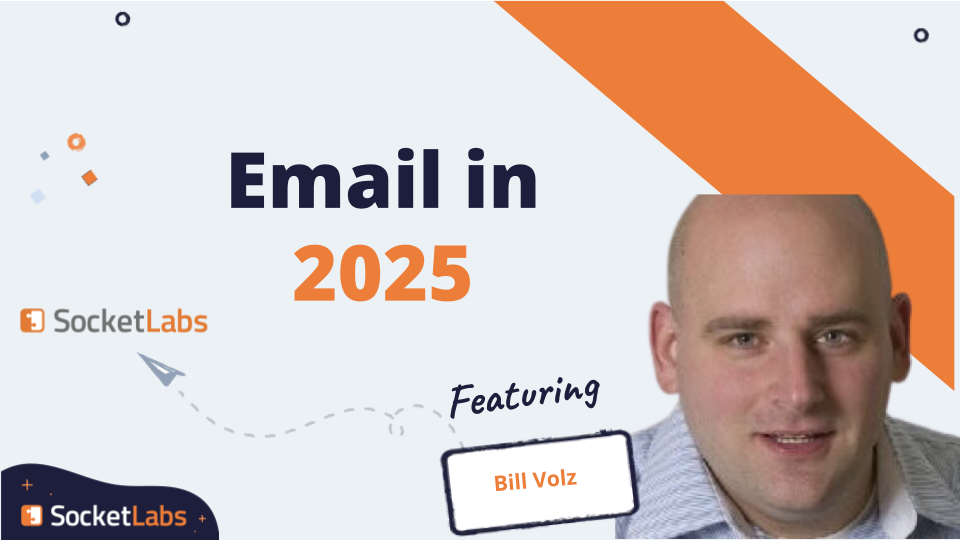 Please welcome Bill Volz!
Bill Volz is the CTO of SocketLabs and a 25-year technology veteran with background in research, development, infrastructure, and security. Since co-founding SocketLabs in 2007, he's dedicated his career to building the scalable and highly available email messaging system our customers have come to rely upon today.
What can we say about Bill, other than he's a genius of technology, a whiz at email, and overall very funny man? A lot, but we don't have a ton of room, so let's get into it. Bill 's seen email evolve over the past 15 years. His depth of knowledge makes him a great candidate to speak on the future of email in 2025, so we couldn't do this series without him.
How do you see email fitting into the marketing mix in 2025?
As the digital landscape continuously evolves, the cost and compliance requirements associated with sending SMS are rising steadily. This trend illustrates the enduring value and adaptability of email. Given these factors, it's apparent that email will persist as the preferred channel for primary communication, especially in formal and detailed business contexts.
What about email do you see as a nice-to-have for now, but feel will be considered table stakes by 2025?
In today's landscape, integrating email data into a data warehouse might be perceived as a strategic advantage or a forward-thinking initiative, but by 2025, getting your email data into a data warehouse will be of paramount importance. This integration will act as a linchpin for organizations, enabling them to unlock the full potential of their data and deliver better user experiences, ensuring the success of their marketing programs.
What do you hope or wish to see change within email by 2025?
We're witnessing a surge in content creation capabilities of AI and it's essential for spam filters to advance at a similar pace if we want to ensure important and relevant emails reach their intended recipients without being drowned out by unwanted messages. I'm optimistic that by 2025, advancements in this realm will make email communication even more effective and streamlined than it is today.