5 Interesting Ways to Use Email Data Analytics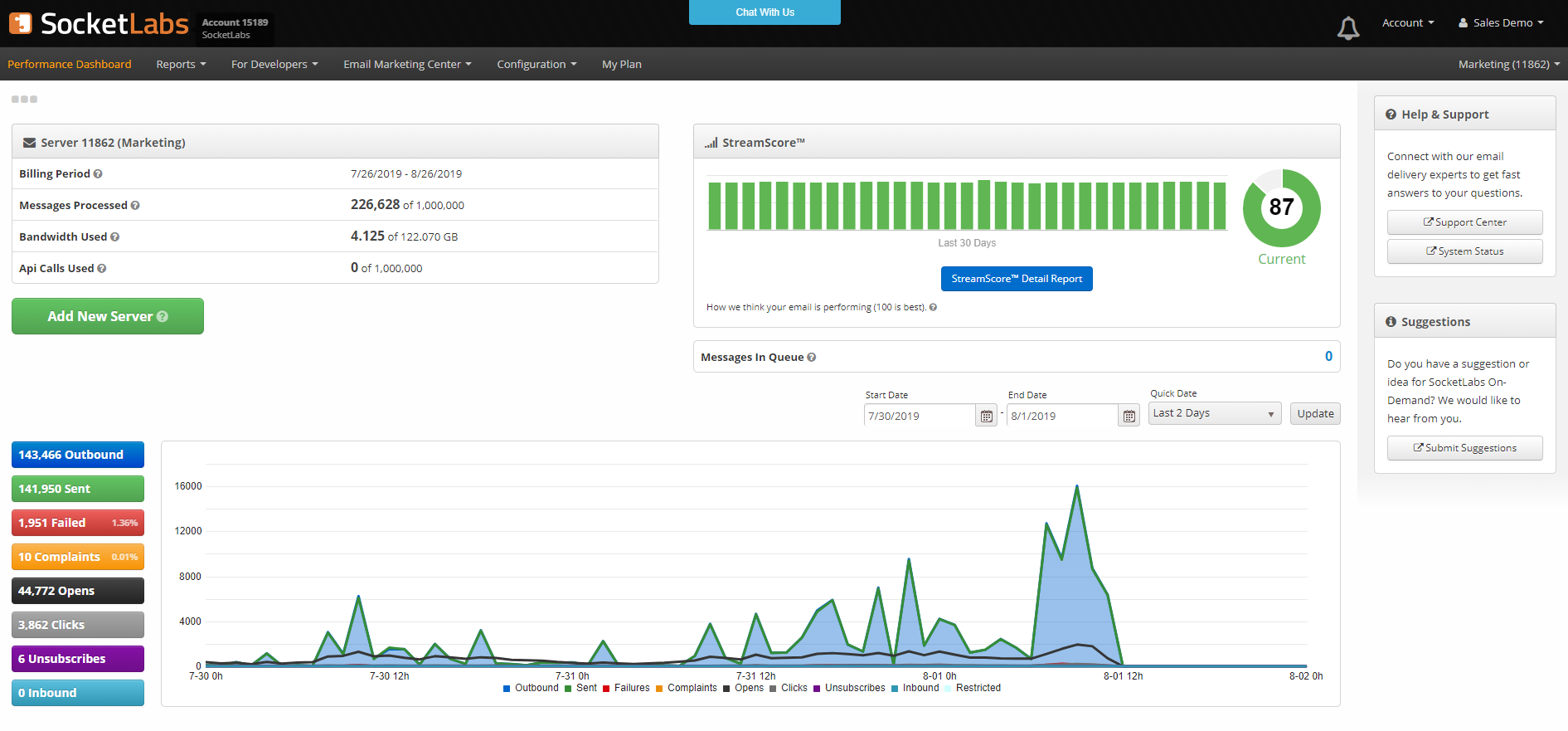 There is a lot that goes in to sending high volume email.  No matter if you are sending marketing or transactional email, getting everything to work can be a challenge.  To get your email up and running requires deep knowledge around things like server configuration, IP management, authentication, and so much more.  While there is a lot that goes in to your email, have you ever thought about what you need to get out of it? The answer is simple: email data analytics.  Email data analytics are a vital output of the email you send that can be used to optimize and fine-tune your email efforts.
With access to an email analytics dashboard, maximizing the success of your email can be much easier – if you don't have access to an email analytics dashboard or you don't know what to look for in your email analytics, don't worry – you are in the right place!  
Here are 5 Ways You Can Use Email Data Analytics to Optimize Your Email:
1. Increase Deliverability 
Email deliverability is a very broad topic, it basically covers all things that relate to your ability to deliver an email to the inbox. This means that everything from your physical hardware, to the subject line in your message and everything in between can contribute to your deliverability.  At a minimum, any high volume email sender should have very clear email analytics that will help them monitor and track their deliverability. 
While deliverability is a broad topic, the SocketLabs StreamScore provides senders with an aggregate score based on a weighted average of four qualitative areas that have a huge impact on your deliverability:
Hard fails

Blocks

Spam 

Complaints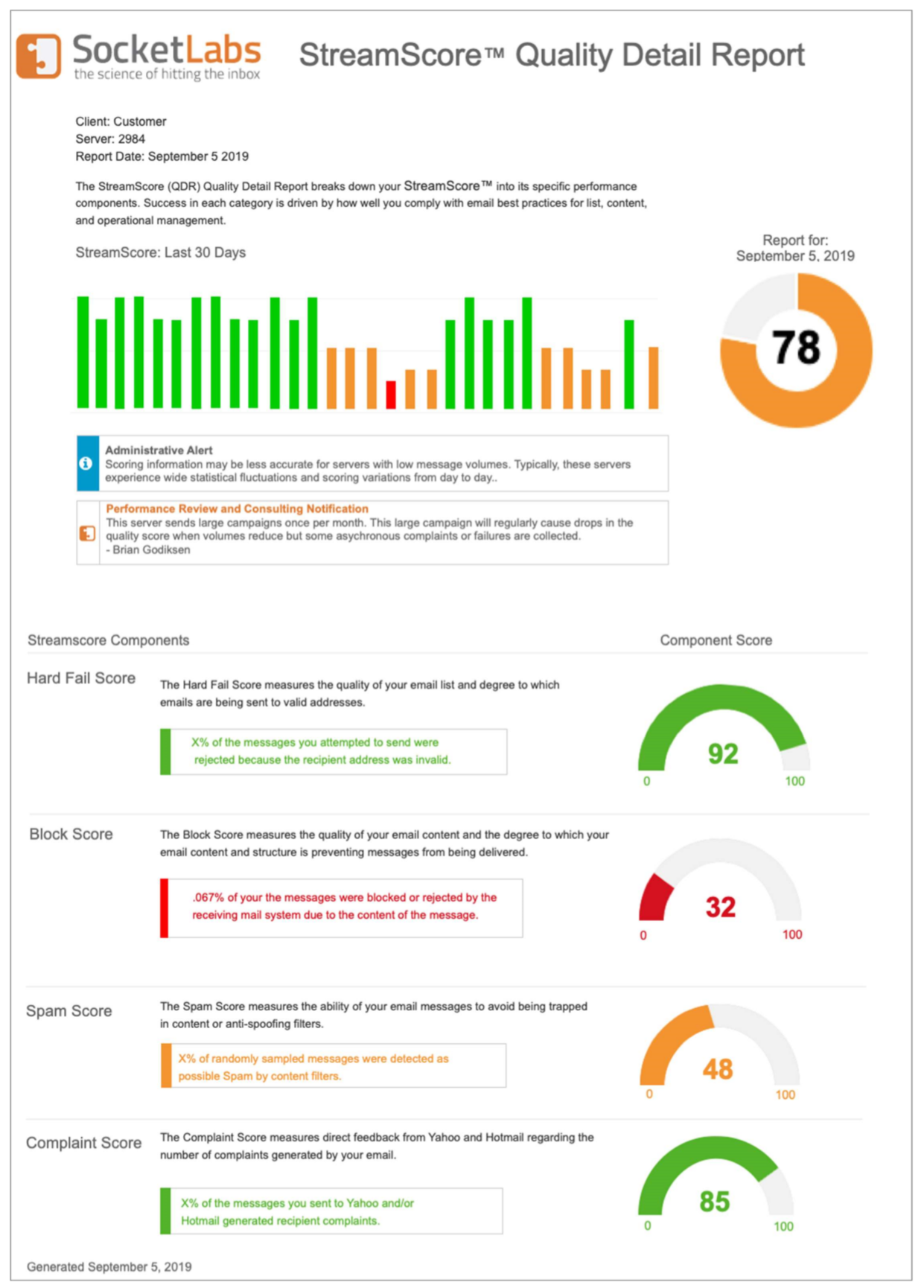 While the StreamScore isn't the end-all-be-all to your email deliverability, it will certainly help break down the broad ranges of email deliverability and help pinpoint the areas that need improvement.  
If you have a hard time maximizing your deliverability, read my blog on How to Improve Your Email Deliverability.
2. Decrease Spam
One thing that every high volume email sender wants to avoid is having their email land in the spam folder.  While at a quick glance you might think only spam lands in the spam folder, this presumption is wrong. Luckily, spam filters work well, they stop millions of spam emails every day.  Unfortunately, spam filters aren't perfect and often times we see senders with high quality, opt-in marketing and transactional, mail land in the spam folder. So how can you avoid the same fate?
The first step is knowing your email is landing in spam.  Working with an email service provider will give you access to advanced email analytics so you can see where the problem lies i.e. your mail is landing in the recipients spam folder.  SocketLabs customers have access to their email analytics dashboard which among other things, provides a spam score so they can see if their mail is likely to get stuck in spam filters. 

If it turns out there is a problem with your legitimate email landing in spam, there are a number of steps you can take to correct this.  To learn more, read my blog on the 5 Reasons Your Email is Going to Spam Instead of the Inbox. 
3. Increase Opens 
If you send high volume email for your business, you probably want people to open them.  Whether it's an automated welcome email or you're sending a marketing promotion, opens are important.  Assuming you are working with an email service provider to give you email campaign analytics on your opens, you should know what to make of the information you receive.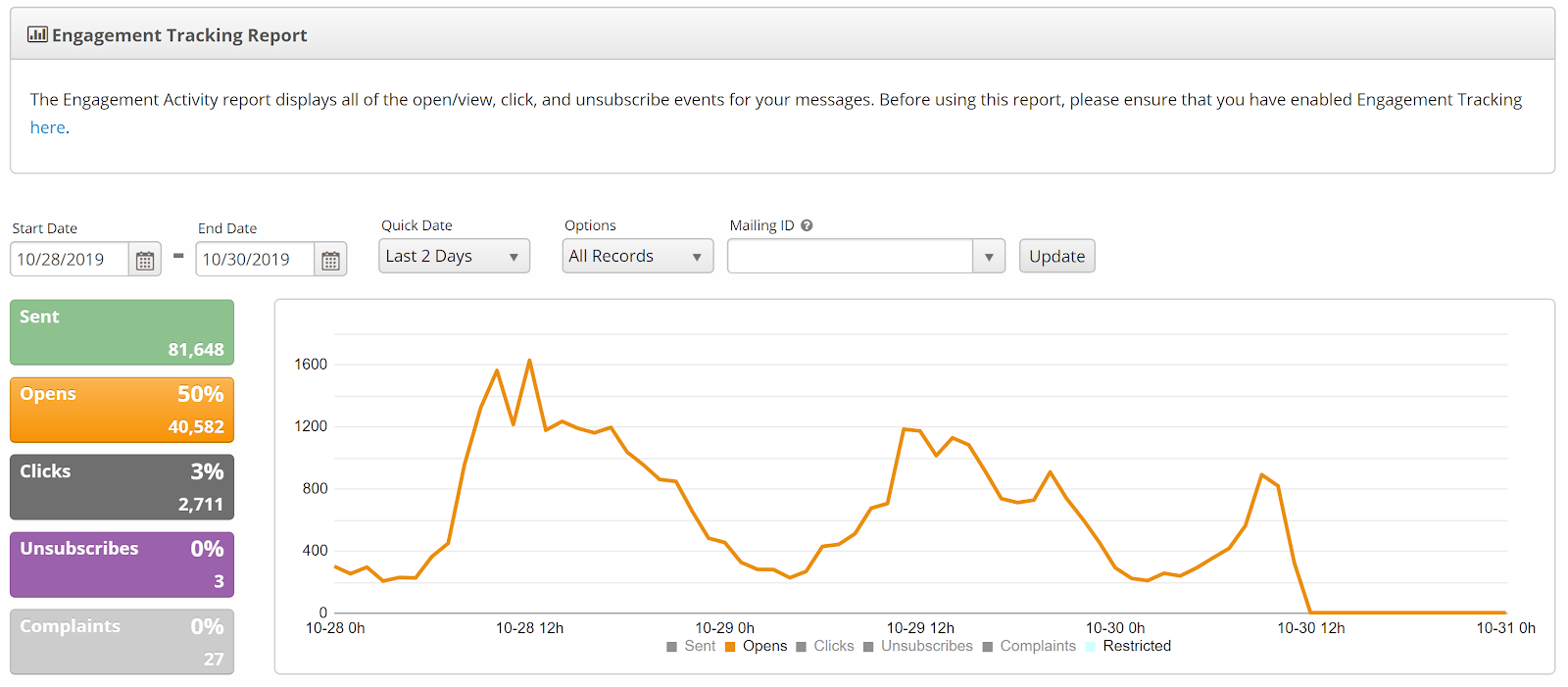 If you are monitoring your email opens, you generally want to see anywhere from 25% – 50% open rates depending on the industry and type of email you send.  If you are lower than the expected average open rate by your industry, you will need to focus on some key areas of your email:
Subject Line

List Hygiene

Opt-In Lists

Email Design
To learn more about these specific areas of how to improve your email open rates read my blog on the Top Four Ways to Improve Email Open Rates. 
4. Increase Clicks
Opens are nice, but once someone opens your email the next thing you should expect is for them to navigate through the email, click the links, and interact.  Monitoring clicks made on links in the email indicates whether or not the recipient is engaging/interacting with your email. In the long run, these positive interactions help improve your IP reputation and your deliverability.  Monitoring email data analytics like clicks shows you that people are interacting positively with your email/brand which will help improve your reach and maximize your results. 

If your email clicks aren't where you think they should be, you will want to focus on the content of your email.  Once people open your email, they should see familiar colors and branding with clean design elements and obvious link locations that are easily clickable on mobile or desktop.  
5. Decrease Unsubscribes 
Unsubscribes is a tricky topic especially when it comes to tracking them in an email data analytics setting. You don't want recipients to unsubscribe from your email but at the same time, you actually do.  Here's what I mean – while unsubscribes mean people don't like your email and no longer want to receive it, it also is a MUCH better alternative to being marked as spam or blocked by the user. These negative actions are taken very seriously by mailbox providers and blocks or spam complaints will severely hurt your sender reputation and therefore your damage your email deliverability.  

We always tell our customers to have a clearly labeled, easily clickable unsubscribe button in the footer of their email so recipients will simply click that instead of marking your email as spam.  Of course if the unsubscribes are getting increasingly worse, you want to take a look at your email lists, the content, and the frequency of your email, etc.  
Using Email Analytics
Every high volume email sender that uses email as a legitimate and important part of their business should have access to email analytics.  Reacting quickly and appropriately to trends in your email delivery and engagement will help continue to improve the overall success of the email you send. 
Finding the right email service provider who provides the inputs (platform) and the outputs (email analytics) is the first step in knocking your email out of the park.  At SocketLabs, we have spent 12 years perfecting both the inputs and outputs that our customers rely on every day to get the most out of their email. Try SocketLabs completely free today with no credit card required and see if we are a good fit for you.