We Stand with Ukraine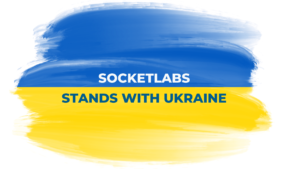 As the situation in Ukraine continues, many of us at SocketLabs struggle to wrap our minds around what's happening. Our hearts go out to our families, friends and connections who are displaced or sheltering in place on the other side of the globe.
What we're doing at SocketLabs, in solidarity with Ukraine:
We have suspended all services in Russia and Belarus (clients, partners, and technologies), and have removed the ability to sign up for a new SocketLabs account from Russia.
We're providing our services free of charge to all customers in Ukraine.
We offer our services for free to anyone who is running charity campaigns in support of Ukraine, by providing easy, on demand cloud infrastructure for sending email. Contact us at [email protected] to learn more.
Our staff have individually donated to organizations supporting Ukraine and we're looking into ways we can further help that are truly impactful.
What our community is doing, in solidarity with Ukraine:
For additional resources on how you can support the cause, or to see a list of companies within the greater email, marketing, and martech community who are supporting Ukraine, visit this site: https://www.emailaudience.com/support/
We stand firmly in solidarity with Ukraine. Nothing is more important than achieving peace, safety, security, and freedom for all. We'll continue to do everything within our power to provide support. We encourage you to take a stand with Ukraine as well. 🇺🇦