Scaling Up: Growing Your Email Program the Smarter Way with SocketLabs' Managed Email Services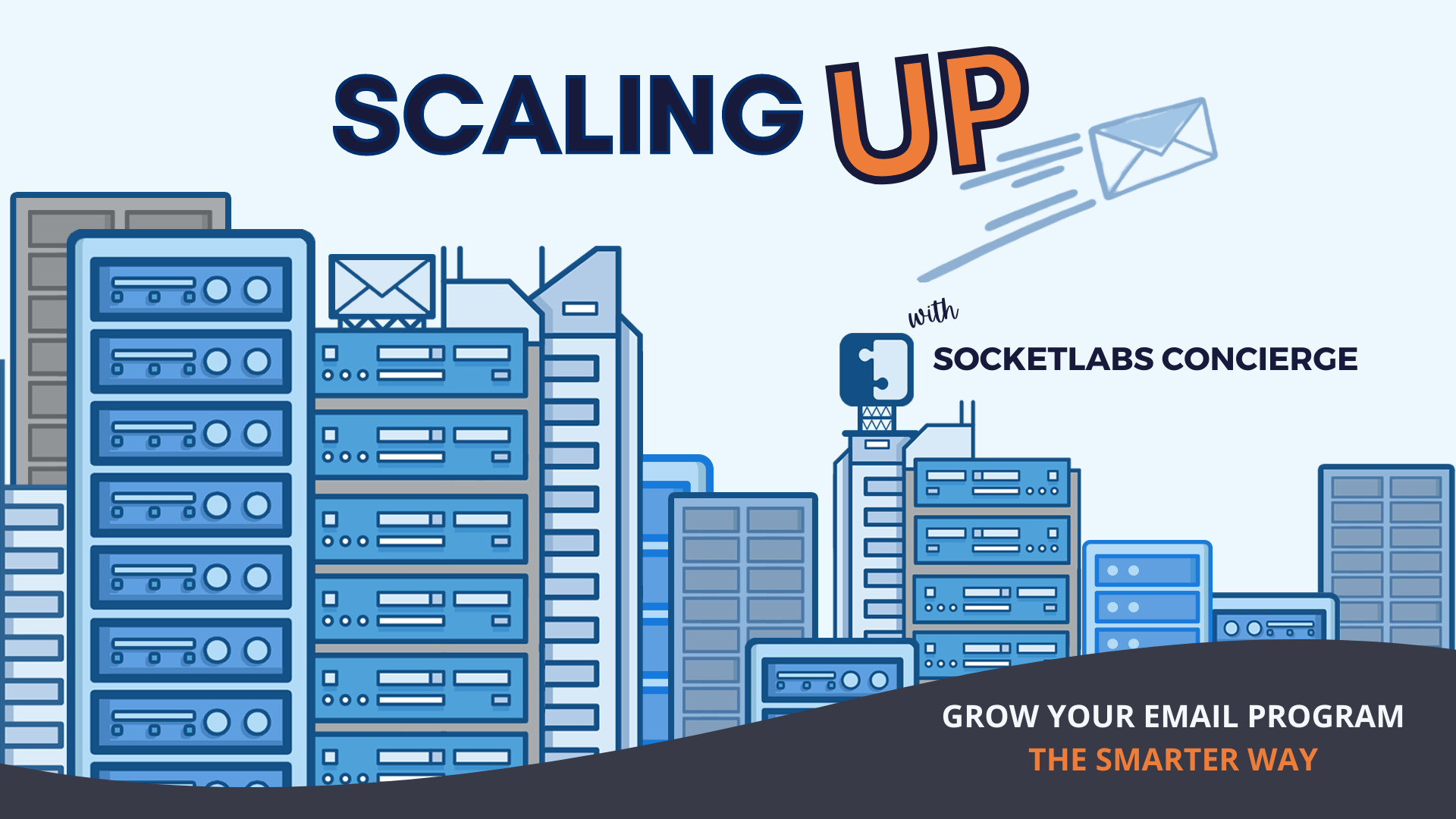 We make hundreds, if not thousands, of decisions every day without even realizing it. Coffee or tea? Pajama pants or sweatpants? (Hey, we're not judging!) Zoom camera on or off? 
That may work for the smaller choices in life, but it becomes a problem when the question is about your email program, "Are we a small business or enterprise?". When you're sending between 1–10+ million emails per month, it starts to feel like you no longer fit the mold of a small business. But you also don't have the seemingly limitless budget and resources of an enterprise sender, either. If you're feeling the pain of a lack of resources when it comes to your email program, then SocketLabs' Email Services might just be for you »
Email has a LOT of moving parts. So, how do you decide what's right for your email program—and your business—as you grow from SMB to an enterprise-level organization? You may be thinking: 
Should I be sending from a shared or dedicated IP? 

 

How should I segment my audience?

 

Do I stick with cloud-based sending? The cost is outpacing my growth… 

 

How do I set up my authentication when I have multiple domains and mail streams? What is DMARC? And this new thing called BIMI?

 

Am I hitting the inbox? …do I need to hire someone to manage my deliverability?

 
The fact is, at this stage of your growth, "it depends". Senders like you don't fit neatly into a specific box. You don't want to choose between personalized support and a hands-off, one-size-fits-all approach. You don't want to decide between figuring out how to DIY an email infrastructure migration or spending your entire budget having someone else do it for you. You don't want to decide. 
Which makes sticking with your current cloud-based provider seem ideal, even though your CPMs are outpacing your growth, your performance is waffling, and talking to a human being feels impossible without spending thousands per month on consulting. 😰 
Well, we're here to introduce a better way: SocketLabs' Managed Service gives you access to dedicated, enterprise-level email delivery support at a fraction of the cost, from experts who've made email infrastructure, deliverability, and strategy their passion for more than a decade. 
Introducing SocketLabs' Managed Email Services: Taking the Guesswork Out of Growing Your Email Program
Our philosophy: email should be a tool you use to accelerate your business, not a burden, a headache, or a distraction. From planning your migration to supporting you with expert guidance in deliverability, compliance, and email strategy at every step in your process, we make hitting the inbox seem easy with our Managed Email Services. 
Accelerate the growth of your email program—and your business—by focusing on what you do best and leaving the rest to us. With our Managed Solutions, we take the time to understand your unique business needs and create the ideal roadmap for you. But no matter what your custom roadmap looks like, you can always count on: 
Dedicated, enterprise-level support at a fraction of the cost. 
Waiting on support tickets is a thing of the past. Work with someone you know and more importantly, who knows you. 
Your dedicated Customer Success Representative and our team of email pros will be with you from day one of onboarding. We'll take the time to understand your unique business needs, guide you through every step of your email journey, and connect you with our in-house deliverability and infrastructure experts as needed. We're "at your tech and call", our team likes to say. 😉  
D-I—Whyyy don't you let us handle that migration? 
Let's face it, moving is hard. The searching, the planning, the packing and unpacking—what a headache! But don't get stuck in that broken down house you're calling an email provider. When it comes to your migration, let us be your realtor, your broker, your architect and your moving company. You focus on the interior design, and anything else you'd prefer to handle directly. 
Your dedicated Customer Success Representative will help ensure a seamless transition from your existing email delivery vendor to SocketLabs. Our infrastructure experts will review your authentication and technical setup and work with your Customer Success rep to create a unique migration plan specific to your business needs. We'll cross the t's and dot all the i's to be sure everything's ready to go before your migration begins. 
Strategic, data-driven guidance at every step. 
We believe email data is meaningless without proper context, which is why your Customer Success Representative and team of experts will keep a watchful eye long after your migration is complete. Continual improvement for your business is our goal. 
From infrastructure and deliverability to email strategy and performance optimization, rest easy knowing our expert-driven insights are powered by deliverability and reporting tools to make sure your program is always running at its best, even when your team is busy focusing on other things. 
Expect proactive updates when something within your data changes, and quarterly check-ins to discuss trends in your deliverability and performance data, review key milestones and explore strategic ways to incrementally improve the performance of your email program. Your Customer Success Representative—and our team of in-house experts—is also available for issue remediation if something urgent arises. 
SocketLabs' Managed Email Services: Is it for me?
Our Managed Services is best suited for businesses with a monthly email volume between 1M and 10M+ per month. Managed migration and our deliverability & performance guidance is uniquely designed for companies who need a little help scaling their small-to-mid-size business (SMB) into an enterprise operation, but it's really for anyone who wishes to have expert-led guidance with your email program. 
Our Managed Services Package is ideal for you if:  
The complexity of migrating your email program makes you feel like you can't break up with your current provider.

Our team of experts takes the time to understand your business and creates the perfect migration plan to fit your timeline, expectations, and needs with email. Migrate with ease and stay focused on your business while our team guides your transition, identifying key milestones and removing unnecessary complexities.

 

You crave an easier way to scale your email program, with an email delivery partner who answers the phone when you call.

A common reason to switch is feeling like your current provider is not invested in your success. SocketLabs' Managed Services is designed to grow with your business by providing dedicated, enterprise-level guidance that's tailored to your needs every step of the way. Save time and know exactly where to focus your attention.

 

The stakes are high, and you need your email program to work, without disruptions.

Life has enough distractions. Sending email doesn't need to be one of them. Rest easy knowing our team is watching 24/7 and will take proactive steps to help you maintain consistent inbox placement.  

 

You want help with technical topics like deliverability & email infrastructure

. We get that understanding authentication standards like SPF, DKIM, and DMARC makes your head hurt. We provide hands-on assistance from people who live and breathe email, and actually enjoy this stuff (believe it or not!).

 
While every email journey with SocketLabs is unique and driven by what's best for your business, your journey could look something like this: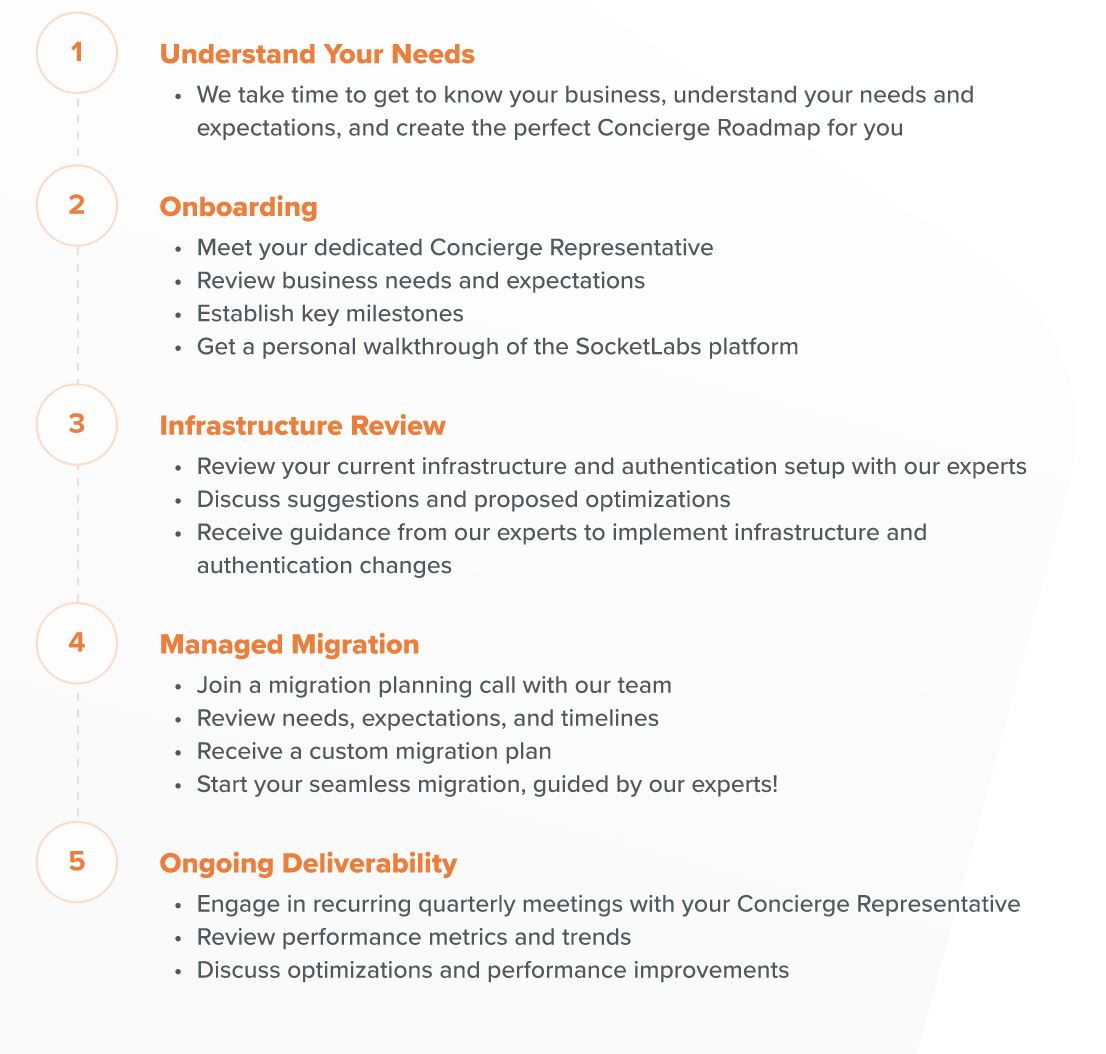 Making Email Work Smarter for You
SocketLabs has sent billions of emails for brands around the world since 2007. We have 134+ years of combined email experience, with deep knowledge in deliverability, authentication, cloud infrastructure, on-premises and everything in between. Our experts truly live and breathe email; it's our passion! So let us help your business shine by offering you email delivery, your way. 
If you're in search of an email partner who's interested in growing with your business, let's discuss your email challenges, expectations (and aspirations!) to figure out if a customized SocketLabs' Managed Services package is a good fit for you.