Intern Spotlight – Software Engineering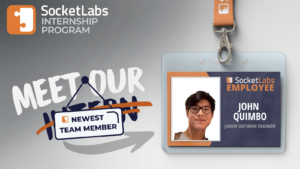 SocketLabs' internship program started in 2013 with the purpose of providing real-world, professional experience to students in a variety of fields from computer science to marketing. Today, the program continues to help students jumpstart their careers in the SaaS space. 
Meet John Quimbo. His internship at SocketLabs began in October 2020, and he's recently been hired as a Junior Software Engineer upon graduating from Villanova University with a bachelor's degree in computer science. A man of many talents, John is also a multi-instrumentalist and produces his own music in his spare time! 
Throughout his software engineering internship, John was mentored by David Schrenker, Engineering Manager at SocketLabs. Dave taught John everything he needed to know as far as adjusting to a new tech stack and Git flow. He also learned shortcuts and new skills in NgRx state management, .NET, and Angular that he otherwise would not have been introduced to in his college courses.
John's favorite project as an intern was working on the Availability Portal because he had recently learned how to write tests in school and was able to transfer those skills in a professional setting. The Availability Portal is an internal dev ops tool used as part of our 360 monitoring to maintain the various cloud services utilized by our SocketLabs mail senders and receivers. Quimbo worked to pull system delay data from a REST API, built during his internship, into monitored graphs and data metrics.  
When we asked John to share advice for current college students seeking an internship, he suggested to "Work on projects that you find interesting. The excitement you have for building those projects will shine through during interviews. If you have an idea in your head, build it!"  
John mentioned being able to form close working relationships with the other interns he collaborated with and feels having constant communication with peers his age and in similar studies during the pandemic aided in his professional development. This was fostered by our SocketLabs team, who maintained a consistent focus on their growth as future engineers. The group collaboration helped John gain a lot of necessary confidence at the beginning of his career. One of John's fondest memories as an intern was during a SocketLabs Hackathon event when he pitched an innovative idea that was acknowledged.  
"SocketLabs is a flexible and forward-thinking company that is willing to quickly adjust and adapt to new practices if there is a benefit in doing so. After returning to the company a year later so much has changed and that is a great thing!"

– John Quimbo, Junior Software Engineer, SocketLabs
Like other young professionals that have joined the internship program, John is now a full-time employee at SocketLabs. In his current role as a Junior Software Engineer, John is working on the platform's front end for a product we have yet to release. Stay tuned to learn more about it!  
Our internship program is meant to give young professionals real, practical experience. Interns don't spend their time doing busy work all day like in some other internship programs. At SocketLabs, we care about providing our interns with hands-on experiences that will help them develop unique skillsets and set a foundation for success that will help in their careers.  
If you are interested in a career at SocketLabs, you can check out our Careers page to view open positions. Or, if you just want to learn more about SocketLabs and what makes us different, take a look at ourAbout page.