WordPress Not Sending Emails? Here's the Easy Way to Fix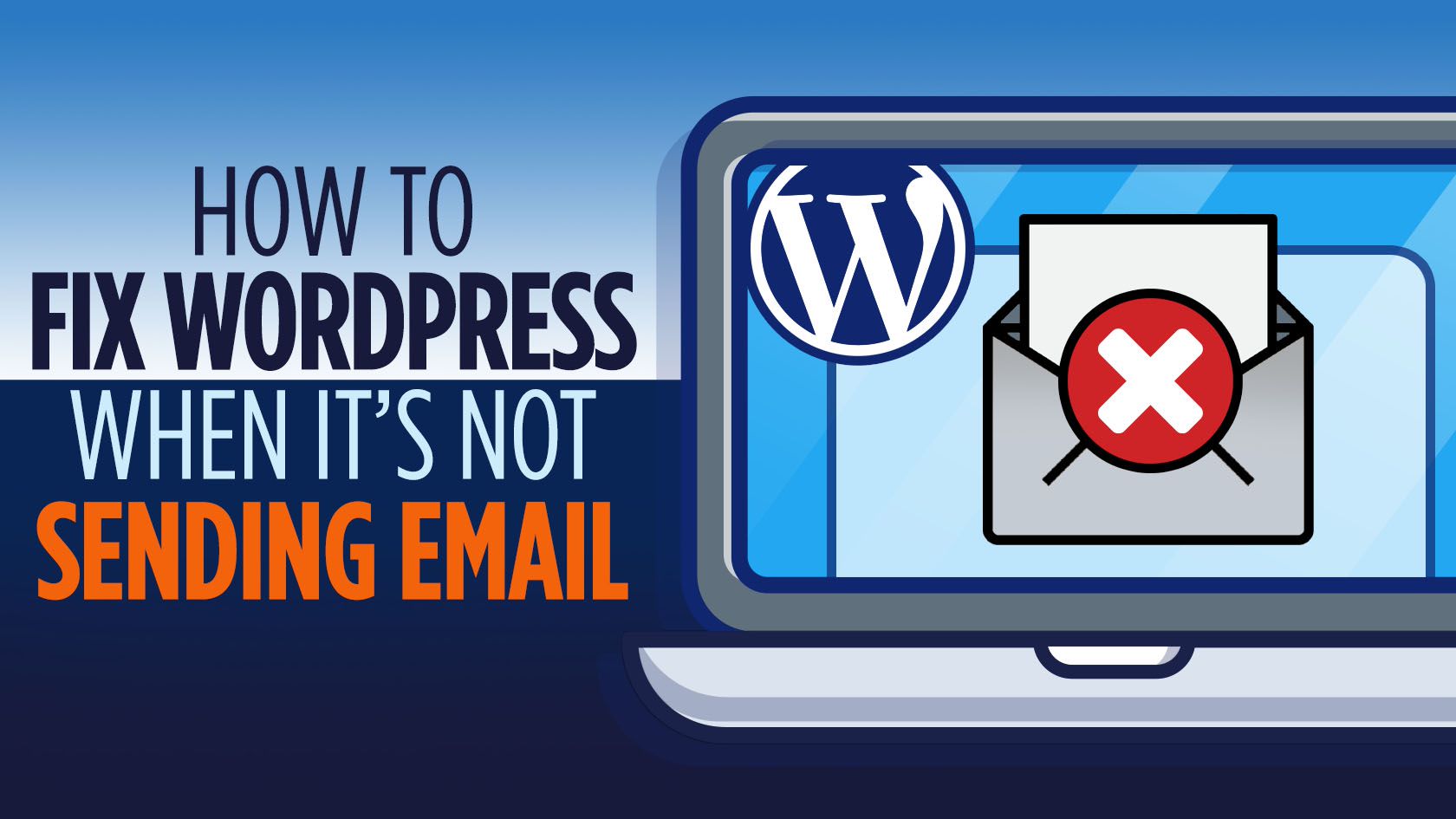 WordPress not sending emails? Well, you're not alone. Sending and receiving email is a common issue among many WordPress users.
But don't worry, there's an easy fix to troubleshooting WP email delivery issues.
In this article, we're going to explain why your WordPress is not sending email and we're also going to show you a fast and easy solution. So, let's get started.
Short on time? Get email working on WordPress now with our free plugin!
WordPress Can't Send Email: The Most Common Situations 
When troubleshooting email delivery issues, WordPress users typically experience the following email delivery issues:
WordPress Delivery Issues When Using Contact Forms
If you notice that WordPress can't send emails, there may be an issue with how your forms are set up. For example, if a visitor submits a contact form, either using your theme's default form or a 3rd party plugin like Contact Form 7, then you may never receive an email notification that a contact form was submitted.
Delivery Issues When Relying On WordPress To Send Notifications
This includes emails notifying you of new user registrations, password resets, blog post comments, automatic updates, and more.
WordPress Delivery Issues Using 3rd Party Plugins
Notifications from popular plugins like WooCommerce and WPForms are often missed as a result of WordPress not sending email.
In the situations above, your messages may get marked as spam, or never make it to your inbox. Before we discuss how to fix this email deliverability issue, let's break down why this happens.
Why WordPress Email Is Not Working
By default, WordPress uses the SMTP server that's installed on the underlying computer server that's running your WordPress installation. With that in mind, here are a few reasons why WordPress may not be delivering your mail.
1) Your Underlying SMTP Server Isn't Configured Properly:
In many cases, WordPress fails to send email as a result of the SMTP server on the underlying operating system not being configured properly. Proper configuration includes using authentication, configuring the basic SMTP server settings, and following best practices when setting up SPF records, just to name a few.
In addition, some ISPs like Comcast, do not allow SMTP to connect over port 25. If your SMTP server fails to connect over port 25, then you're not going to receive email notifications from WordPress.
Do you suspect that your underlying SMTP server isn't configured properly?
Or, you don't have the ability to change your server's configuration settings?
You can bypass your default server by using our WordPress Plugin. This will give you the ability to connect your WordPress site into an optimized email delivery service that's fully managed by SocketLabs.
Sign up for a SocketLabs free trial to get a managed email delivery service that's configured to work, right out of the box.
2) You Are Picking Up a Poor Reputation From Your Neighbors
If WordPress is not sending emails, then check to see if you are on a shared server environment.
If you are sharing servers, then there's a good chance that your WordPress site's underlying SMTP server is sharing your Sender Reputation with hundreds, and sometimes thousands of other senders.
Being on a shared IP space and sharing your Sender Reputation with other senders may become problematic for your WordPress email deliverability in situations when:
A sender on your shared environment has poor sending practices, is sending to purchased lists, receiving high complaint rates, and experiencing high bounce rates.

Your hosting provider does not monitor users to prevent poor senders from abuse of the network.

One or more senders hits a blacklist and spam trap as a result of poor sending practices.
The reality is that your Sending Reputation on a shared server can suffer even if you're following good sending practices. As a result, this might be the source of your WordPress-not-sending-email issue.
On the flip side, being on a shared server isn't necessarily a bad thing and can actually help improve your email deliverability if the other senders on your shared server have a good reputation.
If you suspect that your WordPress email isn't sending because you're sharing your Sender Reputation, you should either get a Dedicated IP Address or find a shared IP space with a good provider that manages and monitors their network – like SocketLabs.
How to Fix WordPress When It's Not Sending Email
There's a good chance that you're experiencing the WordPress not sending email issue because either your underlying SMTP server isn't configured properly, you're picking up a poor reputation from senders on a shared server environment, or mail servers are blocking your mail for some other reason.
Regardless of why WordPress can't send email, here's the fastest and easiest thing that you can do to get your WordPress email flowing to the inbox:
Bypass the default mail server that's installed on your underlying WordPress hosting by using our Free WordPress Plugin to connect to an optimized and managed email delivery service.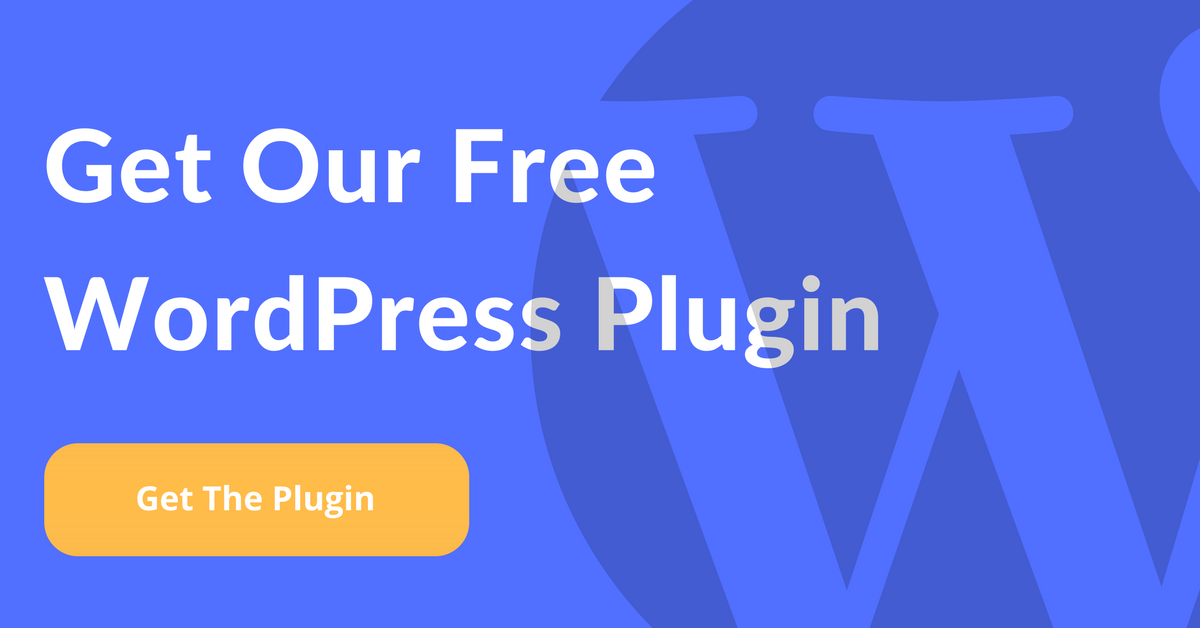 Steps to Bypassing the WordPress Default Mail Server and Using the SocketLabs WordPress Plugin
If you're ready to fix your WordPress email sending problem, simply follow the steps below:
#1: Setup Your Email Delivery Service With SocketLabs
First, you'll need to get started with a managed email delivery service.
Obviously, we recommend using SocketLabs. We've had 10+ years perfecting the art and science of email deliverability – so when it comes to email, we're the best.
Go ahead and sign up here for a free trial!
After your account is setup (or if you already have one), move on to step #2.
#2: Grab Our Free WordPress Plugin
After your SocketLabs account is setup, you'll need to install the SocketLabs WordPress Plugin on your WordPress site.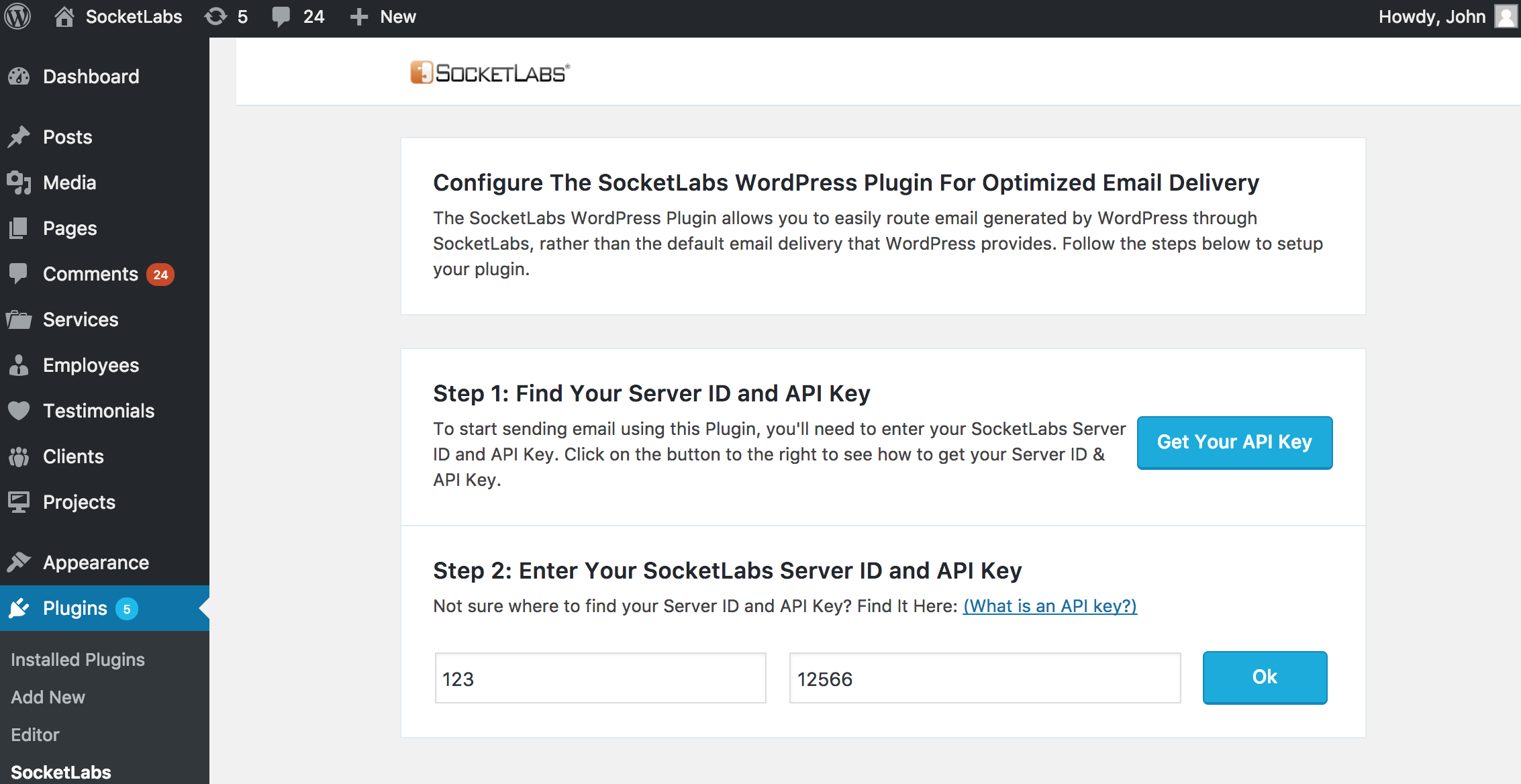 This plugin gives you the ability to bypass the default mail server option by integrating directly with SocketLabs so you can send using an optimized email delivery service.
This is the ideal way to effectively send mail from your WordPress server.
Here's the link to the plugin: https://wordpress.org/plugins/socketlabs/
After the plugin is installed, you will need to complete a couple of simple steps to configure the WordPress plugin with your SocketLabs account.