All new Suppression List management features now available!
SocketLabs is excited to announce some great new features to help you manage your Suppression List!
If you are unfamiliar with the Suppression List page, it can be found in the Control Panel. Once you've selected a Server to manage just click on Configuration menu in the top menu bar and then select "View Suppression List".
Upon arrival at the newly updated Suppression List page you will see your list of suppressed addresses.  You can now page through and see all of the addresses with the most recent additions first.  We have also added a download link in the top right corner of the data table, just like on the reporting pages.  This will make it easier than ever for you to scrub your lists of bad data, make improvements to your reputation, and improve deliverability.  See the screenshot below which highlights the new additions: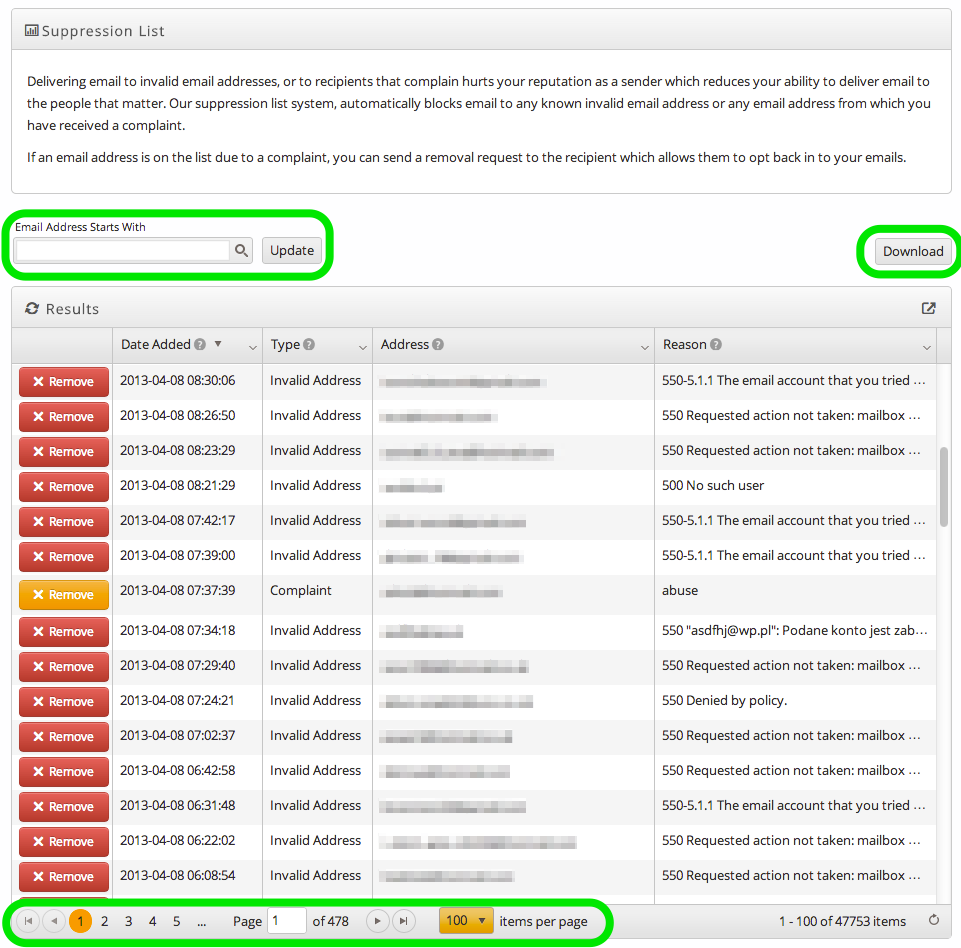 These great new facets have been added without sacrificing any of the previous features.  You have full control over the removal of any address that encountered a hard failure.  Also, the search feature is now a "Starts With…" search.  You can still filter your suppression list to find an individual address in just seconds.
In order to make all these great improvements we overhauled the way in which we store the data in our back-end.  The new optimized database will allow for further features to be developed around this data much more quickly and easily.  Do you have any ideas or suggestions?  Make sure you submit them on our feedback page.
To help everyone understand how addresses end up on the Suppression List in the first place, we added a new knowledgebase article that details how the Suppression features work.  If you have any further questions we are always glad to answer them: just contact us at [email protected]
We hope you enjoy the newest improvements! Check them out now by logging into the Control Panel.
Thank you,
The SocketLabs Team