Email Campaign Analytics That Make a Difference

Know Your Email Data
For companies that value the importance of email as part of their greater marketing and communication strategy, they know how essential it is for their email to be delivered reliably and on time, every time. There is a ton that goes into successfully delivering email, whether it's the infrastructure itself or the content you send, it can be a challenge to get it right. Yet there is one factor that so many companies overlook when it comes to maximizing the success of their email: email campaign analytics.  
Even if you or your organization invests tons of money and time into email infrastructure and content development, what good is it if you can't track any of your email campaign analytics?  
Without the right email campaign analytics, your organization is likely wasting tons of time and money, sending emails with no tracking or analytics to monitor their performance.  That's where the proper email analytics software will come in, to provide that next level of data and information to help keep closer track of your email communication efforts and maximize your return on investment.  
What are Email Campaign Analytics
Most high volume email senders who send for an organization know that there are two main types of email used by business:
Transactional Email – Transactional email will typically consist of recipient-warranted mail like order confirmations, email receipts, password resets, automated system notices, etc.  Because these emails are both expected and welcomed by the recipient, they will typically perform better as far as deliverability goes. This means that opens, clicks, and overall engagement will be higher and the correlated IP will have a better reputation. 
Marketing Email – Marketing mail takes two forms, good and bad.  At SocketLabs we take extensive measures to maintain the quality of mail sent through our platform including manual, human provisioning and monitoring of senders looking to use our platform.  Any sender who indicates any characteristics of being a spammer is immediately blocked from using our platform. That is the uglier side of email marketing that we continuously work to eliminate.  There is also the type of email marketing that consists of opt-in sending lists, which means the people receiving these event updates and product promotions both want to receive the mail and will engage with it in a positive manner. This is the type of marketing mail that we gladly support on our platform.  
Sending email for your organization can be a challenge, especially if you are working with an in-house email system or an email service that doesn't come with essential features.  But with the right email analytics tools and expertise, the insight and support you get with your email will help not only optimize the email you send at the moment but it will help build a healthier, more reliable infrastructure for the future.  
As an email sender, no matter if you are a marketer tracking email marketing analytics or an app developer sending password reset emails from an application, some of the most fundamental email analytics that you should have access to are: 
Sent

Delivered

Opens

Clicks

Failures
While these metrics might be considered a great starting point, if you really want to take control of your email efforts, an entire email analytics dashboard with a number of different reports and in-depth analytics will be essential to your success. 
Email Campaign Analytics That Will Take You to The Next Level
Working with the right email service provider will help in a couple areas:
Reporting/Email Analytics

Infrastructure

Support/Consulting 
Reporting/Email Analytics
When working with an email service like SocketLabs to send your high volume marketing and transactional email, you will benefit from a full suite of reporting and email analytics tools that will help increase the overall success of your email.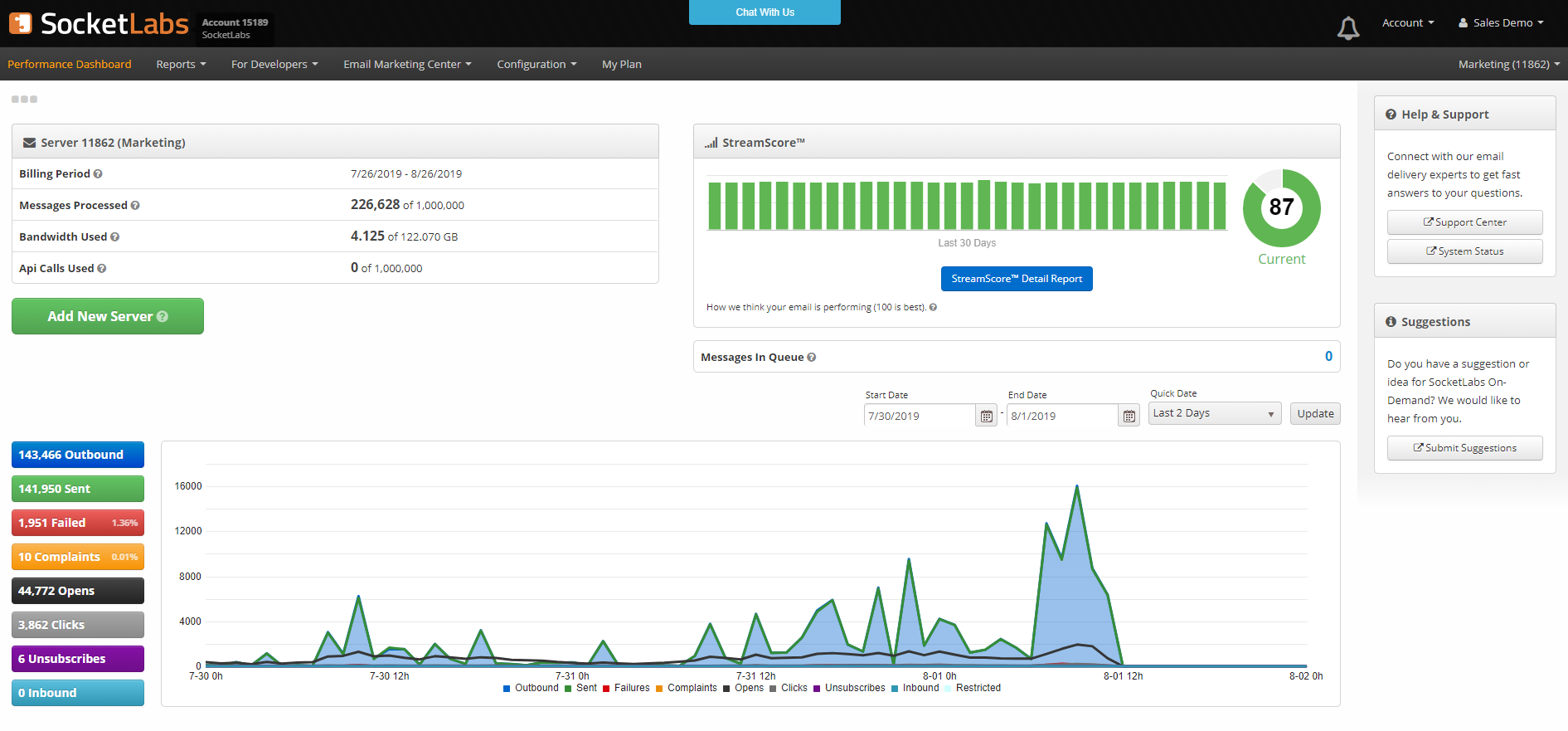 Aside from the comprehensive reporting you see above on our main SocketLabs Email Performance Dashboard, you will get in depth reports that can be broken down by each category of your email. For example, if you wanted more insight into your failed emails, you can get a full report with all information on your failed emails down to the exact reason the email failed. See a picture below: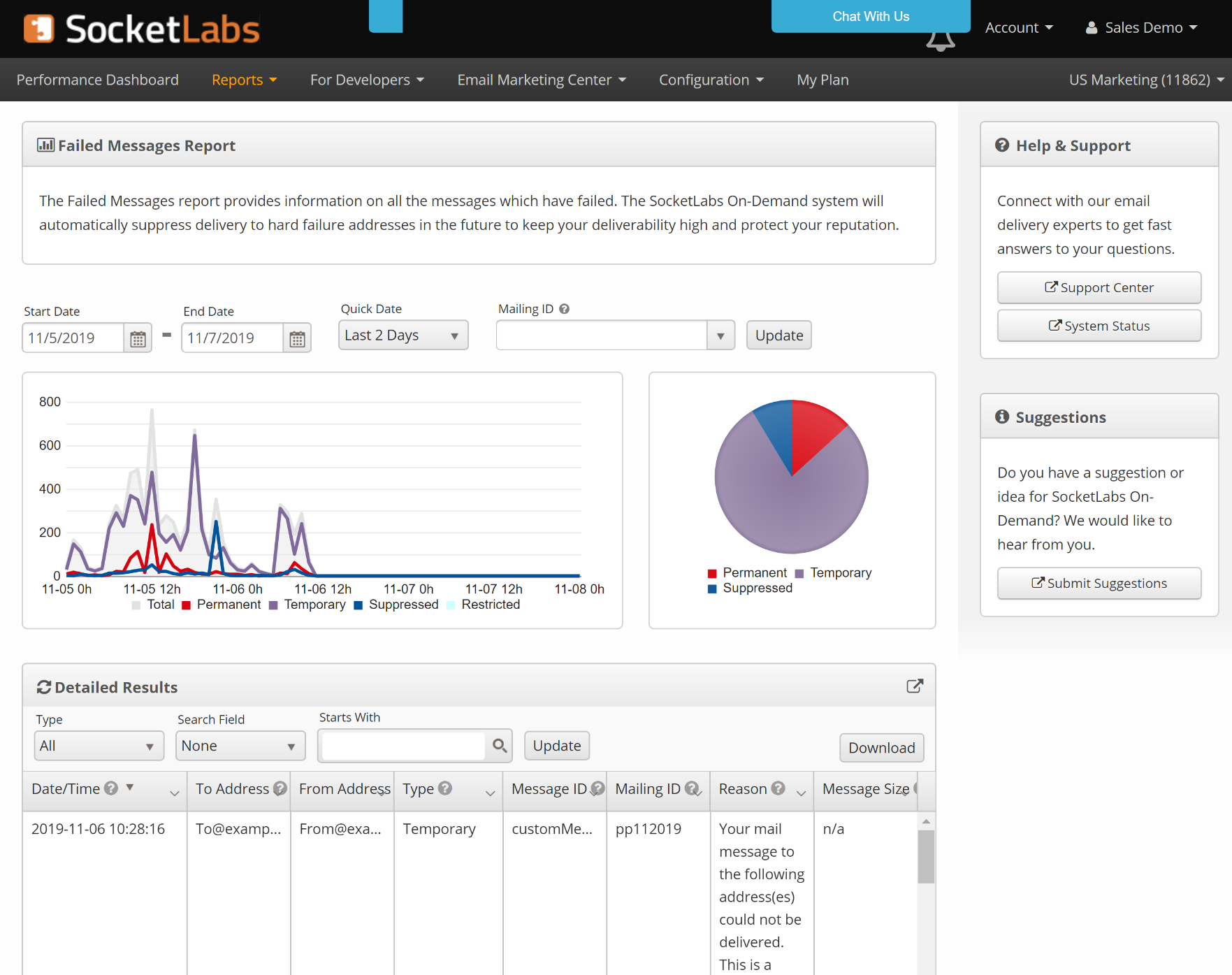 Similar reporting is available for a wide variety of email performance areas like delivery reports, complaint reports, engagement tracking, and more. 
In addition to all of this out-of-the-box reporting, you have access to the SocketLabs StreamScore Report with all Pro and above plans.  Within the StreamScore Report that is shown below, you will see an aggregate score at the top that is derived from a weighted average of these four categories:  
Hard Fails

Block Score 

Spam Score

Complaint Score 
The performance of each area will help you better pinpoint not only the overall performance of your email, but the specific areas that need improvement.  For example, if your overall score is a 78, that isn't bad, but you may want to know specifically why you aren't 100. In the example shown below, the StreamScore report shows that this sender has a low block score which you can see could be caused by the content of the messages they are sending. So not only will the report show where the problem lies, but also how you can get on the right track to fix it. And if this isn't enough, all Pro and above plans have access to SocketLabs deliverability consulting discussed below. 
The important part of StreamScore is that every sender is different.  Sure, 10 customers can have a score of 90, but the way they got there can be completely different which changes the way they improve and optimize their deliverability and email performance.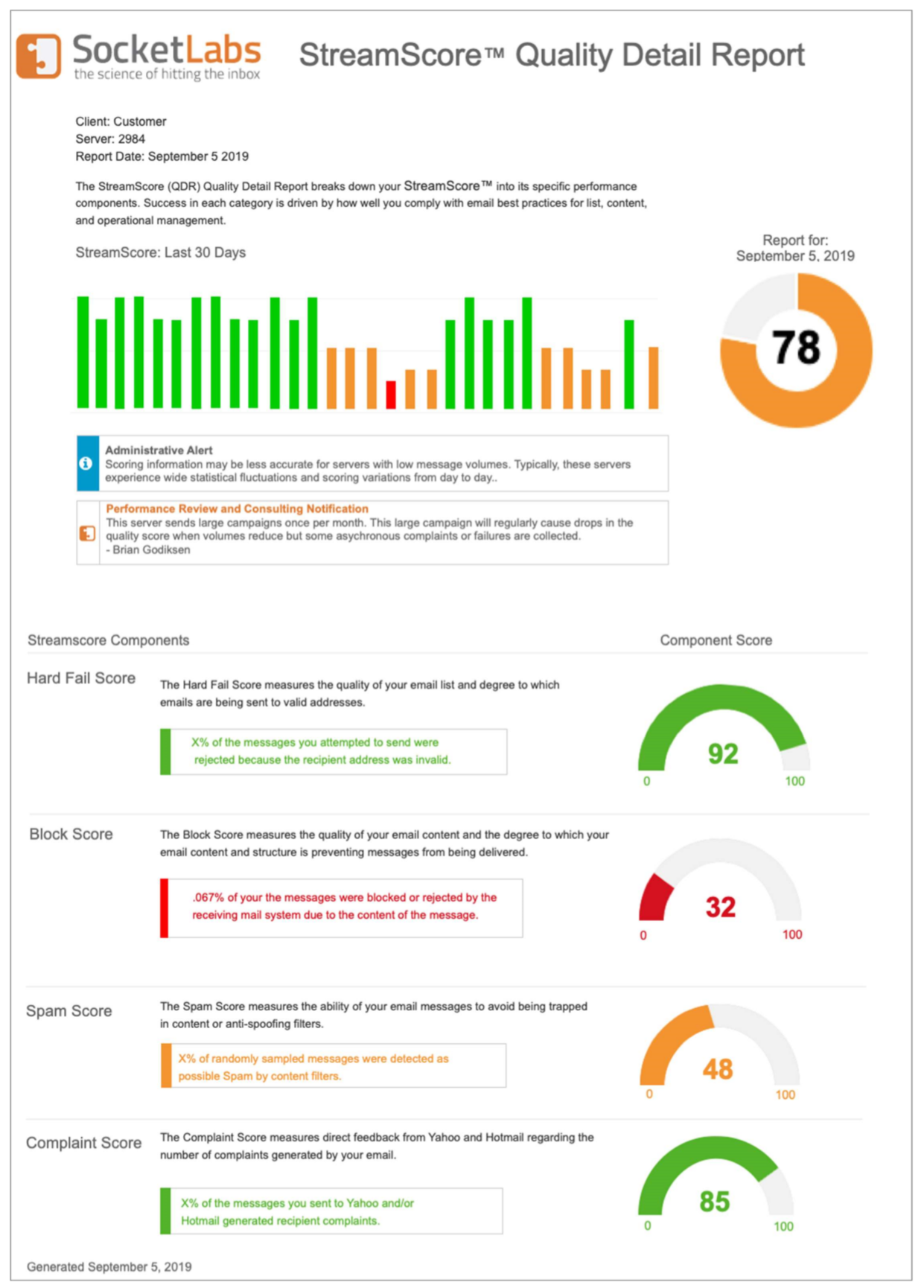 Infrastructure
Aside from the email campaign analytics you get direct from an email service like SocketLabs, you also receive all the benefits that come with our 12 years of infrastructure development. What does that mean?  That means you get the reliability that comes from a completely custom built SocketLabs MTA that is managed by SocketLabs.  From the technology in the MTA, to the physical  servers, to the technicians that keep it running, everything is done by SocketLabs through and through. This means you have an email infrastructure that you can set and forget because it works…it's as simple as that.  No headaches, no downtime, our email platform performs when it's needed. Aside from the out of the box reporting and infrastructure, the value of SocketLabs doesn't end there.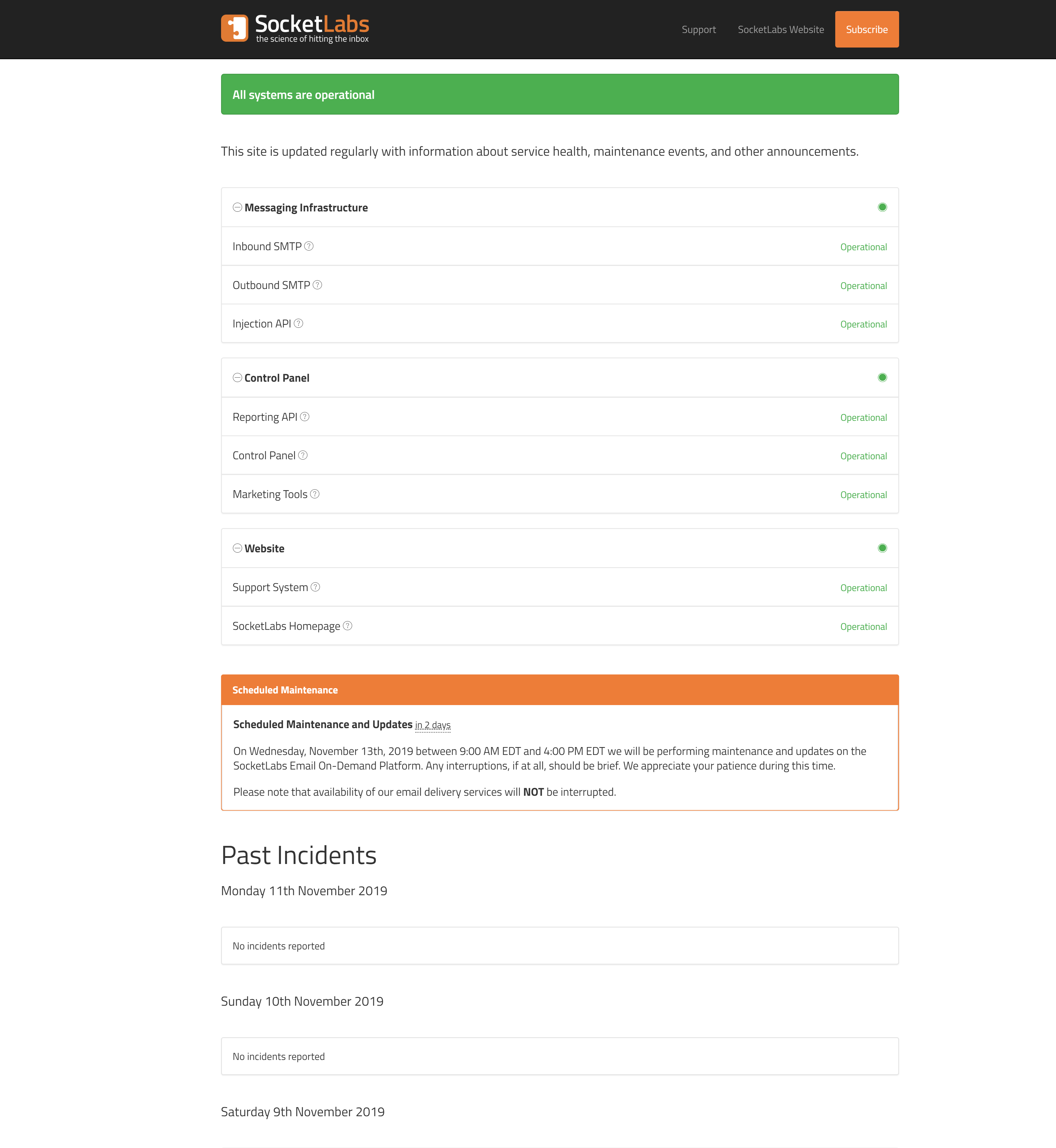 Support/Consulting 
The level of support and consulting that comes with all Pro and above plan levels at SocketLabs is something you won't find with any other mailbox provider.  When you sign up with SocketLabs, if you have any questions about your email performance no matter if it's around technical settings, deliverability, or even how reporting works, you will be able to talk to a real, in-house SocketLabs email specialist who will help solve any issues you might be having.  To learn more about the SocketLabs Support and Consulting benefits, click here.
Maybe there is another email provider that claims to provide this level of support and consulting, but something that our customers love most that they haven't found elsewhere is their ability to actually reach a real human email professional in no time when they need help.  Having that support on the back of their hand, no matter if a small business or large enterprise, these users see the SocketLabs difference right away.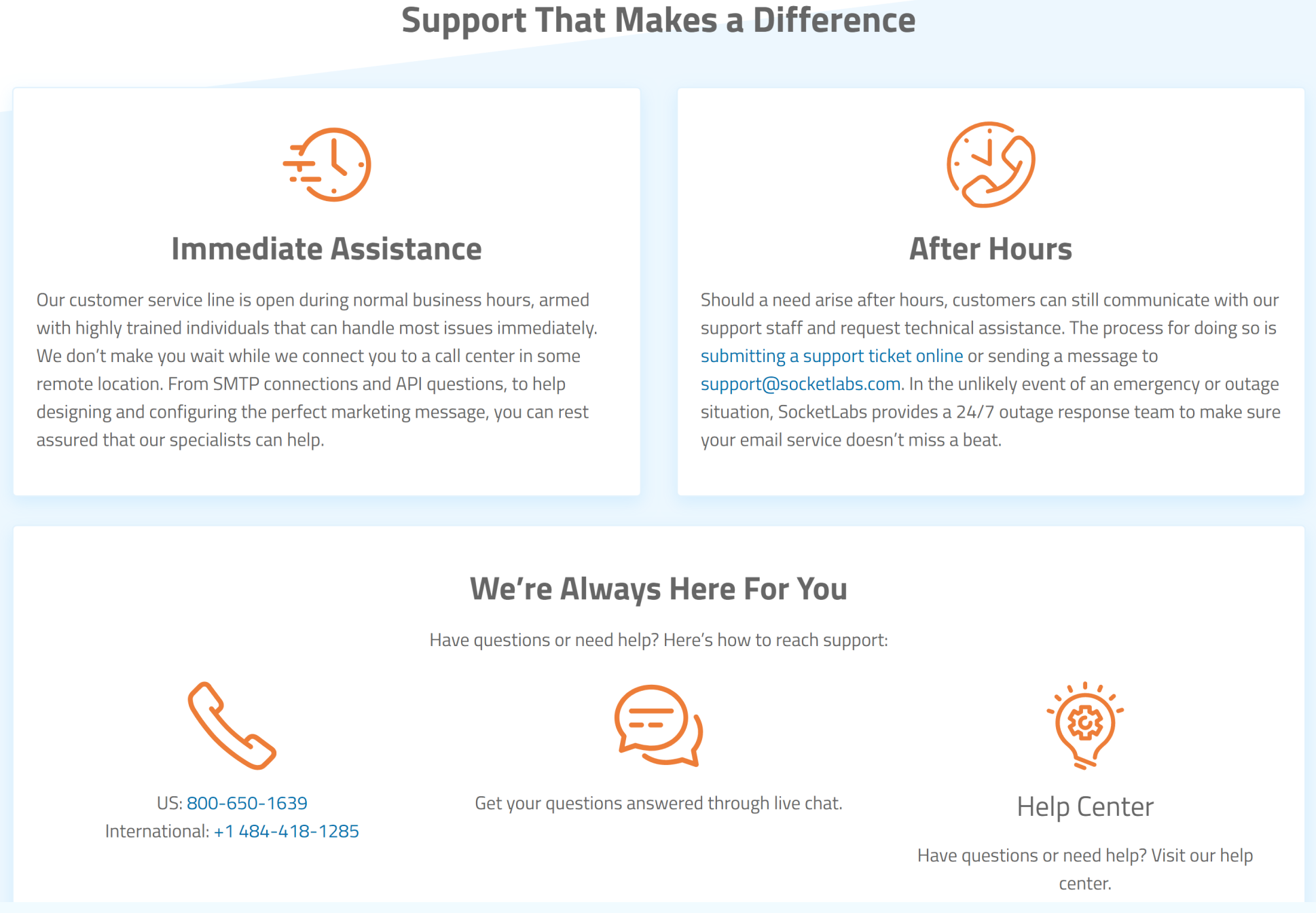 SocketLabs
SocketLabs has been around for 12 years helping customers from all industries and sizes maximize the success of their high-volume email.  If you want to try SocketLabs completely free, view our plans and pricing page here.