Mailbox Providers 101 – Part 4 Outlook
At SocketLabs we have customers asking us questions every day about the big mailbox providers.  These providers run a significant percentage of consumer inboxes and some also offer corporate and private domain mailbox solutions. Through years of delivering billions of messages to these organizations, we've gained great insights which we will share over the next five days in a blog series entitled "Mailbox Providers 101″.  In the fourth part of this series we will explore the ins and outs of Microsoft's Outlook and Office365.

The launch of HoTMaiL on July 4th, 1996 was a symbol of freedom from ISP based email platforms.  Much to the joy of internet users around the world, the platform flourished and was quickly acquired by Microsoft.  With help over the last seventeen years from Microsoft, the re-monikered Outlook email platform is now utilized by an estimated 400 million users.
After some early security hiccups in 1999 and 2001, Microsoft put forth major efforts to provide their users with a secure and reliable mail platform.  One of the biggest attempts to push security further is with Microsoft's backing of an email authentication technology known as SenderID.  SenderID was implemented in Microsoft's email products, including those outside of Outlook, but it never overtook SPF as the primary source based authentication method.  In the last year, given a recent push towards supporting the DMARC policy records (which rely on SPF), Microsoft is no longer performing SenderID checks but rather analyzing SPF.
Along with SPF authentication, Microsoft relies upon DKIM as the second primary authentication mechanism around which DMARC is built.  This means that all messages processing through the SocketLabs On-Demand platform will automatically have the required authentication mechanisms to reach the inbox at Outlook and Office365.
It takes more than just authentication to reach the inbox with Outlook, however. Outlook also heavily relies on IP reputation.  This is most evident in the early warm-up stages on an IP address.  The first day sending mail through an IP address will result in no messages reaching the user inbox.  Microsoft uses the "guilty until proven innocent" method of defeating new sources of SPAM.  The fastest way to get over this initial limitation is by sending user-desired content that the recipients "save" from the SPAM folder.  Depending on many mail stream qualities, it may take from a few days to over a month to improve to perfect placement rates.
Unique to the Outlook and Office365 platform, when compared to other major service providers, is Microsoft's reliance, at least partly, on a third party anti-spam filter.  Outlook uses Symantec's BrightMail filtering engine to help detect and filter SPAM messages.  This can make for some difficult support issues, but Microsoft will often help senders remedy false positives with Symantec.
The only other key to hitting the inbox at Outlook is staying off Spamhaus' blacklist.  Outlook is another major consumer of Spamhaus data and a listing will result in immediate failure of all messages to the Microsoft mail platforms.  In reverse, it is important to note that Outlook does not accept direct whitelisting requests (although they do acknowledge Return Path's SenderScore Certification). While fantastic delivery results can be achieved at Outlook without certification, those looking for the highest possible inbox placement rates and inbox insight will benefit from Return Path's offerings.
Here at SocketLabs we have more insight into how your email is performing with Outlook than with any other mailbox provider.  Microsoft's effort to support both users and senders of its platform is conveyed clearly with its detailed postmaster webpage.  The Junk Email Reporting Program is part of their suite and this allows SocketLabs to collect and process alerts that users have marked a message as SPAM within their email client.  Also provided is a tool called Smart Network Data Services, which allows SocketLabs basic insight into the results and possible issues with messages processing through the SocketLabs infrastructure.  SocketLabs customers on dedicated IP addresses can discuss SNDS data with the SocketLabs support team.
Once a message reaches the inbox at Outlook, the provided web client is unique in its handling of the List-Unsubscribe header.  Unlike Google's GMail, which only displays the unsubscribe option when a message is marked as SPAM, Outlook users can select "Unsubscribe" at any time in the message actions menu.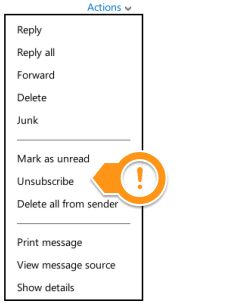 With these insights you shouldn't have any trouble with getting messages into Outlook's inbox.  If you have any further questions about Outlook, direct them to the SocketLabs Support team.
Look-out for the final portion of our Mailbox Providers 101 blog series tomorrow as we analyze the biggest ISPs mailbox offerings!