Optimizing StreamScore™
This blog is Part 2 of our StreamScore™ data analysis case study (Find Part 1 here).  If you are new to StreamScore™ , check out our StreamScore™ homepage.
Case Studies with Aggregate Scores of 85-95
While the statistics in this report reveal the many different scenarios that clients are facing, they also show the similaritie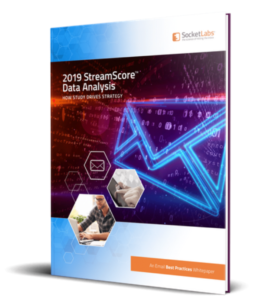 s between companies. The optimization process requires a systematic approach that combines a set of industry best practices, with a deeper analysis of the StreamScore™ data.
This approach can help you keep up with the dynamic and aggressive filtering rules that mailboxes and security companies are constantly updating in an attempt to stay ahead of the latest phishing, spoofing or spamming scheme.  The important point to remember when evaluating StreamScore™ data is that it directly relates to the deliverability of all transactional, marketing, and person-to-person mail. While it can require tedious attention to detail, the increased value that comes from improved deliverability and engagement is a critical driver of customer satisfaction, sales, and ROI. This is true even when the sender has relatively high StreamScore™ values. The bottom line: there is always room for improvement.
Group 3: StreamScore™ of 85
The companies in this group includes 3 sending transactional messages and one smart hosting client sending person-to-person email.
Case 1 – Transportation Company
Observation
B2B sending is generating complaints, triggering a bad Yahoo complaint rate. Hard Failure Score is the biggest concern because they are sending primarily to their own employees and partners.
Cause Analysis
Analysis revealed that the client is sending automated transactional messages to invalid addresses due to a typo in a script their developers wrote.
Recommendation
We have whitelisted their own domain, to prevent the failure of internal messages and identified processes scripts that they need to correct.
Case 2 – SaaS Company
Observation
Poor Complaint score on B2B mail.
Cause Analysis
Analysis revealed a high concentration of negative responses coming from a small group of related recipients within their target audience.
Recommendation
Resolution was to reduce the volume of mail sent to this type of audience and to improve the clarity of outbound messages to better identify the sender as a current business partner.
Case 3- SaaS Company
Observation
Poor Block Score. No Complaint data available.
Cause Analysis
Messages are being filtered due to concern regarding address spoofing.
Recommendation
Client can improve message delivery by adding authentication such as SPF or DKIM and considering development of a DMARC policy.
Case 4- Social Media Company
Observation
Low Hard Fail Score, Complaint Score and Block Score.
Cause Analysis
Multiple operational and content issues are limiting performance.
Recommendation
Client is advised to improve list acquisition practices for address validation and strengthen and tailor message content to improve relevance and reception by the audiences.
Group 4: StreamScore™ of 95
The companies in this group includes 1 sending transactional messages and 3 sending marketing messages.
Case 1 – Digital Marketing Company
Observation
Sending high-volumes for well-known consumer brands. Complaint rate is a small concern limiting performance.
Cause Analysis
Frequency of messages too high for some segments of customers.
Recommendation
Slightly better targeting could possibly reduce complaints. Take measures to better set recipient expectations regarding email frequency.
Case 2 – Financial Services Company
Observation
Complaint rate is a concern. Company is communicating on behalf of major brands to share rewards that are available to the recipients.
Cause Analysis
Many recipients are confused by the messages, don't believe them to be real, or believe them to be spam.
Recommendation
The client opportunity is to refine their messaging approach to build trust by better communicating their partnership/relationship with the financial institutions.
Case 3- Digital Marketing Company
Observation
Strong performance other than a high block rate.
Cause Analysis
Content of certain marketing messages are being blocked by anti-spam and anti-spoofing filters.
Recommendation
Continue ongoing message review and modification to adapt to mailbox filtering strategies as they evolve.
Case 4- Financial Services Company
Observation
Mail performance is strong, other than a lower than desirable complaint rate.
Cause Analysis
Complaints for a company of this type is natural. Rate of complaint is not alarming given that the messages are for marketing and constantly being tested to drive audience engagement.
Recommendation
Continue continuous review of mail stream scores and identification of tighter audience segments.