The Importance of Email Authentication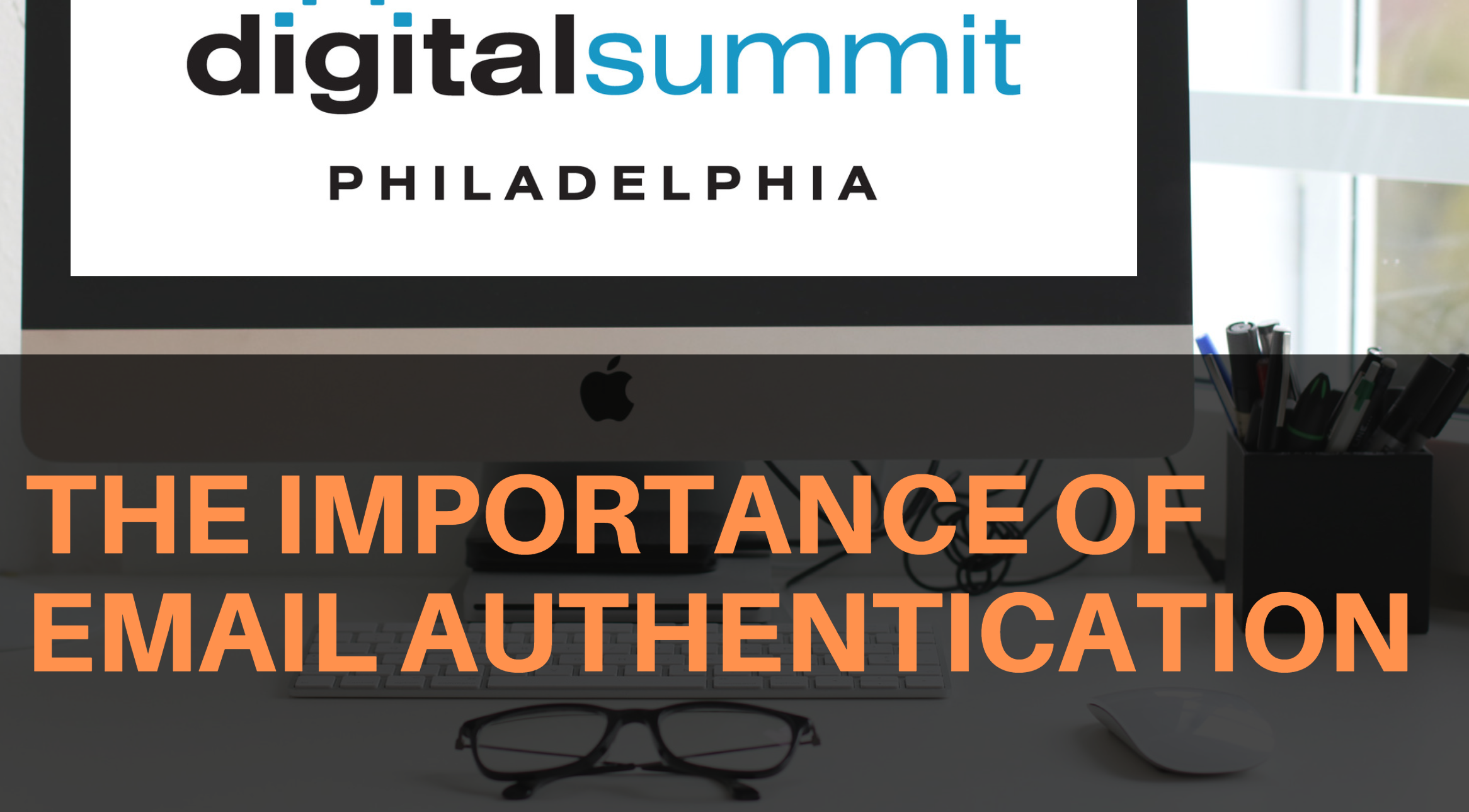 The Future of Email with Email Authentication
After two exciting days at the 2019 Digital Summit Philadelphia, SocketLabs was thrilled to join the conversation about email in a room full of diverse, professional marketers from around the world. Every year, the Digital Summit pulls an electric crowd of skilled marketers from all industries looking to see how marketing is changing and how they can bring the best innovations home with them. A huge topic of conversation at Digital Summit Philadelphia was email authentication.
A Hot Topic at Digital Summit Philadelphia
Micheal Barber, SVP at Godfrey, gave a great presentation on what modern email looks like and how it fits into the bigger marketing picture. He started out by highlighting the fact that ten years ago, the media was making headlines announcing the death of email as we know it, but a quick google search for "Is email still relevant?" today will show a very different story about an evolving form of marketing that is using email as one of the most effective mediums of communication. With almost 4 billion email users today, it's no surprise that marketers are very much interested in continuously developing and optimizing their email capabilities.
Barber's presentation on the importance of email in modern marketing focused on some key areas that marketers should be investing their time, money, and energy. He started off covering one of the most important email topics that we stress heavily at SocketLabs: email authentication. More specifically, how SPF and DKIM authentication, and DMARC can help not only secure your email, but also help improve your deliverability. On top of the conversation about email authentication, Barber went in to many of the hottest email-best-practices that can go a long way in improving your email success. We wanted to take an opportunity to dive a little deeper into these topics and see how email is changing the digital marketing landscape.
What is Email Authentication?
As mentioned previously, email authentication can help your email in two ways. First, it will help further secure your email from spoofers and other malicious email senders. SPF and DKIM authentication allow email senders create a public record that verifies that their sending domain is authorized to send email from a particular IP address or mail server. Receiving mailbox providers can then use this record to validate the legitimacy of the sender and the messages they are sending.
More than just helping verify your email and making sure no one is spoofing your content, mailbox providers will make a note of the fact that your emails are authenticated which will help improve your IP reputation. The better your IP reputation is, the better your deliverability will be, so you can make sure more of your emails are reaching the inbox. Now that we covered email authentication at a high-level, let's dive a little bit deeper into what they actually do for you.
What is SPF (Sender Policy Framework) Email Authentication?
SPF is an open email authentication standard used to prevent sender address forgery. Using DNS records, it allows senders to publish a list of IP addresses, or server names that are authorized to send on their behalf. SPF authenticates the domain used in the "envelope" or return-path email address. This address is used during the transport of the message (from mail server to mail server,) and is primarily used to "bounce" or return undeliverable mail back to the sender. It is an internal address and is typically not displayed by mail programs.
What is DKIM (DomainKeys Identified Mail) Email Authentication?
DKIM is an email authentication mechanism that allows the recipient mail server to check if a message has been altered during transit. This is done by the recipient server, checking and verifying an encrypted signature left on the message by the sending server to ensure the message arrived in the same form that it was sent.
Still curious about how to use DKIM? Try SocketLabs' free DKIM Generator to break down the complexity of DKIM.
What is DMARC(Domain-based Message Authentication, Reporting & Conformance)?
DMARC is not an authentication protocol, per se, but rather a security policy for domain owners built on top of existing SPF and DKIM authentication technologies. The primary function of DMARC is to align the "From" address domain of a message with either SPF and/or DKIM and to determine what action is taken on unauthenticated email. DMARC contemporaneously works to standardize and incentivize the use of SPF & DKIM authentication.

The Email Conversation
Obviously, Digital Summit Philadelphia was more than a 4 slide presentation on email authentication and how it can help you. Micheal Barber's speech specifically covered a lot of the important best practices in the email space.
Making sure your email is authenticated was step one of Michael's speech but then he went in to some other details on how you can improve your marketing and transactional email. Here were some if his tips:
Avoid multi-column design: no longer are the days when multi-column advertisement designs will help customers make buying decisions. Especially with mobile formatting restrictions, email recipients are more likely to act on a single column design email.
The importance of a Subject line and "from" address: Subject lines and from addresses are an important first impression. Micheal found in a study that the length of a subject line had absolutely nothing to do with its effectiveness so DON'T worry about length! He also found that placing an @ in front of the "From" address actually hurt open rates. For example "From @SocketLabs" will perform worse than "From SocketLabs"
Font and button sizes make all the difference: It should be obvious to most email senders font sizes and action buttons can make or break your email. Double… triple check your font sizes to make sure they are easily readable to your target audience and the action buttons are as large as the average fingerprint.
Be creative and have fun: Make sure your email is on brand and has personality. Be light and easy if you are a light and easy brand. Micheal highlighted the use of viral cat videos that elevated one company's email to the next level, increasing their open rates substantially.
While there is not always a right and a wrong in email design, there are always things you can do to make your email more effective. From the deliverability side, things like authentication are just a matter of setting everything up correctly and watching your deliverability improve.
Digital Summit Philadelphia was a Success!
With an incredible lineup of amazing speakers and topics, the SocketLabs team was able to learn so much about the marketing industry as a whole and what the future may hold. Email isn't going anywhere anytime soon. Get a free SocketLabs account and start sending right away to see how we can change your business or application.