Intern Spotlight – SocketLabs Career Development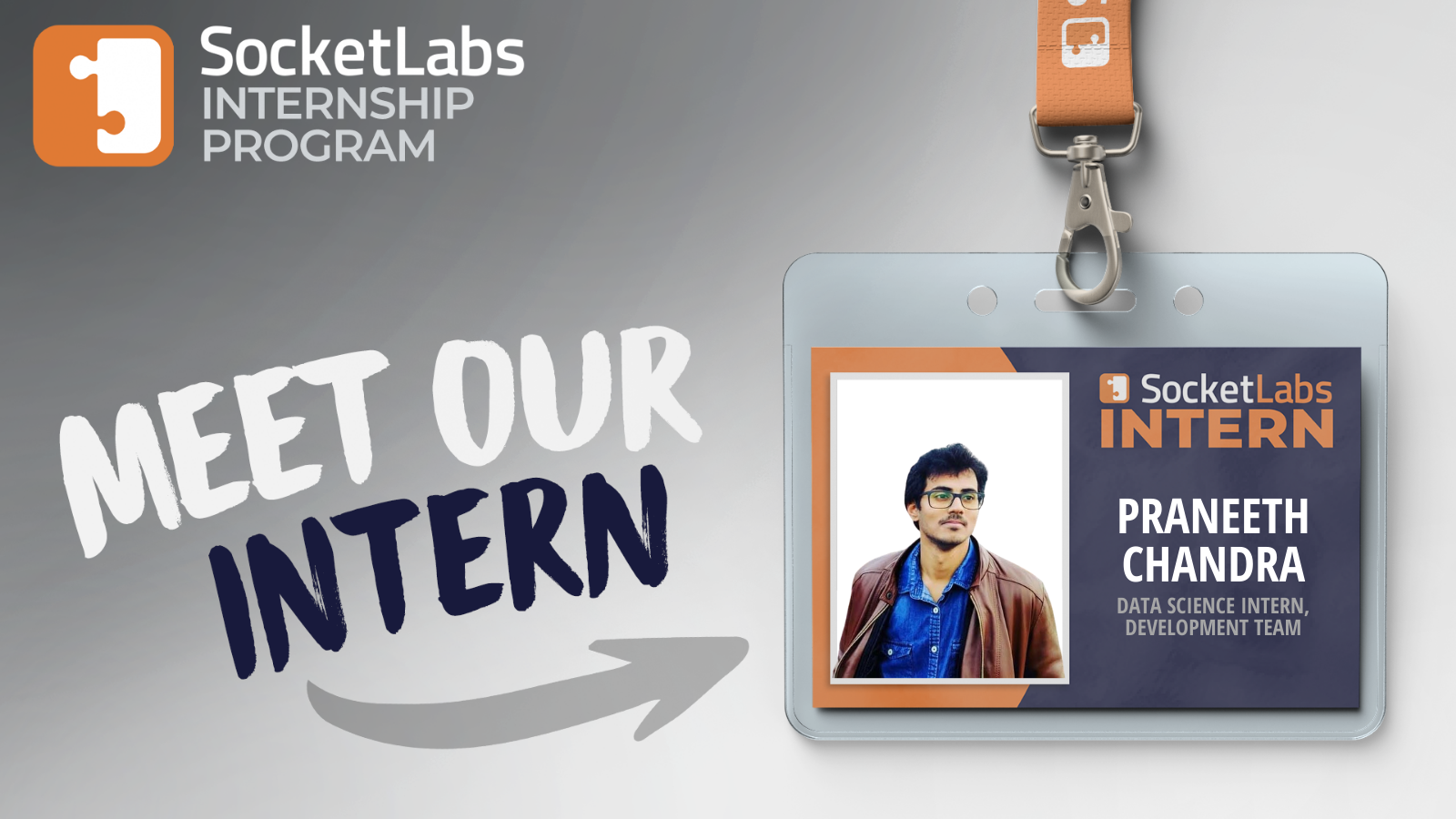 SocketLabs' internship program started in 2013 with the purpose of providing real-world, professional experience to students in a variety of fields from computer science to marketing. Today, the program continues to help students jumpstart their careers in the SaaS space, learning from professionals who have been in the industry for over 20 years in some cases.
One of our most recent interns (now a Junior Software Developer at SocketLabs) is Praneeth Chandra. Praneeth attended Rutgers University, where he received his master's degree in data science. Since his start at SocketLabs in December of 2020, Praneeth has been working closely with the data science and software development teams, along with other interns on several projects. Most recently, he was excited to work on SocketLabs' Injection API, which gives senders the ability to transmit messages via HTTP POST events as an alternative to SMTP. Praneeth implemented a timeout option using many of the skills and techniques he gained from the program.
We got a chance to chat with Praneeth to see what the internship program at SocketLabs meant to him. He shared, "I have learned a great deal, both professional and soft skills. I got exposure to real time development and got to know how things work from the developer's perspective." He went on to talk about the daily Stand-Up meetings he attended which allowed him to feel more like a part of the team, even in a remote environment. He also talked about his favorite aspect of the program: "When we would all get stuck on the same problem, we would discuss it amongst ourselves to find a creative solution. These meetings helped me learn about fresh new approaches to unique problems."
I recommend working at SocketLabs, especially as an intern. The work here is exciting. There is always something new to learn and improve your knowledge.
One of the best parts of our internship program is the ability for interns to move into full time positions if they find a career path they are interested in. Praneeth is now an Engineering Fellow for SocketLabs, where he is currently working to build new frontend and backend webpages for services that will help email senders identify and solve their challenges. One of his most important recent projects was improving the Setup Guide within the customer control panel, which helps new senders get set up and send email quickly and efficiently.
Our internship program is meant to give young professionals real, practical experience. Interns don't spend their time doing busy work all day like other internship programs. Here, we care about providing our interns with hands-on experiences that will help them develop unique skillsets and set a foundation for success that will help in their careers. If you are interested in a career at SocketLabs, you can check out our Careers page to view open positions. Or, if you jut want to learn more about SocketLabs and what makes us different, take a look at our About page.