Introducing Starter Email Templates
A faster and easier way to create great looking email templates, no design skills or coding required.
When it comes to email, the impression that you make upon your recipients really matters.
But designing a great looking email from scratch can be painful and frustrating.
On the one hand, it can be quite painful if you don't have the design skills to transform a white canvas into a beautiful email.
And if you're busy, then you may find the process of creating even a basic email extremely frustrating, especially if you are limited by time.
In addition, a great looking email is based on more than just color, typography, and design. It's important that the email renders properly across all mail readers and devices. Even a beautifully designed email won't do you any good if it's hard for your recipients to read.
Even though designing an email can be frustrating, it's important that you create a great looking email,
Here's why you should create a good looking email that makes a great impression upon your recipients.
A poorly designed email may hurt your brand image and send the wrong message to your recipients.
And worse, if your email doesn't render properly, then it will most likely be deleted. In a recent SocketLabs blog post about email open rates, we mentioned that 87% of recipients may delete an email if it doesn't look good on a phone or tablet.
The bottom line is this:
A bad email may have a negative impact on your open rates, click-through rates, engagement, and the ROI of your email campaign.
At SocketLabs, we want you to have success with your email program. That's why we have taken steps to remove your pains and frustrations from designing emails that render properly across all mail readers.
We created Starter Email Templates to help eliminate your pains and frustrations of creating a great looking email.
Now you can sit down in your SocketLabs Email Designer and create a beautiful email that works on all mail readers, without the pain and hassle of designing an email from scratch.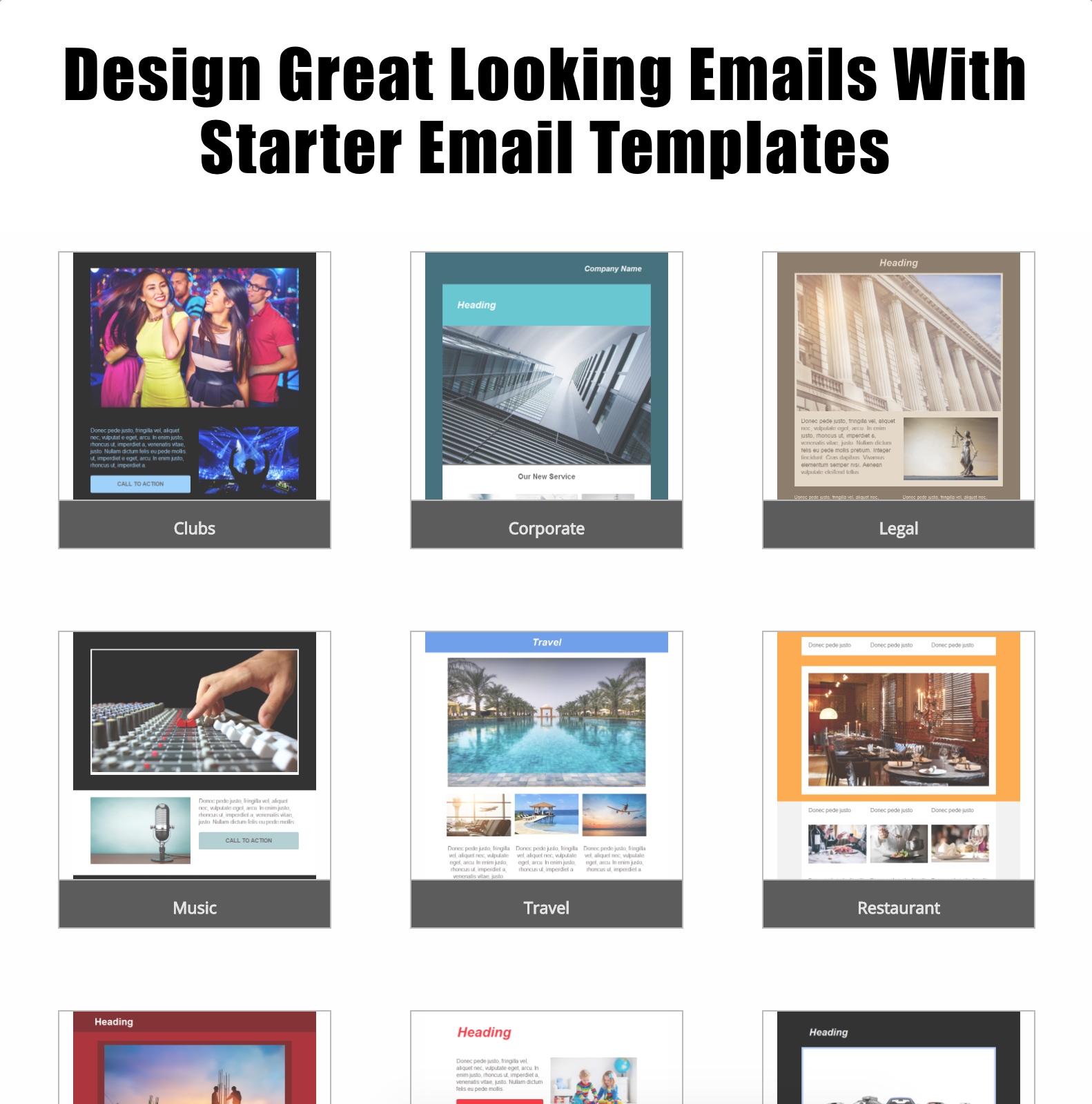 You don't need design skills to create a beautiful email when you use our starter designs.
That's right, you don't need the design chops to create a high-quality email in your SocketLabs account. Simply log into your control panel and select a Starter Design that appeals to you.
You can even create a great looking email if you are short on time.
You can create a beautiful email even if you don't have the hours to spend designing an email. Just open a Starter Email Template of your choice and easily update the design with your own content and branding.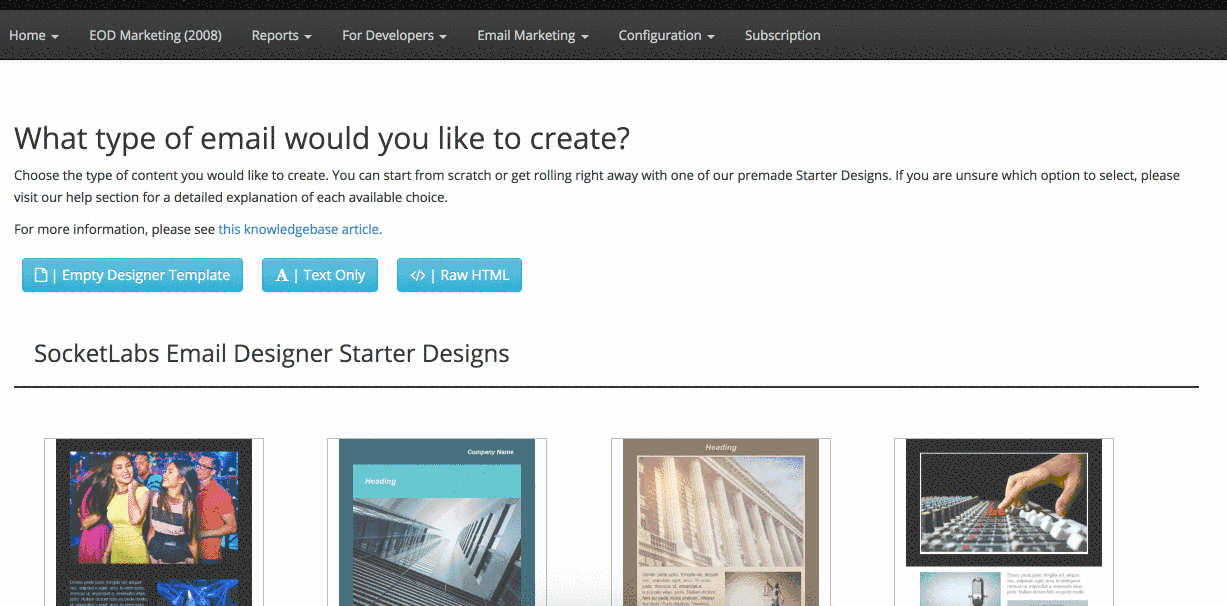 It couldn't be any simpler.
There are Starter Email Templates for almost any industry and more coming soon!
Clubs
Corporate
Legal
Music
Travel
Restaurant
Construction
Toys
Auto
Insurance
Fitness
And more coming soon!
And your email will even look good across all mail readers & devices.


As mentioned above, a beautiful email is more than just color, typography, and design. A great looking email should render properly across all mail readers.
When you use a Starter Email Template, combined with the SocketLabs drag and drop email designer, you can easily create a great looking email that renders successfully across modern (and even not-so-modern) mail readers.
Here's how to create your first email using a Starter Email Template.
First, you'll need to be a SocketLabs Customer to use Starter Email Templates. If you're not a SocketLabs customer then click here for plans and pricing.
Or, create your first Starter Email Template by joining SocketLabs with a free account →
If you are a SocketLabs customer, then follow the steps below:
– Login to your SocketLabs account. Click here to login.
– Select your server by clicking the view icon.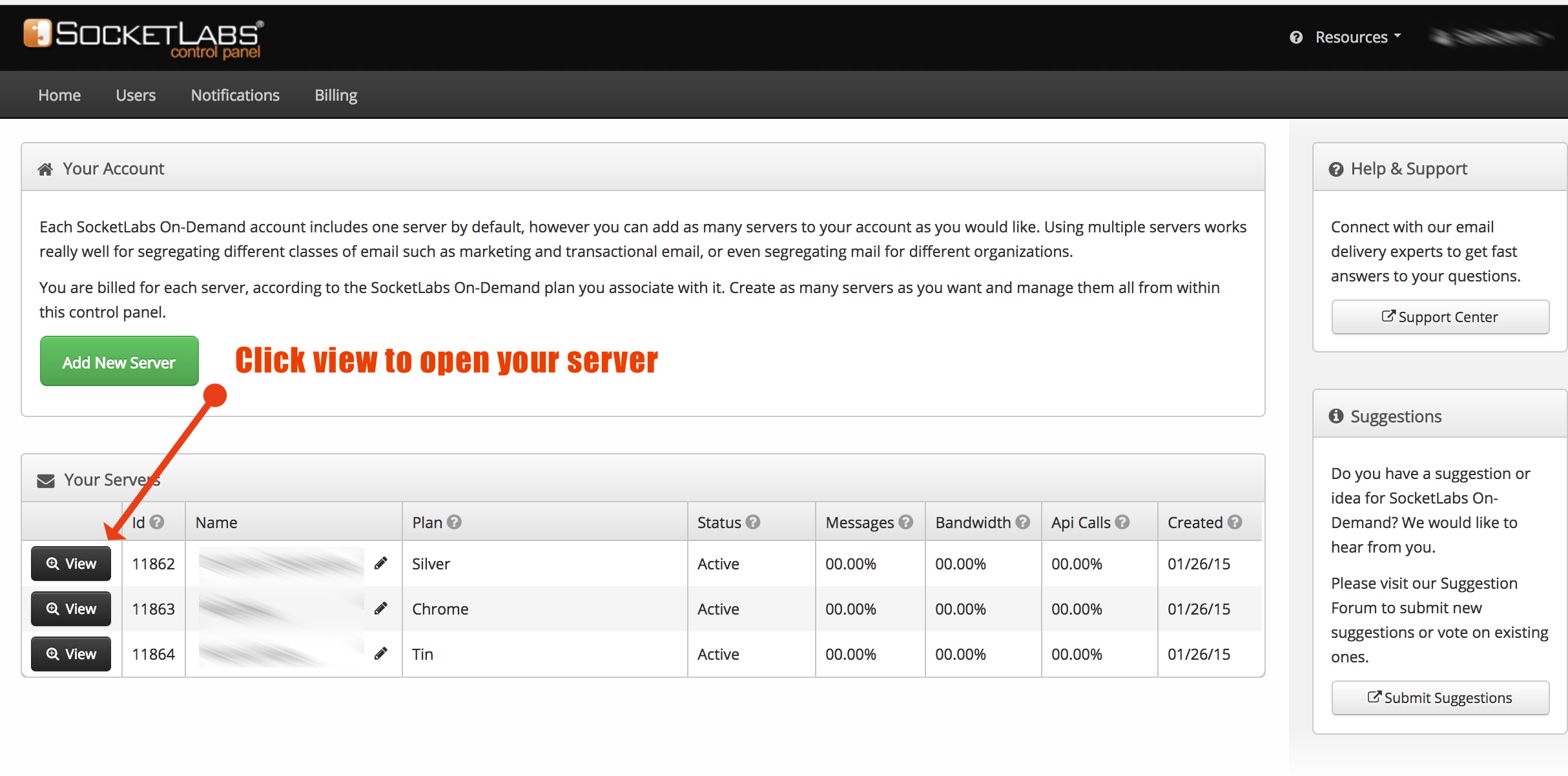 – Click on the Marketing Tab in the header area. Then, in the Email Content Section, click on Create New Email Content.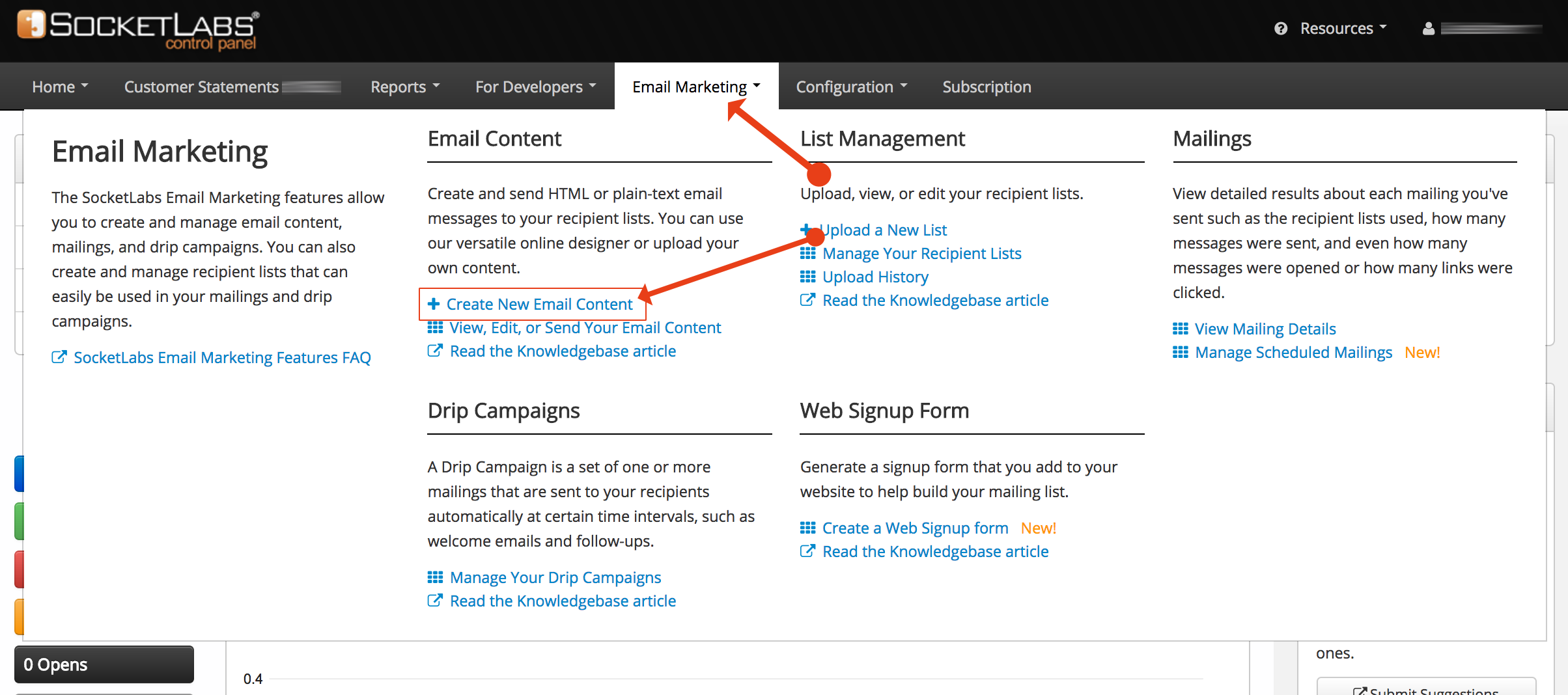 – Choose a Starter Design for your industry or one that catches your eye. To start designing, just click on a template. This will open up the Email Designer.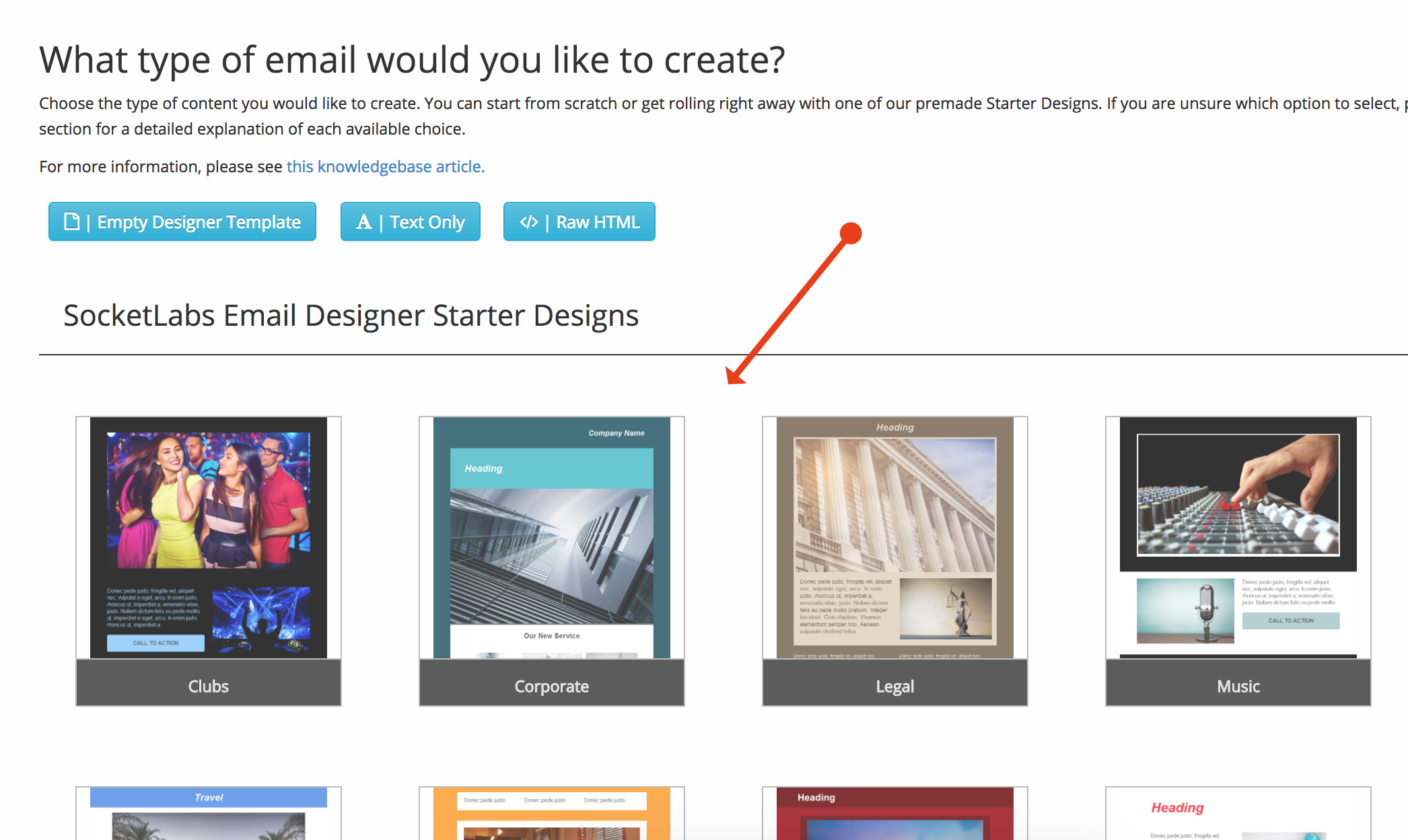 And just like that, you'll be on your way to designing a great looking email that works across all mail readers.