Is Your Sending Infrastructure Prepared for Uncertain Times?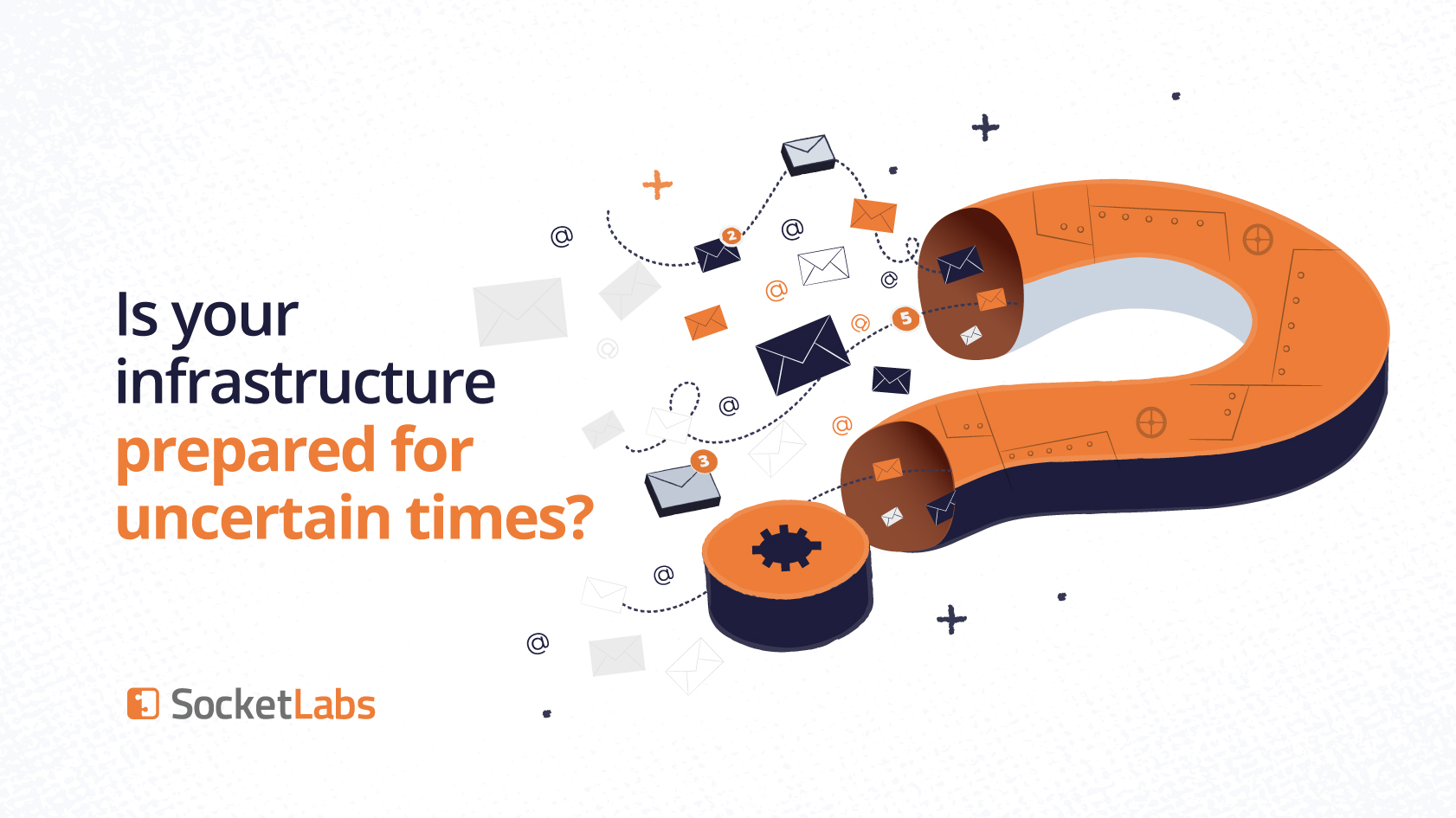 I don't need to tell you we are living in never-ending "uncertain times." Things change rapidly, be it in your industry, the economy, or even the world at large. Remember COVID-19 and how it is lasting for 20 years? Maybe it just feels like it… 
Regardless of what is going on around you, email is a critical channel for revenue generation. Though some email service providers (ESPs) are gently hitting the "mute" button on email in favor of faster engagement via channels like SMS, the fact remains that engagement doesn't always mean conversions. Email is still big business. 
As an ESP or complex sender, your sending infrastructure cannot collapse, because the consequences to your senders' businesses could be pretty dire, especially if it fails during a critical season. 
Is it prepared for uncertainty? 
What are "uncertain times" for email?
Frankly, any kind of widespread unusual (and sometimes usual) activity can be considered uncertain times for email. As such an important part of businesses' marketing mix, it's subject to several serious X-factors.  
Known high-volume periods
When it comes to traditional high-volume periods like Black Friday and Cyber Monday, no ESP should be caught unawares. Senders will be busy preparing their email marketing campaigns and won't be concerned about their email infrastructure because they trust their ESP can handle it. 
But as a service provider, can you? The risk of one sender poisoning an IP pool is higher during these days, and you might have several. If you don't have the ability to still consistently deliver mail for your good senders, you're at risk of not only derailing one of their biggest sales days of the year, but also putting your own business at risk of churn. 
Unknown high-volume periods
"In these uncertain times…" Yeah, yeah. You know what we're talking about: COVID-19 emails. That was an unprecedented global event with so many urgent and critical communication needs. Sending infrastructures weren't prepared, nor could they be. But what ESPs should always be prepared for is a back-up plan in case they're hit with an unexpected high-volume period. 
It doesn't have to be as dramatic as a global pandemic, either. Data breach notifications for a massive number of customers? Yep, that'll do it. 
Shared IP pool collapse
Shared IPs make a lot of sense for a LOT of senders. ESPs are responsible for making sure those shared IP pools are operating as expected so senders can trust their IP is working for them, not against them. 
Yet one sender can ruin it for everyone. If your shared IP pool's reputation is unexpectedly tanking, it could jeopardize the delivery of millions of emails. Let's say Yahoo blocks your entire IP range, including some senders with dedicated IPs mixed in. Your senders aren't getting into any Yahoo mailboxes, even the great ones who follow every best practice. Do you know how to explain what happened to your senders? Can you prevent it from happening again? 
Economic factors, mergers, and acquisitions
Scary things happen to the economy more often than anyone would like. If you have a dedicated person or team to keep your email infrastructure operating as expected, if they're laid off or leave for another role, you could find your performance suffering.  
Business structure can change overnight. Just ask Twitter.  
Mergers and acquisitions can impact product roadmaps, staffing, or competitive landscape. The infrastructure provider you're using could suddenly become a direct competitor. Their shifting priorities could also mean projects or product roadmaps could be delayed, leaving you and your senders in the lurch. Your account manager? Gone! No matter the issue, when your email infrastructure goes through major change, so will you and the way you're able to operate your sending platform. 
How ESPs can prepare
The great news is you can be in control of your own destiny! Here's what you need to make sure you are not only prepared for an email infrastructure hiccup, but you've picked a reliable provider who will make breakdowns during uncertainty less likely. 
Reliable technology:

You don't want a sending provider without a track record of nearly flawless execution. Outages of any kind can really impact sender performance and ESP satisfaction. Simply put, you need an email provider who can help you get your customers' emails delivered reliably, even in uncertain times.

 

Early detection tools:

With more transparency, you can find, understand, and solve problems with email delivery before your customers notice. Then, you'll have more details and strategies to provide to them when you proactively reach out. Our sending platform has StreamMonitor and Guided Reporting to help you get detailed information in five clicks or less when emails aren't being delivered as expected.

 

Automated or near-real-time action:

Time is of the essence. With better ability to pivot to manage IP pools, you can rapidly improve reputation and delivery. Know what that means? Less stress! We can help you automate routing to IPs based on reputation and performance to protect good senders from collateral damage.

 

Simple solutions:

It's not reasonable to expect lots of people to drop what they're doing to solve an email issue. Find a provider who can provide email specialists with easy-to-use email management tools to avoid involving developers and IT…like us!

 

Redundancy:

If something goes wrong, you don't want your entire infrastructure to collapse and stop sending and delivering mail. It's super wise to split sending traffic between two different infrastructure providers in the event something goes haywire. It also allows you to compare costs, analyze performance between the two, and have more control over your success as an ESP.

 

Expert support:

Don't fall without a safety net to catch you. Find a sending provider who can provide support when you need it – and fast. Also, make sure the resources at your infrastructure provider are experts. You'd be surprised how few email experts are left on the payroll these days.

 
So…are you prepared?
Do you have all the things you need to feel confident in your sending platform and the tools you have to manage it? Remember, things can change in an instant and you have lots of senders relying on you to send the emails that keep their businesses afloat. It's a big responsibility, and as an ESP ourselves, we get it! 
Because we get it, we built a sending platform specifically to help ESPs send email on behalf of your customers and manage your email infrastructure on your own. Sure, we're here to help if you need it, but now, the power to improve and protect your platform can be in your hands.