Transactional Email & CAN-SPAM: Is Transactional Email Exempt?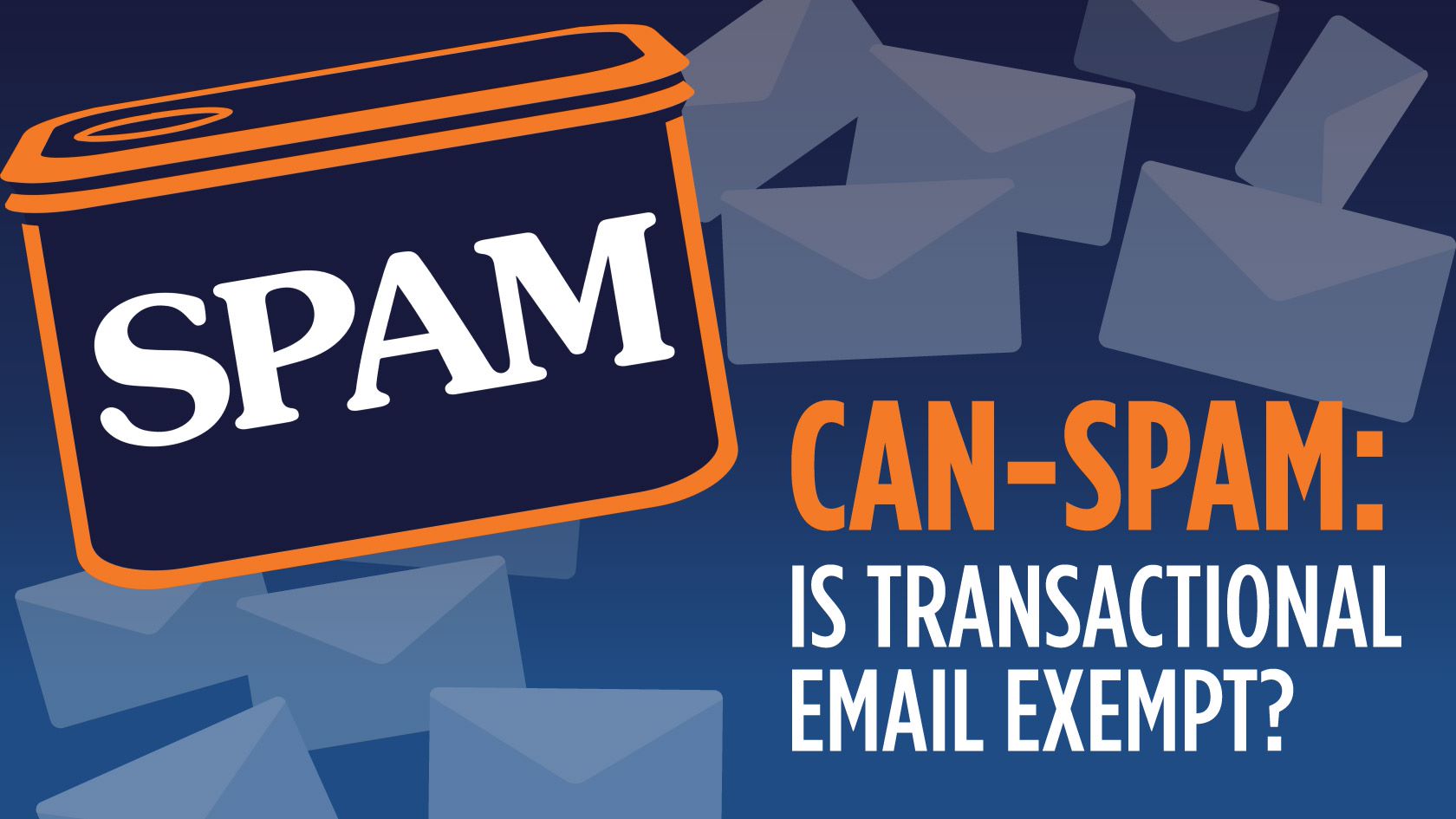 Many senders come to SocketLabs asking about transactional email and CAN-SPAM. Since you're reading this, there's a good chance that you're wondering about CAN-SPAM rules for transactional emails.
You might be surprised to learn that regarding transactional email, there aren't any CAN-SPAM rules. Unlike marketing email, transactional emails are exempt from CAN-SPAM.
In this post, we'll explain all the details on transactional emails and CAN-SPAM, why transactional emails are exempt, and we'll also discuss whether or not your transactional emails need an unsubscribe link.
First, let's take a closer look at the CAN-SPAM Act.
What is the CAN-SPAM Act?
The CAN-SPAM Act is a US law which stands for Controlling the Assault of Non-Solicited Pornography and Marketing.
This act, which was passed in 2003, does three key things:
Establishes a set of requirements for commercial email messages
Gives recipients the right to have senders stop emailing them
Lays out tough penalties for violations
Speaking of penalties, each email in violation of CAN-SPAM is subject to penalties of up to $41,484. Therefore, it's important that you take CAN-SPAM seriously if you're sending marketing emails.
If you're thinking that CAN-SPAM only applies to marketers sending blast emails, then think again. CAN-SPAM spans much broader than that, here's what the act covers:
What the CAN-SPAM Act Covers
This act doesn't apply to just bulk email, it applies to all commercial messages.
Under the CAN-SPAM Act, commercial messages are defined as:
"Any electronic mail message the primary purpose of which is the commercial advertisement or promotion of a commercial product or service."
This means that any email with commercial intent, even messages to customers announcing new products, are considered commercial messages, and therefore must comply with the law.
The 7 Essential CAN-SPAM Requirements
Here's a rundown of CAN-SPAM's main requirements. Think of this as a CAN-SPAM compliance checklist, straight from the FTC.
1) Don't use false or misleading header information. For example, your "From" and "Reply-To" addresses must be accurate and identify the person or business who sent the message.
2) Don't use deceptive or misleading subject lines.
3) Identify the message as an ad. The CAN-SPAM Act does give you some leeway in how you choose to do this
4) Disclose your physical postal address.
5) Make it easy to opt out of future communications. This typically means including an unsubscribe link within your message.
6) Honor any opt-out requests promptly within 10 business days and follow all email unsubscribe laws.
7) Monitor what others are doing on your behalf. Even if you hire an agency or contractor to handle your email, you're still legally responsible to comply with CAN-SPAM.
For more information about each requirement visit: CAN-SPAM Act: A Compliance Guide for Business
Keep in mind that the requirements above apply to commercial emails and there are no official CAN-SPAM transactional email requirements, since transactional email is exempt from CAN-SPAM.
Now that you know what the CAN-SPAM Act is and how to stay compliant when sending commercial email, let's discuss transactional email and CAN-SPAM.
Here's Why Transactional Email Is Exempt From CAN-SPAM
Under the CAN-SPAM Act, email content falls into three different groups:
1) Commercial content — which advertises or promotes a commercial product or service. Some examples are promotions, sales emails, newsletters, and anything else that has commercial intent.
2) Transactional or relationship content — which provides the recipient with information related to a recent event/transaction. Some examples are order receipts, shipping notifications, and password resets.
3) Other content — which is neither commercial or informational in nature.
The CAN-SPAM Act explicitly states that:
"If the message contains only commercial content, its primary purpose is commercial and it must comply with the requirements of CAN-SPAM. If it contains only transactional or relationship content, its primary purpose is transactional or relationship. In that case, it may not contain false or misleading routing information, but is otherwise exempt from most provisions of the CAN-SPAM Act." – The FTC
Transactional messages are not covered by CAN-SPAM because they are not considered commercial in nature.
If you're wondering how to tell if your messages are commercial (marketing) or informational (transactional) then check out this blog post: Marketing vs Transactional Email — What's the Difference?
Before we wrap up this post, let's talk about one last thing — the unsubscribe link.

Do Transactional Emails Need an Unsubscribe Link?
If you're sending marketing email of any kind, then CAN-SPAM requires you to tell recipients how to opt out of receiving future email from you. The most common way to do this is with an unsubscribe link in the footer of the message.
But what about transactional email? Can you send an informational email without an unsubscribe link?
Since transactional email does not fall within the scope of CAN-SPAM, you do not need to include an unsubscribe link or opt-out instructions in your messages.
With that said, it's important to keep in mind that CAN-SPAM only applies to the United States. If your recipients are in countries outside of the USA, then it's important to check their local email laws.
That wraps up this article on transactional email and CAN-SPAM.
To keep reading about transactional email check out our Top 6 Transactional Email Best Practices.
Learn how SocketLabs' Transactional Email Service helps with all your transactional email needs.