We Send Email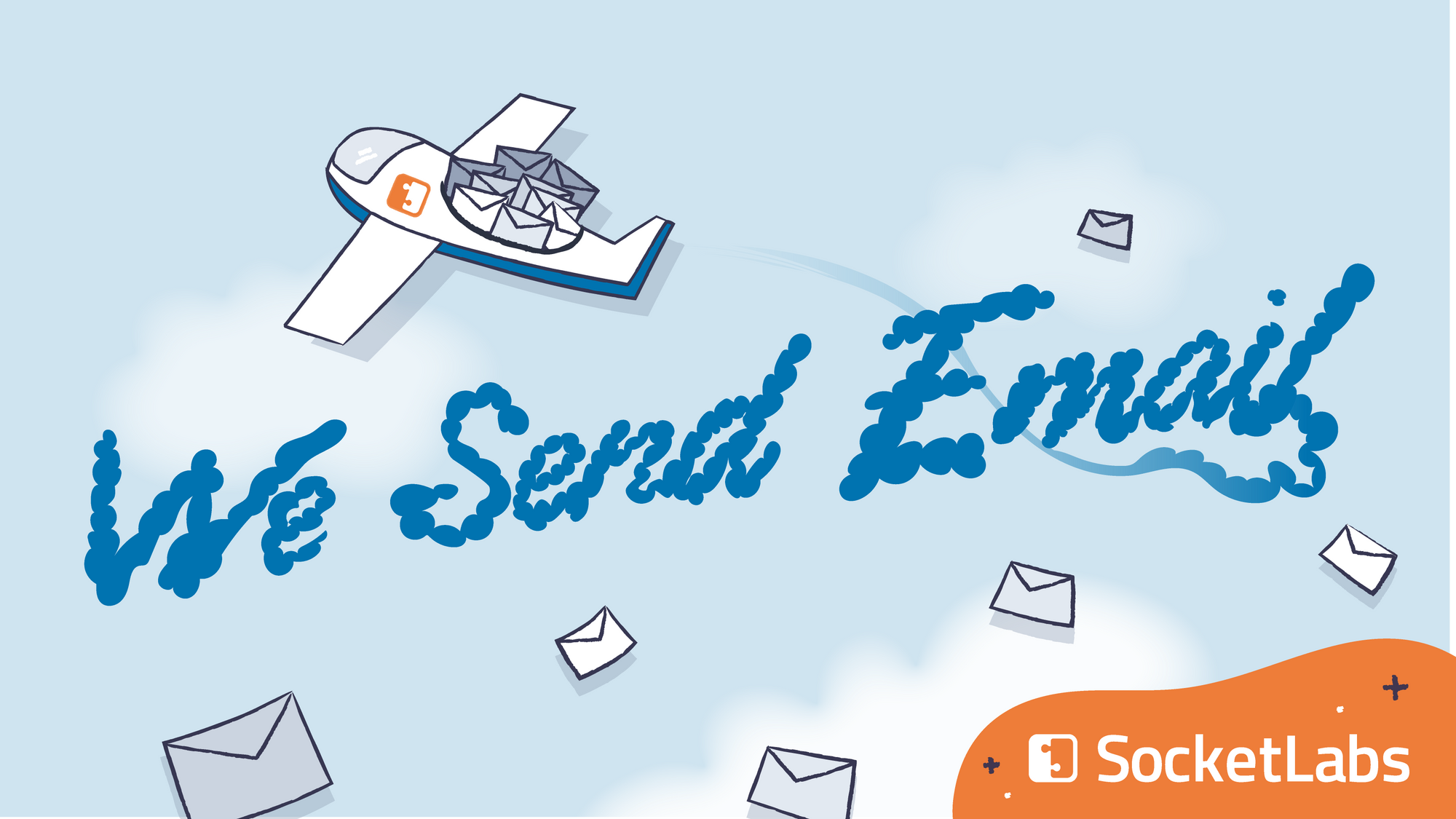 That's the blog, thank you for reading. 
Ok, we're kidding about that being the end, but we're not kidding about this…
We send email.
Over the last few months, we've had many amazing conversations with people from all walks of life within the email industry. After comparing notes, we realized a few curious questions came up often during these chats.  
Let's answer them today. We'll start with the biggest question of them all… 
What does SocketLabs actually DO?
We send email. 
Yes, it's that simple. You have email, we send it. 
We've got an SMTP relay service powered by our own MTA we built and operate ourselves. We have a super-reliable infrastructure with 99.999% uptime, which amounts to 23 seconds of downtime per month. TWENTY-THREE SECONDS! Compared to minutes or even hours of downtime with the other guys. That's wild. And above all, it's easier to deliver email with us than with other ESPs. 
Why?  
Because we are an ESP sending email and ONLY email because this channel is more valuable than lots of people may realize. SMS is great, but it's not our thing right now. 
That being said, we don't STOP at just sending email. That brings us to our next question… 
Aren't you a deliverability service?
No, because we send email.  
But also, kind-of, because baked into our platform are a bunch of things senders can use to improve their deliverability.  
We have StreamScore, which helps senders understand their overall reputation with mailbox providers (MBPs). We have a blog and resource library filled with best practices and tips for sending better email. We have experts with decades of experience between them that are available to assist senders when they need it. And free tools! 
The biggest point to take away from this question is, while we can help improve deliverability, we are not a plug-in service onto your ESP to improve deliverability. We send email and with the insights we get from the sending activity, we give you the resources you need to manage your own deliverability. 
I thought you were an analytics company?
No, we send email. 
But, because we send email, we have rich data you can use to analyze and optimize future email deployments. Just like the concept of deliverability services, we aren't a plug-and-play for analytics. We don't sit on top of your ESP. Instead, we're a robust full-service ESP providing you with everything you need to successfully deliver mail via SMTP or API. 
Remember when we said StreamScore? That lil' baby also provides some slick data visualizations and customizable dashboards to give you the right view into the right things.  
We also have a large collection of Email API documentation to put you in the driver's seat for every decision.
Don't you only send transactional email?
No, we send (all kinds of) email. 
While traditionally SocketLabs catered mostly to a self-serve audience looking to manage their own sending infrastructure for more clinical email purposes (think receipts, notifications or appointment confirmations), we're so much more than that today.  
Of course, we still work with lots of self-serve IT and developer customers and it's a big part of our identity as an ESP. The number one response we get during NPS results time after time is "It just works." That's because we have easy-set-up APIs, quick-code libraries, step-by-step guides, responsive support teams, seamless integrations, full email security support for DKIM, SPF, DMARC, MTA-STS, fully encrypted engagement tracking, and then some.  
We also have our Hurricane MTA which…you know, sends email. 😊  
Do you send email?
Yes! We send email! Yayyy!
What's next for SocketLabs?
This is our favorite question of all. We have a ton of things brewing in our labs. While they're still being developed and won't be on display for just a little bit longer, we do have some exciting things to share. 
If you are an email service provider like us (you send email) or even just a complex single sender (you send email), our next offering is going to change your world.  
Think about it: Reduce reporting time to minutes rather than hours…for every client report you need to pull. Find the very root of an issue in five clicks or less and know exactly how to fix it. Automate rule sets to react in near-real-time to issues before they escalate. Locate and solve problems before your senders even know they had a problem (if an email bounces and no one is there to hear the sound, did it even…bounce?). 
Do more without working harder. Sounds too good to be true, doesn't it? 
It's not. Because we send email, we know what it takes to send email well, and we have first-hand knowledge of the things not working at lots of big ESPs. And we know how to make it easier for folks like you to manage. We can't wait to start sending email together. 
PS: If you're ready to send email right now, let us know because, guess what…we happen to send email.